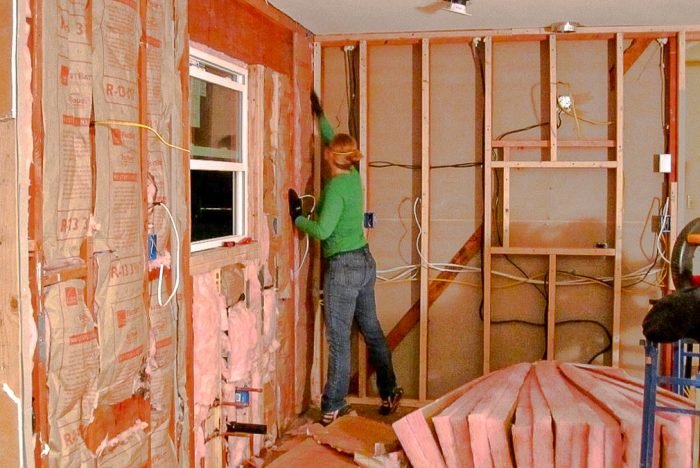 Looking ahead to insulating his new house, Wiscoguy says he's planning to use an R-14  layer of exterior insulation along with mineral wool in the stud bays. But there's a sticking point—cost.
Quotes for fiberglass insulation have come in at about $10,000. Mineral wool (sold commercially by Rockwool and Knauf) would cost $16,000.
"It has a very modest gain in R-value but I do like some of the other properties," Wiscoguy writes in this Q&A post. "Also, next to no one in my area wants to do it, which pushes my schedule back further."
"I'm having a hard time justifying the increase in cost," Wiscoguy adds. "Any thoughts?"
That's where we start this Q&A Spotlight.
Installation is key
To John Clark, the answer to that question hinges on how well the insulation is installed.
"Depends on the quality of the installer," he says. "If you can hit Grade 1 with fiberglass batts, then pass on the mineral wool."
To illustrate, Clark refers Wiscoguy to a bulletin in the Building America Solution Center. A "Grade 1" installation means that the insulation, no matter what type, should fill wall cavities uniformly, filling each bay side to side and top to bottom "without substantial gaps or voids around obstructions."
Gaps and voids are typically the failing of batt insulation, not the insulation itself, a point amplified by Michael Maines.
"With enough exterior insulation to prevent condensation, an airtight layer at the sheathing, and a reasonably airtight layer at the interior, I don't think the choice of insulation makes a big difference," Maines says. "I usually go with cellulose for its low-carbon aspect, but with mineral wool and fiberglass having similar levels of embodied carbon, I don't see a reason to prioritize mineral wool."
Weekly Newsletter
Get building science and energy efficiency advice, plus special offers, in your inbox.
This article is only available to GBA Prime Members
Sign up for a free trial and get instant access to this article as well as GBA's complete library of premium articles and construction details.
Start Free Trial
Already a member? Log in