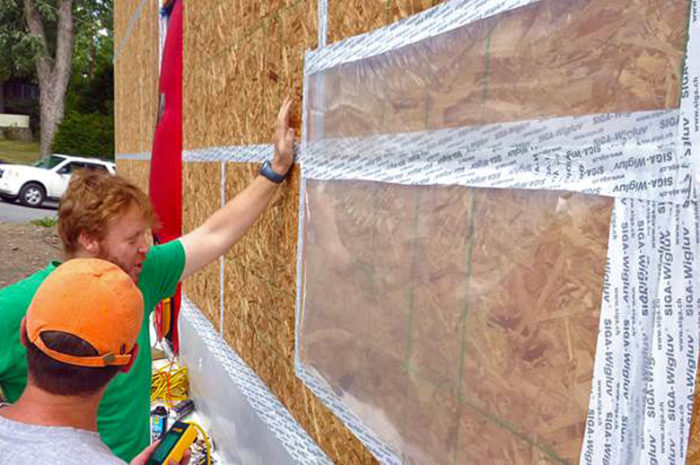 UPDATED on August 13, 2015
Most builders assume — and GBA has long reported — that oriented strand board (OSB) is a good air barrier. If a builder uses a high quality tape like Siga Wigluv, Zip System tape, or 3M All Weather flashing tape to seal sheathing seams, OSB wall and roof sheathing can act as a building's primary air barrier. Energy consultant Marc Rosenbaum used the technique at two dormitory buildings at the College of the Atlantic in Maine and several projects on Martha's Vineyard, and subsequently gave a presentation at a Vermont conference at which he advised builders who wanted low blower-door numbers to tape the seams of their OSB sheathing.
In recent months, however, many building experts have been surprised to read reports that some brands of OSB may not be airtight. The reported leakage isn't coming from poorly taped OSB seams; instead, the air is allegedly leaking through the OSB panels themselves, even when the seams are flawlessly taped. While this type of air leakage sounds unlikely, evidence is accumulating that the reports must be taken seriously.
Among recent developments:
An Irish engineer, Niall Crosson, has reported problems with two OSB-sheathed buildings that were too leaky to meet the Passivhaus airtightness standard.
Architect Richard Pedranti and energy consultant Pete Vargo performed job-site testing in 2014 that convinced them that air was leaking through the Weyerhaeuser OSB installed on the walls of a Passivhaus project in Scranton, Pennsylvania.
Three Belgian researchers — J. Langmans, R. Klein, and S. Roels — have published the results of laboratory tests showing that some European brands of OSB aren't very airtight.
Defining acceptable air leakage
What's the definition of an air barrier? In North America, some building codes have adopted the following definition: an "air barrier material" is defined as a material with…
Weekly Newsletter
Get building science and energy efficiency advice, plus special offers, in your inbox.
This article is only available to GBA Prime Members
Sign up for a free trial and get instant access to this article as well as GBA's complete library of premium articles and construction details.
Start Free Trial
Already a member? Log in