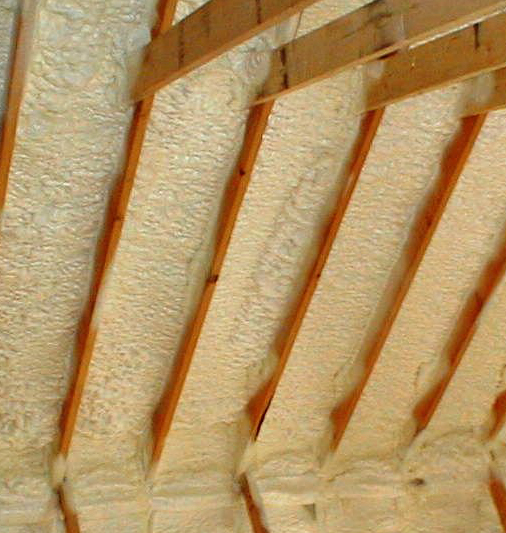 While energy experts often advise builders to exceed minimum code requirements for insulation, Icynene Incorporated, a manufacturer of open-cell spray polyurethane foam, is swimming against the tide. Surprisingly, Icynene is trying to convince builders to install less insulation than the code requires.
Icynene's bizarre campaign against thick insulation is the second controversial move by the Canadian company. Last year, Icynene ruffled energy experts' feathers by waging a spirited (and successful) lobbying campaign to defeat a widely supported effort (the so-called "Thirty Percent Solution") to raise the stringency of insulation requirements in the International Residential Code.
The motive for Icynene's current effort — let's call it the "it's OK to skimp" campaign — appears to be economic. The company has apparently decided that the only way Icynene can compete with less-expensive types of insulation (like cellulose) is to convince builders that they can get away with less insulation than code books require.
Air sealing requirements in the code
There's no way to fathom Icynene's tangled logic without first taking a look at existing code requirements for sealing air leaks.
In the 2006 International Residential Code (IRC), air-sealing requirements can be found in section N1102.4. The code requires that "The building thermal envelope shall be durably sealed to limit infiltration. …The following shall be caulked, gasketed, weatherstripped, or otherwise sealed with an air barrier material, suitable film, or solid material:
1. All joints, seams and penetrations.
2. Site-built windows, doors and skylights.
3. Openings between window and door assemblies and their respective jambs and framing.
4. Utility penetrations.
5. Dropped ceilings or chases adjacent to the thermal envelope.
6. Knee walls.
7. Walls and ceilings separating the garage from conditioned spaces.
8. Behind tubs and showers on exterior walls.
9. Common walls between dwelling units.
10. Other sources of infiltration."
The real zinger in this list is #10: "Other…
Weekly Newsletter
Get building science and energy efficiency advice, plus special offers, in your inbox.
This article is only available to GBA Prime Members
Sign up for a free trial and get instant access to this article as well as GBA's complete library of premium articles and construction details.
Start Free Trial
Already a member? Log in