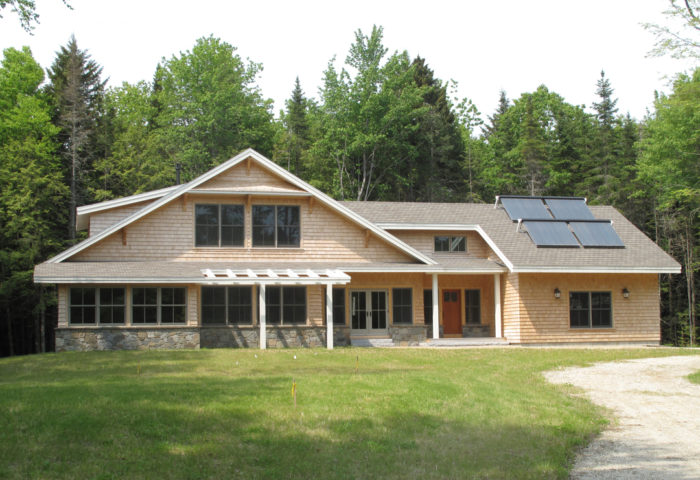 To end my three-part report on my trip to Maine, I'll describe my visits to two new energy-efficient homes — an elegant home in Freeport, and a compact 1,000-square-foot home in Bath.
The Freeport home was designed by architect Chris Briley and built by Dan Kolbert. Since the owners of the home haven't moved in yet, the rooms are still empty of furniture.
Most aspects of the home's thermal envelope are very well detailed. The basement walls are insulated on the interior with R-etro System foam — 4 1/4-in.-thick EPS rated at R-18. The 12-in.-thick above-grade walls are framed with double rows of 2x4s and filled with dense-packed cellulose insulation (R-44), and the insulated sloped ceilings contain 16 in. of dense-packed cellulose (R-60) in unventilated rafter bays.
The weak thermal link in the envelope is the windows. Instead of triple-glazed windows, the owners chose double-glazed double-hungs from Bonneville. The 2,600-square-foot home ended up with a design heat load of 50,000 Btuh; according to REM/Rate, it has a HERS Index of 36.
Chris Briley prepared a spreadsheet for the owners to compare several space heating options. The installation costs on the spreadsheet ranged from $20,519 (for a propane boiler and a solar domestic hot water system) to $61,908 (for a propane boiler, a PV array, and a large solar thermal system providing DHW and some space heat). The system chosen by the owners — a Viessmann wall-hung propane boiler and a large solar thermal system providing DHW and some space heat — cost $38,325.
Space heat is distributed through in-floor radiant tubing in thin concrete slabs poured over wood-framed floors. The home's total projected annual energy cost for electricity (at 15¢/kWh) and propane (at $2.50/gal.) is $2,085.
Almost Passivhaus
The last house I visited in Maine was on a wooded site on a hill in…
Weekly Newsletter
Get building science and energy efficiency advice, plus special offers, in your inbox.
This article is only available to GBA Prime Members
Sign up for a free trial and get instant access to this article as well as GBA's complete library of premium articles and construction details.
Start Free Trial
Already a member? Log in