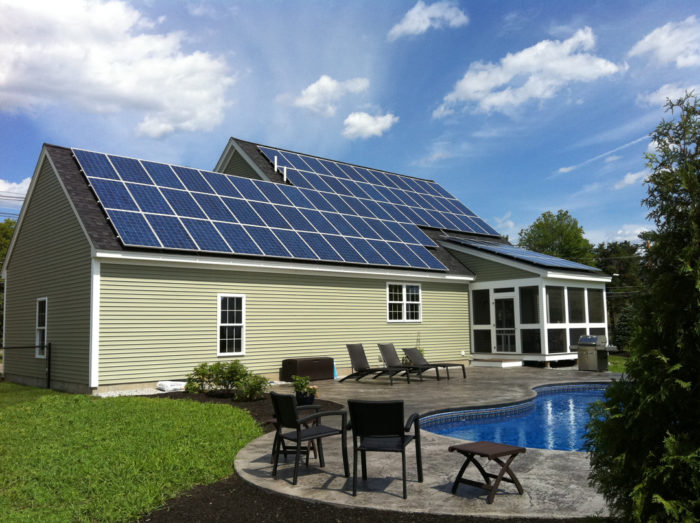 Kevin Dickson has come across an article about a high-performance house in Massachusetts that has got him wondering whether big photovoltaic systems are overtaking Passivhaus to become the next big trend in high-efficiency building.
The house is the work of R. Carter Scott and a design team that included Betsy Pettit and Joe Lstiburek of Building Science Corp., among a number of other experts. It was one of eight in Devens, Mass., that Scott's company, Transformations Inc., was chosen to build for MassDevelopment, the state's finance and development authority.
Among the many energy features of this net-zero energy home is an 18-kW photovoltaic array that completely covers the roof on the back of the house, including the porch and garage.
"Wow," Dickson writes in a post at GreenBuildingAdvisor's Q&A forum. "Does anyone agree with me that this is a stronger trend than Passivhuas requirements for new construction?"
Grid-tied PV is a standard part of net-zero designs, but at 18 kW, this system would dwarf most residential installations. The question at the heart of this Q&A Spotlight is whether falling PV prices and a variety of incentives such as Solar Renewable Energy Certificates have affected the way builders and homeowners make decisions about solar electricity.
Should PV arrays be designed solely to get a house across the net-zero energy threshold, or can PV serve another other purposes?
More power than a Passivhaus design would need
The PV panels on the Devens house should generate an estimated 10,200 kWh more electricity per year than it consumes, enough to power a Nissan Leaf or Chevy Volt for 30,000 miles, Scott has estimated.
As Mike Eliason points out, if the house were built to the Passivhaus standard and met its energy consumption requirement,…
Weekly Newsletter
Get building science and energy efficiency advice, plus special offers, in your inbox.
This article is only available to GBA Prime Members
Sign up for a free trial and get instant access to this article as well as GBA's complete library of premium articles and construction details.
Start Free Trial
Already a member? Log in