What developers think will be the largest collection of LEED-Platinum homes in the country is taking shape in southwest Florida.
Mirabella at Village Green, as the 160-unit subdivision is called, is under construction in Bradenton, a city of about 51,000 just south of Tampa on Florida's Gulf coast. It's at a very early stage of development — just 10 homes have been finished, with another 20 under construction, according to an article in the Bradenton Herald. The project won't be complete for another two years.
But when it is finished, Mirabella will offer its buyers a combination of energy- and water-saving features that developers say are unusual in the Florida housing market, at least at this price.
Buyers can select one of two designs, the Mirabella web site says, either of which measures 1,542-square-feet. Priced at less than $246,000, the two-bedroom, two-bathroom houses will feature a "garage-forward" design. The units are what builder Joe Jannopoulo of Synergy Building Corporation calls "paired villas," two individually owned units separated by a common wall and contained in a single building. In all, there will be 80 buildings when the subdivision is complete.
None of the buildings has yet received LEED certification — the paperwork on the first of them is still being processed. But developer Marshall Gouty and Dennis Stroer, a LEED certifier working on the project, are both confident they'll meet the requirements for LEED-Platinum, the highest of four categories in the LEED for Homes program.
The only two units that won't be submitted for certification are in the model building.
"We've been searching, and we've been doing a lot of research because we'd love to say we're the largest," Gobuty said by phone. "The closest one we've come up with is a 58-unit subdivision in New Jersey. However, those are almost a million dollars. We can't find anything close to this."
Walls have R-4 insulation, and ceilings have R-20 or R-30 insulation
Florida, Gobuty said, hasn't been known for exacting building standards. Aluminum-framed windows and concrete block walls that are all but uninsulated are still common. "[Mirabella] changes the landscape," he said, "especially in Florida, where it's always been how quick you can build, how cheap you can build, and how low you can sell."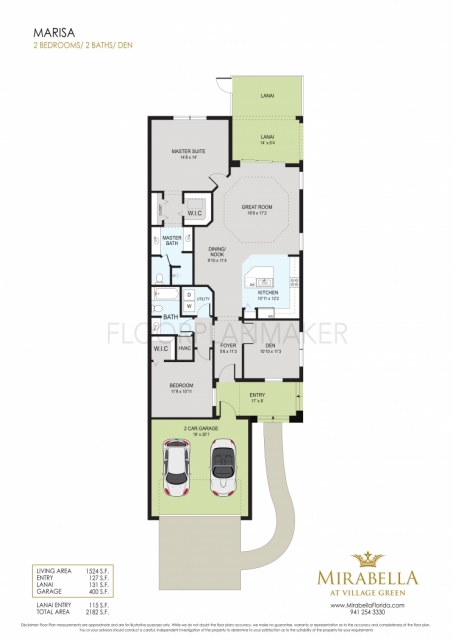 Exterior walls are still built from 8-inch concrete block, but a layer of 3/4-inch-thick rigid insulation is installed on the inside between the block and the drywall (R-3.75 at R-5 per inch), and the builder is considering filling block cores with foam in the next round of construction, which would add another R-4, Jannopoulo said.
Windows are double-pane PVC units with a Solar Heat Gain Coefficient of 0.20 to 0.22.
The standard insulation package for the truss-framed roof is R-30 worth of blown-in fiberglass, separating the house from its vented attic. But buyers can upgrade to an R-20 layer of open-cell foam applied to the bottom of the roof sheathing and opt for a sealed attic instead.
Houses have air-source heat pumps for heat and SEER 15 air conditioners (more efficient SEER 18 units are available as an upgrade).
Other features include: EPA WaterSense faucets, toilets, and showers; low-VOC paints and finishes; a mechanical room inside conditioned space; and LED lighting. Average HERS scores range from 62 to 64.
Using a performance-based approach
Insulation in Mirabella houses may seem a little skimpy to northern readers. Bradenton is in Climate Zone 2, where the 2012 International Energy Conservation Code's prescriptive approach requires R-38 of insulation in the ceiling and R-6 in mass walls — values that Mirabella homes don't reach. But as Dennis Stroer of Cals-Plus, a Venice, Florida, company that is handling some of the LEED certification work on the project, explains, the project is using a performance-based alternative.
In the northern tier of the country, high-performance houses have lots of insulation because the temperature difference between inside and outside can be extreme. But in Florida, Stroer says, temperature differences aren't nearly as dramatic — the temperature difference across the building envelope may be 20 degrees or less. Designers are more focused on other conditions, such as high humidity, and the performance path to code compliance is common.
In following a performance-based path to compliance, builders use computer modeling software to show energy costs won't be any higher than they would be in a house meeting prescriptive requirements of the code. High-efficiency mechanical equipment, such as AC units, can compensate for lower levels of insulation.
The Mirabella houses, Stroer added, are built to Energy Star standards and appear to have the points needed for LEED-Platinum certification.
Building to LEED standards a challenge
Gobuty said that meeting LEED requirements added about 6% to what construction costs would otherwise have been, and managing the process has been among the biggest challenges.
"On top of the work, the cost, it's the management," he said. "We have to have our people inside to make sure the subcontractors do the work precisely, because if it's not done exactly, you're not going to be passing and then you've just wasted a lot of money. We have to manage the process all the way through.
"LEED is a big challenge," he continued, "it's a big undertaking. We have to do a lot of extra work, but I believe in the end our customers are going to be much happier and they'll have a much better product."
The houses have drought-tolerant landscaping and smart irrigation systems that can sense rainfall. Most of the construction waste generated on site is recycled, the Herald said, and materials not completely consumed in the construction of one house were moved to the site of the next one, cutting down on waste.
The 42-acre project also reaped LEED points by being built on the site of an old golf course rather than undeveloped land.
Selling the development has meant re-educating his sales staff, as well as educating buyers who aren't familiar with some of the features Mirabella is trying to promote, Gobuty said.
"There is no textbook for this," he said. "Right now, no one is doing it. Being first is interesting. I'd love to be a fast second, but we are the first. The education process creates a niche, but at the same time it's not something people are familiar with. The good part is we know we're doing the right thing. In five years, everyone will be doing it. Right now, we're alone."
Weekly Newsletter
Get building science and energy efficiency advice, plus special offers, in your inbox.