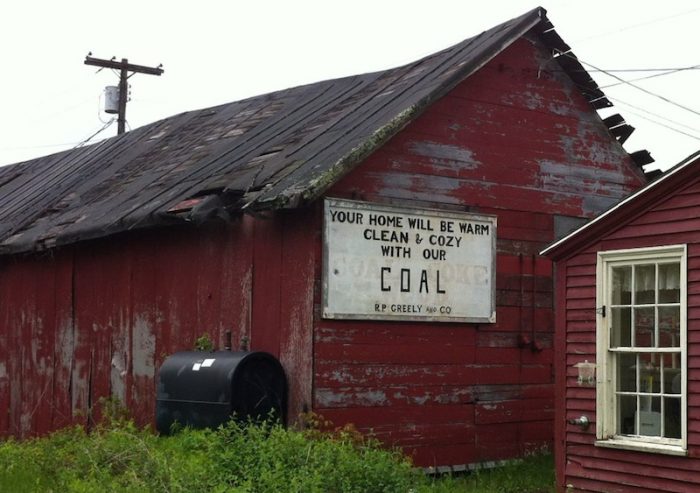 Let me say right up front that I have a definite bias regarding combustion in homes. If you saw the articles about the improvements I've made in my house over the past year, you know that I ripped out the gas furnace and water heater and even had the gas meter removed. I like electricity because it's a great way to move energy and, even better, it keeps getting cleaner.
So, my first recommendation for combustion safety is usually to get rid of the combustion appliances. I realize, though, that not everyone can do that, so let's go over the basics of combustion safety. I'll keep this as short as I can, and if you want more detail, go watch the video of the last week's BS + Beer Show, where Ross Tretheway and I discussed this topic for an hour and a half.
Three types of combustion problems
Living safely with combustion appliances in your home means paying attention to three general types of combustion safety issues.
Fuel problems. This could be anything related to the fuel being used for combustion:
Gas leaks
Oil spills
Coal dust
Termites or other critters in firewood
The safest situation is when all the fuel is kept outdoors, as with a propane tank or woodshed. The most prevalent issue in this category is gas leaks. People who do a lot of combustion safety testing tell me that a really high percentage of the homes they test have gas leaks. Like 80 to 90 percent high.
Combustion problems.  The second type is when the combustion itself is poorly contained. We're talking house fires or even, as happened in Massachusetts in 2018, explosions. This is another reason that getting your house checked for gas leaks is a good idea.
Venting problems.  Burning a fuel produces a variety of different combustion products, from soot (carbon) to carbon monoxide. Even when the combustion process works as designed, it still produces water vapor, which goes into your indoor air if it's not vented to the outdoors. In winter, that could be a problem in some houses, unless you like water dripping down your windows or mold growing on your walls. The problems here stem from stupid design (e.g., unvented fireplaces), stupid building codes (e.g., allowing natural draft water heaters in conditioned space), and stupid installations (e.g., vents that don't draft because of insufficient rise, like the one below).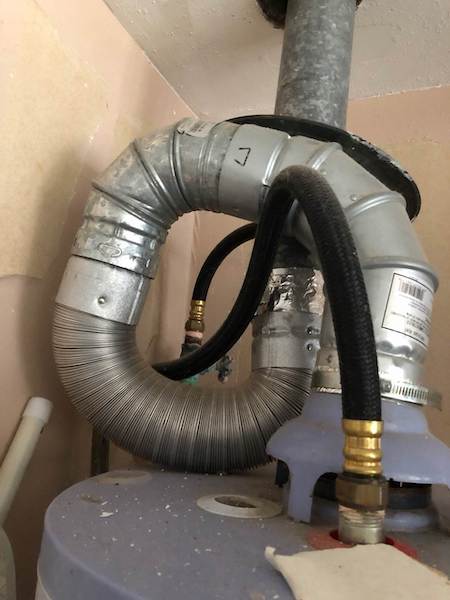 Let's focus on the venting problems now.
Carbon monoxide and water vapor
Nitrogen dioxide, carbon dioxide, and other combustion products can certainly create problems for indoor air quality, but I'm going to focus on the big two here, carbon monoxide (CO) and water vapor. Let's start with CO.  As you see below, carbon monoxide has a carbon atom and an oxygen atom. It's similar in size, shape, and chemical activity to the oxygen (O2) our bodies need. When it's in the air we breathe, it can take the place of oxygen in the bloodstream, forming what's called carboxyhemoglobin rather than the oxyhemoglobin our cells are looking for. The result is flu-like symptoms at lower levels, unconsciousness or death at higher levels.
If you have combustion appliances or an attached garage at your house, it's essential to have a low-level carbon monoxide monitor, such as the ones made by CO Experts or Defender. (TruTech Tools is a great place to order them.) The less expensive UL listed carbon monoxide detectors will not protect you from levels that can make you sick. They're allowed to stay silent until the CO level reaches 70 parts per million for two hours. So, you could breathe in 69 parts per million 24/7, and it won't tell you. Nobody likes "nuisance alarms," you know.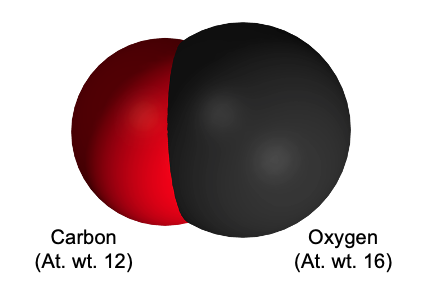 Water vapor is the other biggie, and as long as all your combustion appliances vent to the outdoors, you shouldn't have to worry about this. Ventless gas log fireplaces and unvented space heaters are the biggest culprit here. Once I was called to a home for an assessment, and I walked up to the house on a chilly January day and saw right away that this woman had a serious moisture problem. The main door was open, and the all-glass storm door was dripping with water on the inside. When I walked through the small house, I saw three unvented gas space heaters…and a bit of mold here and there.
If you're thinking that adding water vapor in the winter is good to combat low humidity, I'll say that you've gone way too far if you have water dripping down the storm door. I'll also say that the first way to deal with low humidity is air sealing because cold air is dry air. The other issue here is that high humidity inside the house could be causing problems inside poorly insulated and air-sealed parts of the building enclosure, like the walls.
Know your combustion equipment
The first place to focus your attention for venting problems is on any combustion appliance that doesn't vent directly to the outdoors. Unvented space heaters and ventless fireplaces, as mentioned, dump all their combustion products into your indoor air, and thus into your lungs. With complete combustion, they add water vapor and carbon dioxide to the air. Your gas oven and cooktop are likewise not directly vented, but most homes do have a range hood above them.  You just have to remember to use it…every time you turn on the oven or cooktop. Especially the oven. At startup, a gas oven can produce an enormous amount of carbon monoxide. I measured one that put out nearly 1,000 parts per million of CO until it got warmed up. If you don't have the range hood on when they're spewing that stuff into your kitchen, you'll end up breathing some of it.
The second place to focus is on any combustion appliance that's of the "natural draft" type. Some houses do still have natural draft furnaces, but since their manufacture ended in the mid 1980s, you probably don't have to worry about that.  Many, many homes, though, do have natural draft gas water heaters. You can identify them easily because they have a metal flue above the tank and a gap between the flue and the tank, as shown below. When they're operating as designed, the exhaust gases go up the flue and out of the house. The gap is to pull in a little extra air to aid the venting.
The problem here is that the exhaust vent is connected to the house air (assuming it's inside the house). That means air could be coming down the flue instead of going up, depending on the pressure difference between inside and outside. If air is coming down the flue while the water heating is firing, the exhaust gases won't be going up the flue. Instead, they go into the house. This is called backdrafting. Even worse, the flame at the bottom of the water heater is likely to be starved of oxygen, meaning the combustion will be incomplete. Thus, you're likely to get more carbon monoxide than if everything were operating correctly.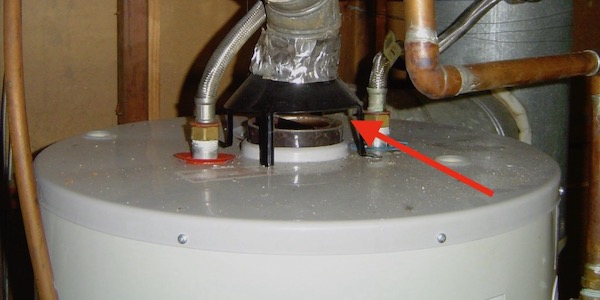 What can you do?  First, if you have a natural draft water heater inside the house, get a low-level CO monitor. Second, pay attention to anything that might cause the water heater to backdraft. If the water heater is in a laundry room with a furnace and a clothes dryer, you've got three appliances competing for air. You might want to have a professional test your home.  But get the low-level monitor right away.
If you're ready to replace the water heater, you have a number of options. You could get a direct vent or sealed combustion water heater, which brings in its own combustion air. You could also get a power-vented water heater, which uses a fan to vent the exhaust. Or you could do what I did and get rid of the gas water heater altogether. I replaced mine with a heat pump water heater, which I love!
Careful with that foam gun, Eugene
Negative pressure can cause natural draft water heaters to backdraft. Air sealing makes a building enclosure more airtight. The more airtight the building enclosure, the more negative pressure any given exhaust fan will create. So, another rule for dealing with natural draft combustion appliances in the home is to hold off on air sealing until you either replace the offending equipment or have the house tested by professionals before and after air sealing. The last thing you want to do is air seal a home that's on the edge of combustion safety. Do you know where that edge is?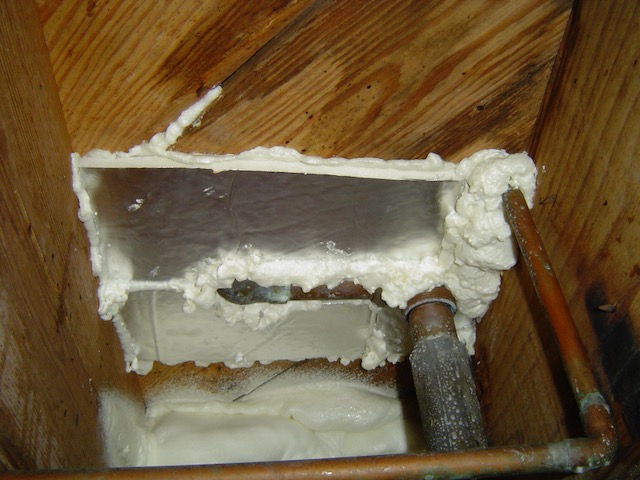 Air sealing is the number one thing you can do to make your home more comfortable, healthful, durable, and energy efficient, so just ditch the natural draft water heater.
What to do next
Combustion safety is no joke. If you burn fuels inside the house, make sure they vent to the outdoors. Before you turn on your oven or cooktop, turn on the range hood. Get a low-level carbon monoxide monitor. And if you want help from a professional, look for a BPI certified Building Analyst who can do a number of combustion safety tests for you. And finally, to learn more, you could grab a beer and go watch that video of the BS + Beer Show I did with Ross Tretheway.
_________________________________________________________________________
Allison Bailes of Atlanta, Georgia, is a speaker, writer, building science consultant, and founder of Energy Vanguard.  He is also the author of the Energy Vanguard Blog.  You can follow him on Twitter at @EnergyVanguard.
Weekly Newsletter
Get building science and energy efficiency advice, plus special offers, in your inbox.