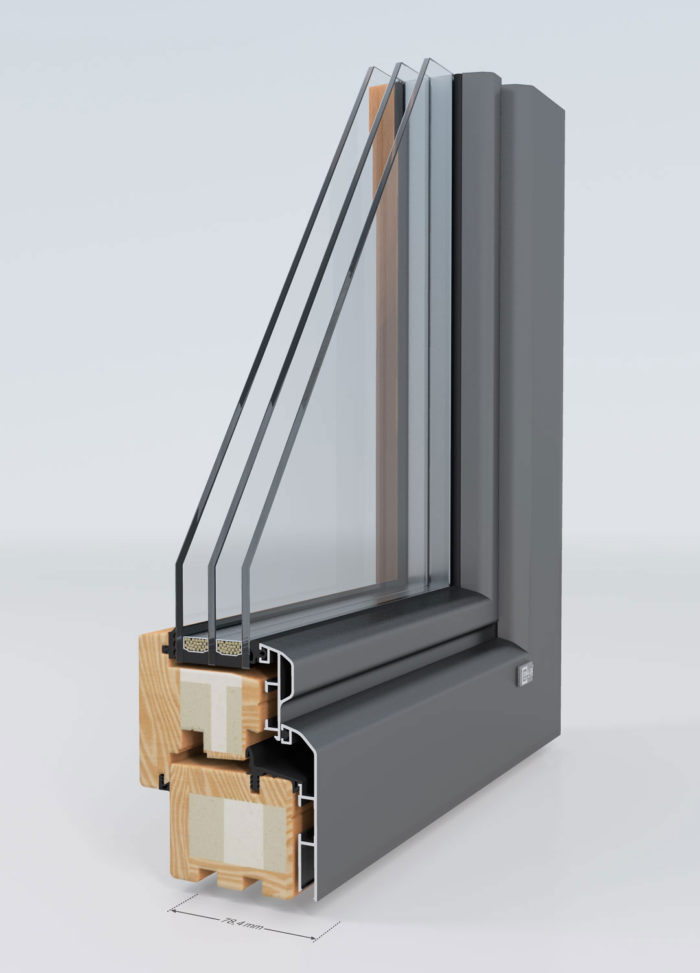 [Editor's note: Roger and Lynn Normand are building a [no-glossary]Passivhaus[/no-glossary] in Maine. This is the seventh article in a series that will follow their project from planning through construction.]
Woe are we with windows!
We started seriously exploring window options in June. Two months later, we are STILL hung-up on windows.
Most people who build new homes go look at window samples in few building supply stores, check the features, open and close the display units, get a price, and quickly decide, "Let's go with this one."
Not so with us. Window features, colors, grilles and other options are irrelevant; it's all about the performance specifications of the window, specifically: glazing U-factor; sash and frame U-factors and dimensions; glazing Solar Heat Gain Coefficient; and glazing Visible Transmission. These are the critical elements in meeting the Passive House standard.
The south-facing windows have to let more heat into the house during the day than is allowed to escape at night. As we are finding, there are few windows on the market that can measure up to this daunting task.
Focusing on Unilux
After we rejected Pella (inadequate performance) and Schüco (quality and reliability concerns), we began to look at Unilux UltraTherm 3 and Thermotech 322 series windows. I will discuss the Unilux windows in this blog.
We went to see installed Unilux Ultratherm 3 windows in early August. The windows are locally marketed by Hancock Lumber, a sixth-generation family-owned building supply and land company in Maine.
We were very impressed with the Unilux windows. We thought these German-built, wood-core, aluminum-clad tilt-turn windows were very well built, had a solid heft when opened or closed, and would meet our performance needs. After all, the manufacturer's literature proudly boasts that this window "exceeds the Passive House standard with a U-value of 0.12 BTU/hr-ft2-F degrees."
This is a triple-pane, gas-filled window, low-e coating on two sides, and a sash and frame core composed of a "homogeneous combination of wood and highly insulating basic materials, sometimes harder than wood, molded by applying 20,000 volts" (of electricity). This composite core provides a critical thermal break within the frame and sash members.
Weak sales support, questionable specifications, and a high price
Unfortunately, we cannot yet decide on whether to accept or reject this window for EdgewaterHaus. We have four concerns. In priority order:
1 – The Unilux sales support from Hancock Lumber has been underwhelming. This is particularly troublesome for such a premium window, with associated premium price. If responsiveness is this challenging before a sale, what can we expect after the sale?
It typically takes one to two weeks' turnaround to get questions answered, whether the queries are related to technical, installation, options, features, or pricing. This cannot reasonably be due to time zone differences or a language barrier.
In desperation, our architect, Chris Briley, opted on several occasions to bypass the Hancock team and posed questions via e-mail directly to the manufacturer in Germany. He used Google to translate the text into German before launching the e-mail at the end of the day. He had a concise reply, translated into English, awaiting him the next morning when he arrived at work.
When other Hancock responses do arrive, they include a manufacturer's printout with undecipherable product codes and no reliable or easy way to compare what was specified, and what was provided. There have been numerous errors on glazing types and window sizes from what was specified, thus requiring a re-work, and another extended delay.
Fundamentally, it is not clear that the Hancock team understands our window performance needs, or how the Unilux product and all its permutations can best meet that need. For example, a few weeks ago Chris realized that Unilux could provide a "curtain-wall" window, which assembles multiple individual windows into a larger single unit, eliminating redundant frame members. This substantially increases the performance of the windows because there is more higher performance glazing and less lower performing wooden frame in the same size unit.
The Hancock team never proposed this option for our large expanse of south-facing windows. We have been awaiting the Hancock team to provide us with a curtain-wall proposal including price for the south-facing windows for nearly two weeks. But there is another hitch. Unilux requires that the curtain-wall be installed by an individual certified to do so, or the windows lose warranty coverage.
Chris was advised that Hancock has no certified installers, nor do they have access to anyone that is certified. I find it puzzling for a supplier to sell a premium product without being able to deliver the full ranges of services for that product. There appears to be another previously unknown option according to the Hancock team – "direct glazing," which similarly eliminates some sash members. While confirming that this might be an option, no performance specifications were provided. Ugh!
2 – The Hancock team has failed to answer the few simple questions I have personally asked directly to them when I met them at Unilux window job site in early August. For example, I have yet to receive an answer as to what the cost difference is between double- pane and triple-pane windows for the three-season room.
3 – Absent the use of a curtain-wall along the south facade, the Ultratherm 3 windows as currently specified fail to achieve the Passive House standard without additional substantial increases in insulation. The results of Marc Rosenbaum, our energy consultant, were shocking, given the UltraTherm 3 product literature. The reason is that the sash and frame members of the Ultratherm windows are thicker and have a lower SHGC than the Schüco. The Passive House heat load ceiling is 4.75 KBTU/sf/yr. The Schüco windows comfortably met the goal at 4.40 KBTU.sf/yr. Without any other building envelope changes, the UltraTherm 3 came in at 6.35 KBTU/sf/yr. The German Unilux rep did offer to substitute non-standard, higher SHGC glazing, but that strikes me as both more expensive and ill-advised to go outside the manufacturer's comfort zone for our tiny EdgewaterHaus.
4 – At a price approaching nearly $70,000, the UltraTherm 3 windows cost $134 per square foot, a princely sum.
The rep is still learning
In fairness, I suspect there are extenuating circumstances at Hancock Lumber. Chris has admittedly cycled the Hancock team a number of times for pricing, sizing, and performance factors as the EdgewaterHaus design has evolved, driven not by floor plan changes, but attempts to get the right amounts of south glazing in the right architecturally pleasing form to meet the Passive House standard.
Unilux is a recent addition to the Hancock line of windows, and when asked for installed examples, only two locations were provided. We can only ponder whether the Unilux ordering system is overly cumbersome. The Hancock staff has yet mastered all aspects of this line of windows.
Hancock lumber has a sterling reputation in the area. We hope we can quickly overcome these hurdles. In the meantime, we are delaying the start of construction, because the building envelop is not finalized, because we have not yet come to closure on window selection.
Stay tuned for a blog on the Thermotech windows.
Ordering windows should not be this hard, nor take this long.
The first article in this series was Kicking the Tires on a Passivhaus Project. Roger Normand's construction blog is called EdgewaterHaus.
Weekly Newsletter
Get building science and energy efficiency advice, plus special offers, in your inbox.