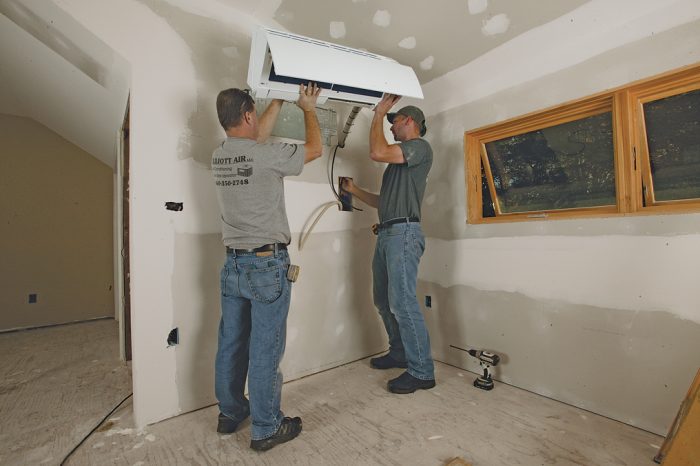 Editor's Note: This article first appeared in the Dec 2020/Jan 2021 issue of Fine Homebuilding magazine. Given the topic's popularity and the author's in-depth coverage, we felt it made sense to share it with GBA members too. 
Synopsis: Minisplits offer an all-electric heating and cooling solution with a range of design options. HVAC designer Jordan Goldman explains how a minisplit system works and the various options for single-zone and multizone systems, how to size a minisplit system and the hazards of doing so incorrectly, and other considerations when deciding on or installing a minisplit system.
Versatile, scalable, and all-electric, minisplit heat pumps are an increasingly attractive HVAC solution. Originally developed in Asia, where small homes are more common, minisplits made their first splash in North America in the form of single-point, wall-mounted units, offering a quiet, cost-effective way to condition a single room.
While these ductless, single-zone systems are still big sellers, their surge in popularity has ushered in an influx of new products and variations, including ducted systems that stay hidden from sight and multizone minisplits that serve an entire house.
For well-insulated houses, minisplits are beginning to dominate the market. They are especially suited for lower heating and cooling loads and providing quiet comfort with surprisingly low amounts of energy—energy that can be produced on-site or pulled from renewable sources on the grid.
For renovations and additions, today's single-zone minisplits offer a much wider variety of configurations, including ducted versions that serve multiple rooms. Extending the reach of this exciting technology, new low-temperature units can handle all but the most frigid weather zones.
Like any building component, minisplits aren't right for every project, and there are critical design factors to consider. While a short magazine article can't replace a full system design by an…
Weekly Newsletter
Get building science and energy efficiency advice, plus special offers, in your inbox.
This article is only available to GBA Prime Members
Sign up for a free trial and get instant access to this article as well as GBA's complete library of premium articles and construction details.
Start Free Trial
Already a member? Log in