Designers of a high-performance demonstration home in rural Quebec province didn't think it was enough to plan for low on-site energy costs, so they figured in how much extra electricity would be needed to power a plug-in vehicle to and from work 40 minutes away, and then brought the whole thing in for an estimated $2.30 in electricity per day.
The Edelweiss House in Wakefield, Quebec, a picturesque town on the Gatineau River northwest of Ottawa, is also the first home in Canada to be certified under the new version of LEED for Homes with the top ranking of Platinum.
It's the work of Ecohome, a firm offering a variety of consulting services for the construction of high-performance houses.
The 1,552-square-foot house, completed this August, was built for $250,000 Canadian (about $190,000 U.S. at current exchange rates), or $161 a square foot (about $122 U.S.). It includes a long list of environmentally friendly materials, and takes the smorgasborg approach to mechanical systems with not one but three interwoven options for heat.
One of its most impressive calling cards may be its extremely low energy demands and operating costs. Energy modeling software predicts the house will use an average of 24.6 kilowatt hours of electricity per day, or an average over the year of $1.39 (Canadian) per day based on current electricity rates from Quebec Hydro. For a full year, heating, cooling and interior plug loads should add up to about $507 ($385 U.S.)
Suppose the owners drove the 33 kilometers to Ottawa every day for work in an electric vehicle? Using the charging station at the house, that would bring total energy consumption to about $2.30 per day ($1.75 U.S.).
Edelweiss House was designed and built by two founders of Ecohome, Emmanuel Cosgrove and Mike Reynolds.
"It's not that hard," Reynolds said by telephone. "You don't have to blow the bank to have a high-performance house. You just don't. That's why we did this project, to show that it could be done affordably."
The house, currently for sale, is used as a teaching venue and is available for rent via Airbnb, the web-based service that matches homeowners with travelers.
Many sustainable features and materials
Ecohome went to great lengths to choose finishes, materials and fixtures with low environmental impact (a complete list, including links to manufacturers, is available under the Demo House tab at the company's website).
Among them:
Low-flow plumbing fixtures that help the house use about 60% less water than a conventional home.
Reclaimed and recycled materials, including a Silestone Eco Line quartz countertop made with porcelain plates, bottles and mirrors; a wood ceiling made from reclaimed sunken river wood; sandblasted antique interior doors; locally sourced slate for bathroom floor and shower walls, and lightweight gypsum with high recycled content.
Mineral wool insulation, including that used under the slab.
LED lighting fixtures and bulbs.
Interior paints and floor adhesives with zero volatile organic compounds.
A vegetative roof.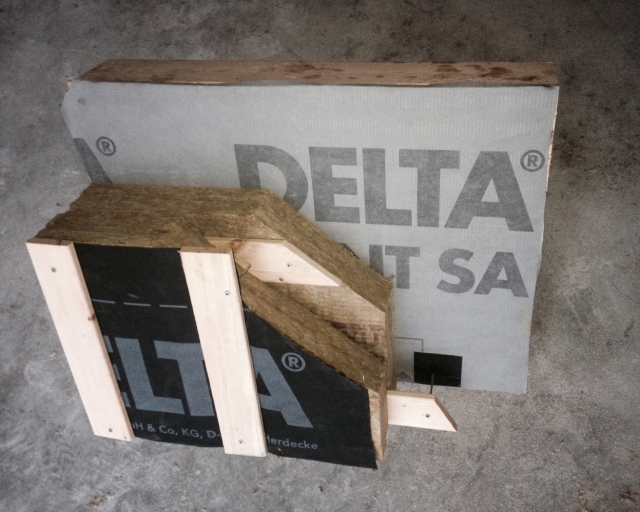 All of these features are packaged in a high-performance building envelope. Exterior walls of the slab-on-grade house have a total of 13 1/2 inches of mineral wool (5 1/2-inch batts followed by 8 inches of semi-rigid insulation) for a total R-value of 58. There is R-32 worth of mineral wool under the slab, and R-95 of mineral wool in the ceiling. (For more information on the installation details for this home's sub-slab mineral wool, see Sub-Slab Mineral Wool.)
Windows are triple-pane, argon-filled units made by Elite. Airtightness was tested at 0.69 air changes per hour at a pressure difference of 50 pascals. That, Ecohome notes, is nearly five times tighter than the average new home.
A number of corporate sponsors contributed materials to the project. Reynolds said the total came to about $65,000. However, to keep an accurate tally of construction costs for comparison's sake, Ecohome added the list price of donated services or products to actual costs.
Renewable energy system not needed
Photovoltaic or wind-energy systems that offset building energy demands are commonplace on high-performance homes, especially as the cost of solar modules continues to fall. But in the case of the Edelweiss project, Ecohome didn't think they would contribute enough to offset their initial investment.
"You can get so much more if you invest first in efficiency," Reynolds said. "There are enough houses that are going net-zero energy popping on solar arrays. But we kind of wanted to bring it down to the basics and just show how little [energy] a house needs to use. Yes, we could have installed solar panels on top of it, but there's so little consumption as it is."
Also, he added, utility power in this region comes from hydro sources in Quebec, not coal or other fossil fuel, so Ecohome "was OK" with the power source.
Ecohome also decided against seeking Passivhaus certification, even though its energy consumption for heat and its level of airtightness are at or near the required levels.
"Yes," Reynolds said, "we met the Passivhaus heat requirement and had virtually the same on air change. Passivhaus is a great initiative, but the targets don't reflect a Canadian climate on the whole, and LEED is a far more encompassing system."
Three options for heat
Because it is a demonstration house designed to showcase a variety of building systems and materials, the Edelweiss House has more features than an average buyer would want or need. Case in point is the heating system: there are actually three.
First and foremost, Reynolds said, is the passive design of the house. "The primary heat source is the sun," he said. "The majority of the heating requirement is met by the windows. Our primary heat source would be passive solar gain."
Then there is a 10-zone hydronic radiant floor distribution system paired with an electric boiler. There were a couple of reasons for including this, Reynolds said. First, Uponor donated the materials and designed the system, so it didn't add anything to Ecohome's out-of-pocket expenses. Second, and more important, no one wanted to risk the chance of having cold floors, even with R-32 worth of mineral wool under the slab.
Finally, there's a ductless minisplit air-to-air heat pump (donated by Mitsubishi). A single, wall-mounted evaporator/air handler is adequate for the single-story, open design of the house.
The heat pump should operate at three times the efficiency of the electric boiler, he said, so it's the first heat option when solar isn't enough. But the hydronic radiant heat guarantees the slab will never get icy.
"This is a demo house," Reynolds said. "We're trying stuff. The evolution of building is not over. What we're trying to find out is where the sweet spot is, how much insulation would you have to add so your floors stayed at the ambient, comfortable temperature. Maybe there's a point where you can drop an extra $4,000 on insulation and that saves me installing $10,000 in a radiant floor. That doesn't cost more, it costs less. It's a bit of a laboratory. It's an experiment in finding the right levels of insulation."
The Mitsubishi ductless minisplit also is a boost for both domestic hot water and air conditioning. As Ecohome explains it at its website, "With a 3-to-one efficiency ratio, the heat pump feeds the AO Smith air-to-water heat pump, effectively reducing the domestic water heating consumption by two thirds. In summer, the water heater also acts as an air conditioner…"
"So, we get more efficient heat in the winter, more efficient hot water in the winter, and in the summer you effectively have free air conditioning or free hot water, however you want to look at it," Reynolds said by phone. "We never had to put the minisplit on cooling mode."
Offering another way of rating heat performance
There's one more component to the Edelweiss House — it's an opportunity for Ecohome to introduce what it calls the "Passive Solar Index," or PSI, a numerical value for how much energy it will take to heat the house. The scale ranges from 1 to 50, measured as kilowatt hours per square meter per year.
Values are determined by the Passive House Planning Package (PHPP), the same modeling software that Passivhaus designers use to measure compliance with the German-based standard. Passivhaus limits heating demand to 15 kWh/sq. meter/year, but houses modeled at 16 kWh flunk — there's no middle ground. Reynolds thinks prospective homeowners would benefit by knowing just what the heat demand will be, and the PSI is a way of supplementing a rating system such as LEED, where such factors such as proximity to public transportation and indoor air quality could be valued as much as energy use.
"A [LEED] house might not be a great performer," he said. "You just don't know. What PSI is trying to do is attach a number to a house so you can compare one to another."
Using a HERS rating has the same potential drawbacks as relying solely on LEED certification, Reynolds said.
"You could have a poorly performing house loaded with solar panels and get a great HERS rating," he said in a followup email. "PSI, on the other hand, tells you on a scale of 0-50 how much heat you can expect to lose through the building envelope, no matter how you choose to heat it. "
An explanation at the Ecohome website puts it this way:
"While obtaining the Passivhaus certification requires a power consumption not exceeding the threshold of 15 kWh/m² annually, PSI considers that the Canadian climate is far more harsh than that of Germany, where Passivhaus standards originate," the Ecohome website explains. "PSI recognizes buildings that consume 50 kWh/m² of conditioned space (or less) over a whole year, a performance value that would represent a 50% reduction in energy consumption over a single-family house built to code."
PSI allows buyers to compare one house against another without having to weigh maintenance and replacement costs of renewable energy systems that might be present, Ecohome says.
To that end, the website offers a chart comparing construction costs, heating costs and mortgage costs of three houses — a house built to minimum code requirements, a "high-performance" house that uses 49 kWh/m² for heat, and an "extremely high-performance" house using 12 kWh/m² annually for heat. Heating costs for the high-performance house are $60 in this example, vs. the $210 in the house built to code and the $16 in the extremely high-performance house. But in the end, the high-performance house has the most attractive monthly cost total of mortgage and heating, 6% less than a house built to code.
"The biggest message we're after is not to look at the building code base requirement as a target to achieve, and then just resign yourself to spending tons of money every month to pump heat into your house," Reynolds said. "Rather, invest that in insulation and the payback is immediate. People think the payback is going to be 25 years, and it's not. The payback starts when your neighbor turns on the heat and you don't."
Weekly Newsletter
Get building science and energy efficiency advice, plus special offers, in your inbox.