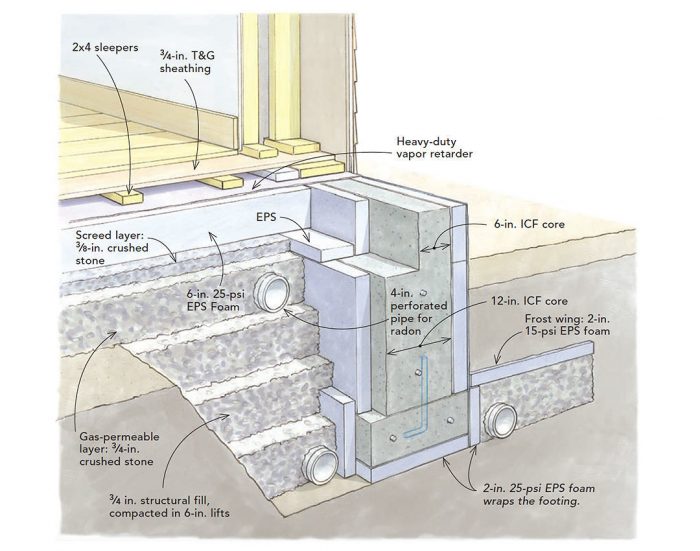 For the last ten years, most of my work has been designing renovations and new homes, and now I am building again as well. But I also sometimes help clients fine-tune the details on homes designed by others.
In early 2017, I was hired to consult on details for a small, high-performance home. Nick, the owner, and his mother, for whom he was building the house, care deeply about our environment and wanted to minimize both embodied carbon and operating carbon, which are similar to embodied energy and operating energy, through the lens of global-warming emissions.
Although exposed, sealed concrete slabs are popular for finished floors in high-performance homes, concrete comes with a large carbon footprint, responsible for 10% of man-made greenhouse gas emissions. Nick and his mom were adamant about having warm-looking, locally sawn white-pine floors. They did not want a basement or a crawlspace, the conventional options in the northeast, because they require extra labor and material to build, and they can be hard to detail so that they remain free of moisture (and resulting mold). Plus, there was ledge (the regional term for bedrock) not far below grade, and we weren't sure if we could even get code-compliant clearance in a crawlspace. They were committed to the concept of a slab, just not the concrete material.
Nick asked if we really needed concrete under the flooring. Conventional wisdom says yes: I've installed and/or specified wood floors over concrete many times, and while the assemblies can be handled a number of ways, they always include a layer of concrete somewhere. But then I recalled a project by builder Stephen DeMetrick and architect Steve Baczek including a concrete-free basement floor. They floated two overlapping layers of subfloor over foam and a vapor retarder, without concrete. But that was a basement…
Weekly Newsletter
Get building science and energy efficiency advice, plus special offers, in your inbox.
This article is only available to GBA Prime Members
Sign up for a free trial and get instant access to this article as well as GBA's complete library of premium articles and construction details.
Start Free Trial
Already a member? Log in