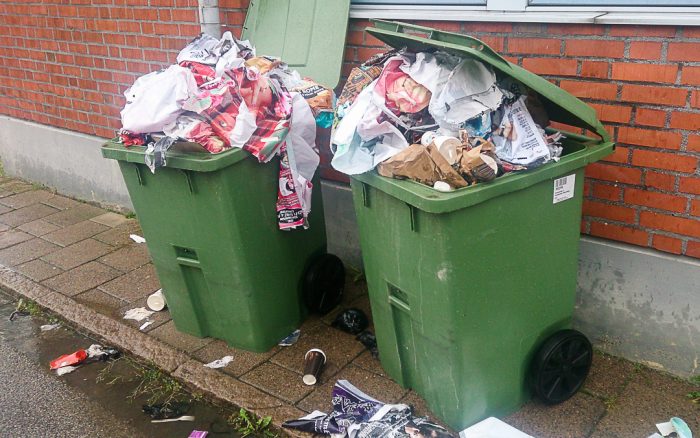 The U.S. represents 4% of the world's population but produces 12% of municipal solid waste and recycles less of it than other developed countries, according to a new report from the consulting firm Verisk Maplecroft. The report said it compared data on waste generation and recycling for 194 countries and found the U.S. is the top producer of trash but has the worst record of any industrialized nation for managing it.
The report, described in an article at The Guardian, comes at a time when the world is facing a growing solid-waste problem, particularly with plastics. Globally, the Verisk Maplecroft report said, more than 2.1 billion tons of municipal solid waste are generated annually—enough to fill 822,000 Olympic-size swimming pools. Only 16% of it is recycled.
"The gulf between what we produce and what we recycle is creating profound challenges for governments and populations," the report says. "But it is the companies producing large volumes of waste that may find themselves footing the bill if they do not find sustainable solutions to drive a more circular economy."
The Waste Generation Index that the company devised for its comparisons measured per capita rates of municipal solid waste, plastic, food, and hazardous waste production. Each person in the U.S. was responsible for 773 kg (1704 lb.) of municipal solid waste annually, adding up to some 239 million tons.
In contrast, India and China have more than 36% of the world's population but generate 27% of global municipal waste.
Other highly developed countries also produce a disproportionate amount of waste, including the Netherlands, Canada, Austria, Switzerland, Germany, France, Japan, the United Kingdom, and Australia.
The report was critical of low recycling rates in the U.S. "Given the U.S. is the world's largest economy it may not be surprising that it is one of the largest producers of household waste," the report notes. "But what is significant is its lack of commitment to offsetting its waste footprint."
Germany's recycling rate of 68% is nearly double that of the U.S., which suffers from a "shortage of political will and investment in infrastructure." A ban on importing waste plastic in China and a number of developing countries has made the problem more pronounced.
In March, The Guardian reported that environmental groups at a United Nations conference in Kenya claimed the U.S. was responsible for blocking global efforts to reduce plastic pollution. Norway, Japan, and Sri Lanka had proposed legally binding agreements aimed at reducing plastic litter in the oceans. Others favored a resolution to phase out single-use plastic.
Instead, a number of non-binding proposals were adopted, which several environmental groups said were inadequate given the scale of the problem. One of them was the Center for International Environmental Law in Washington, D.C. It issued its own report on the global environmental impact of manufacturing and incinerating plastics earlier this year.
-Scott Gibson is a contributing writer at Green Building Advisor and Fine Homebuilding magazine.
Weekly Newsletter
Get building science and energy efficiency advice, plus special offers, in your inbox.