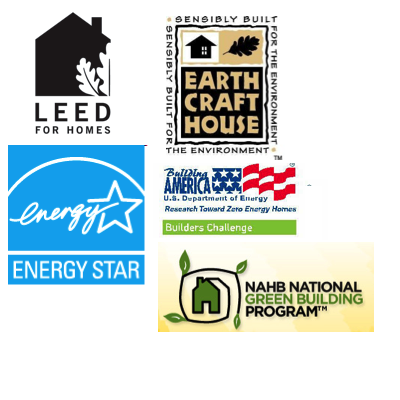 Following up on my recent post about LEED and other green programs, it occurs to me that the people responsible for creating and managing most green home certification programs have completely missed the big picture. I hope and believe that one day, through a combination of more stringent codes, legislation, and marketplace demands, we will reach a point where green building becomes the minimum acceptable standard. I recognize that we have a long way to go to reach this goal, and I don't expect us to get there any time soon.
In the meantime, I think that third-party certification by one of the many available green home programs is the best hope for industry transformation. While demand for these certifications is increasing, many builders and homeowners don't see the value in the extra costs involved in getting the certification. I frequently hear from contractors that they build or renovate to a particular green standard, but don't bother to get the testing or certification. Most homeowners are not savvy enough to recognize that without effective third-party oversight, they may not be getting what they expect. Then again, they may not expect anything.
Look at who's doing it right
I have the most respect for the contractors who don't see it as a burden or worry about the extra cost. Rather, they view it as an important part of their overall business strategy. Michael Chandler put it nicely in a follow-up comment to one of his recent posts: "I never ask my customers to pay for certifications any more than I would put a line item in their budget for a newspaper ad I plan to run. It's a marketing differentiator." This is the right attitude to take regarding certification. It should not be project specific; it needs to be an integral part of your business. The most successful green contractors are those that don't offer green as an option; they just do it all the time because they know it's right.
Can't we all just get along?
Good green programs work hard to avoid "greenwashing" through rigorous requirements and independent verification of completed projects. Programs continue to raise the bar on performance, which, while good in theory, in many cases increases the complexity and cost of certification, without necessarily producing higher-performing buildings. There are many excellent builders out there who are very capable of creating high-performance homes who don't have the time or the particular skill set to assemble the required documents for certification. Not providing them with an appropriate entry point to building certification equals lost opportunities. It doesn't mean they aren't capable of doing a good job, just that they can't fit a particular program's image of a green builder.
I believe it is possible to create a meaningful, manageable, accessible, and reasonably priced green home certification, something few if any of the existing programs now accomplish. Programs such as LEED and NAHB have so much invested in their programs that they can't see outside their own boxes enough to make the substantial changes they need. Local programs, many run by nonprofits, don't have the resources to reinvent themselves, particularly in the current weak construction market.
It seems to me that if we could just pool everyone's resources and put together one great green program, we would all be a lot better off. I'm not so optimistic to believe that this can actually happen; it's just wishful thinking.
Weekly Newsletter
Get building science and energy efficiency advice, plus special offers, in your inbox.