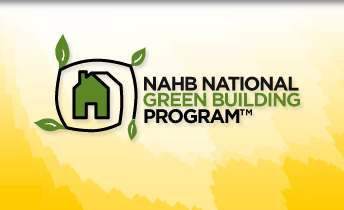 Approved by ANSI less than three months ago, the National Green Building Standard is off to a quick start with its land development certification of a 60-acre parcel in Northwest Indiana
Although it was not heavily emphasized in late January when they were approved by the American National Standards Institute, the benchmarks and certification protocols of the ICC/NAHB 700, now known as the National Green Building Standard, are as relevant to whole communities as they are to single-family homes, apartments and condominiums, and remodeling projects.
Compelling evidence of that is a 60-acre parcel in Northwest Indiana whose developer, T. Clifford Fleming, focused on environmental stewardship of the community by protecting environmentally sensitive areas, and by preserving existing vegetation and the natural water and drainage features on the site. Supplemented by thorough documentation, that effort earned the site the first land development certification awarded under the NGBS, the National Association of Home Builders announced this week.
The development, formerly a backwater of unused farm fields and commercial sites, is now called The Village in Burns Harbor and has more than 1,000 new homes, renovation projects, and subdivisions being scored for NGBS certification, the NAHB said. The community eventually will include a mix of 265 single-family, semi-detached, and multifamily homes and a town center with retail, residential, and commercial development.
Sixty homes have already been completed, NAHB added, including two single-family homes built by Coolman Communities that were certified earlier this year by the NAHB National Green Building Program.
Weekly Newsletter
Get building science and energy efficiency advice, plus special offers, in your inbox.