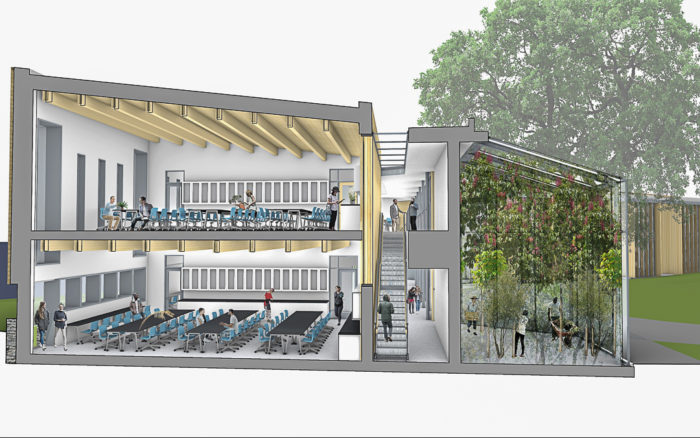 The school ranked by The Princeton Review as the number one green college in the U.S. has announced plans for a new campus center that will be built to the German Passivhaus standard.
In a news release, the College of the Atlantic said that the 29,000-square-foot Center for Human Ecology will be a multipurpose teaching and gathering space. It will include science laboratories, lecture halls, faculty offices, art studios, and a teaching greeenhouse.
Key to the design is the use of mass timber components to replace concrete and steel, a move that will substantially lower the carbon footprint of the $13 million project.
The college is located next to Acadia National Park in Bar Harbor, Maine, a spectacular setting facing the Atlantic Ocean. The school has made environmental stewardship a cornerstone of its program, and it's topped The Princeton Review green list for the last three years.
The college has just 350 students and 35 faculty members, and offers a single undergraduate degree: a bachelor of arts in human ecology. Founded 50 years ago, COA in 2007 became the first carbon-neutral college and has pledged to stop using fossil fuels by 2030, according to its website.
The architects are GO Logic of nearby Belfast, Maine, and Susan T. Rodriguez Architecture – Design. GO Logic has designed other Passivhaus school projects, including a Montessori school in Belfast and an ecology center at the University of Chicago.
"The center, and the project as a whole, demonstrates that building performance and sustainability, design aesthetics, functionality, and cost consciousness can be maximized together when you have the right vision and the right partnership between client and design team," COA President Darron Collins said. Collins is a 1992 graduate.
Construction is to begin this spring and be completed by September 2020. Projects totaling another 16,000 square feet are in the works.
Mass timber replaces steel
In a telephone call, Lock explained that the structure of the building would consist of mass timber components to replace the steel and concrete structure of a more conventional commercial building. The 2×8 exterior walls, which will be wrapped in 6 inches of Gutex fiberboard insulation, will essentially be curtain walls without any structural role.
"It's mostly nominal lumber, but a large portion of the structure is mass timber framing, glue-laminated beams, with a deliberate attempt to move away from steel and concrete as a construction method," Lock said. "It addresses the college's desire of a full cycle analysis of embodied carbon throughout, cradle to grave, of all the materials that go into their buildings."
Designers relied on software that calculates the carbon impact of the materials they selected. The carbon analysis covered not only the efficiencies during the building's service life but also in what it was made from.
Substituting glulam beams for steel and concrete provided a significant drop in embodied carbon and also beat steel and concrete in cost by a "fair margin." Although mass timber added about $1 a square foot to construction costs over engineered lumber, carbon sequestration improved.
Manufacturing engineered wood and mass timber components generate similar amounts of carbon dioxide, Lock said in an email, but mass timber sequesters much more carbon. "About 50% of the total mass of the wood is stored C02 in the form of carbon molecules," Lock wrote, "so you actually have a net positive impact in using wood while the building is standing (versus steel or concrete). The key to going to mass timber is that increase in mass."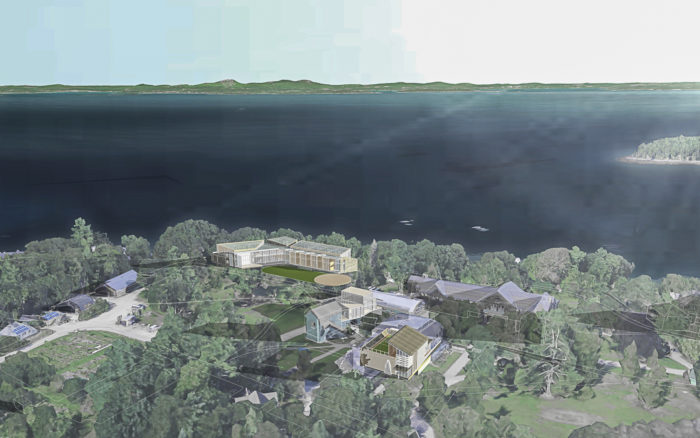 When carbon became part of the equation for selecting materials, Lock said, designers looked for a way to explain the difference between using mass timber and concrete and steel.
"Turns out that they would have to make the life choice of their entire 450-person population not to drive for five years to save the same amount of carbon as they did switching to mass timber," he said. "It starts to put these decisions in terms that are really tangible. It was really something that was very powerful."
While using mass timber for structural components made sense, cross-laminated timber components for the walls didn't seem to offer as many advantages as the curtain wall approach the architects chose, Lock said.
"I think that's not the future of [cross-laminated timber], honestly," Lock said.
Instead, he suggested, in mid-size buildings designers could consider replacing the steel with mass timber beams and concrete with CLT panels.
"You have a better system that sequesters a lot of carbon and it can be cheaper than steel and concrete," he said. "That's where you're getting your biggest cost and carbon payback at the same time, and that's what we're doing here."
The dead whale challenge
A mixed use educational building is a lot more complex than a house. A major nut to crack on design was how to handle all the added energy loads created by the various activities in the building. In addition to the usual painting studios and chemistry labs, for example, Lock and his colleagues also had to factor in a lab where students might be dissecting a whale, or a seal. Demands on the ventilation system would be huge.
When students were actually working on the carcass, the ventilation system would have to ramp up to 12 air changes per hour, Lock said. So designers had to find out precisely how many hours per week, how many weeks per semester, that level of ventilation would be needed.
The chemistry lab provided a similar challenge. Conventional fume hoods are vented directly to the outside, but they extract a steep energy price. Adding seven direct-vent fume hoods would almost double the size of the ventilation system. The solution? Fume hoods that recirculate air. Art studios, where oil-based paints might be used, also required much higher rates of ventilation at certain times.
Once all of those activities were parsed out, designers could work with a mechanical engineer to devise a system that would perform adequately without exceeding Passivhaus limits on primary energy use.
"The ventilation loads becomes by far the greatest energy load," he said. "It becomes a very different numbers game. There is not a Passivhaus model like this right now. This will be the first of its kind."
Lock shared a few other building details:
Heating and cooling: Plans are to use VRF (variable refrigerant flow) air-source heat pumps, which can heat and cool different spaces simultaneously.
Windows will be made by Unilux; exterior doors by Schüco.
Renewables: In keeping with a COA campus-wide standard that 75% of all energy for new buildings be produced on site, Lock said, the building will get a 115 kW solar array.
Hot water will come from a pair of electric heat-pump water heaters.
This post was updated on Feb. 6 to correct an error in the list of Passivhaus projects that GO Logic has worked on in the past.
Weekly Newsletter
Get building science and energy efficiency advice, plus special offers, in your inbox.