If you've ever built an Energy Star home, then you're familiar with the Thermal Bypass Checklist. Originally adopted on July 1, 2006, the Checklist identifies areas in homes under construction that must be inspected by a certified rater for a house to qualify for an Energy Star label.
Back in 2007, I interviewed Richard Faesy, a senior project manager for the Vermont Energy Investment Corporation, about the origins of the Thermal Bypass Checklist. "Before this checklist was introduced, I think they had a number of Energy Star homes that really had some performance issues — comfort issues, frozen pipes, problems with recessed lighting in the ceilings, ice-dam issues."
The original purpose of the Checklist was the prevention of air barrier bypasses. Weatherization contractors use the term "bypass" to refer to convection pathways that occur in hidden locations like chimney chases, interior soffits, or penetrations in partition top plates. As the EPA's list lengthened, however, its scope was broadened to include several non-bypass items, including a requirement for slab-edge insulation.
Since home-performance trainers have spent years trying to educate builders about the difference between thermal envelope defects and air barrier defects, some experts feel that the EPA muddied the waters when it dubbed its list of inspection items the "Thermal Bypass Checklist." According to Bruce Harley, the technical director for residential energy at Conservation Services Group, "The Checklist mixes insulation performance and air leakage issues. The EPA wasn't very clear about their intent."
---
RELATED DETAILS
---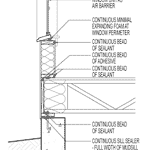 Get the details right.
GBA's
Thermal Bypass Checklist detail package
includes more than 50 detail drawings that solve the problems listed in the Thermal Bypass Checklist.
---
Interviewed in 2007, Sam Rashkin, the EPA's national director for the Energy Star Homes program, admitted that the Checklist is something of a grab-bag. "There is some mix here," Rashkin told me. "The Checklist predominantly focuses on the traditional bypass issues, but it also captures some loose ends, so it's not necessarily based on a classic definition of a bypass."
A list of areas that need to be insulated and sealed
The Checklist calls for insulation and two air barriers at several areas where many builders forget to include an interior air barrier, an exterior air barrier, insulation, or all three. These areas include:
Other requirements found in the Checklist:
Attic access hatches must be insulated and weatherstripped.
Any insulation in a bonus-room floor over a garage must fill the joist bay so that the insulation is in full contact with both the subfloor above and the exterior air barrier, which is usually the drywall on the garage ceiling (unless the builder is installing spray foam, in which case the exterior air barrier is the exterior surface of the cured foam).
In climate zones 4 or higher, the edges of slabs must be insulated — a requirement that can also be found in the International Residential Code.
In the official Thermal Bypass Checklist Guide, the EPA states, "Generally, the Thermal Bypass Inspection Checklist requires a sealed air-barrier on all six sides of insulation (top, bottom, back, front, left, and right); however, there are a few exceptions as noted throughout the Checklist." The Checklist notes that "insulation shall be installed in full contact with [a] sealed interior and exterior air barrier."
As I noted in an earlier blog, "One Air Barrier or Two?", the Checklist allows three main exceptions to this two-air-barrier mandate:
The exterior air barrier can be omitted above insulation installed on an attic floor.
The interior air barrier can be omitted at rim joists.
The interior air barrier can be omitted in warmer climate zones (zones 1 through 3).
The Thermal Bypass Checklist used to be more stringent
A year after the EPA launched the Checklist, EPA decided to weaken the Checklist's provisions. As originally promulgated, the Checklist used to require the installation of a rigid air barrier (for example, drywall or Thermoply) on the interior side of wall insulation behind a metal fireplace (and several similar areas) in all climate zones.
According to Kelly Parker, a certified rater and the president of Guaranteed Watt Saver Systems in Oklahoma City, this requirement caused friction between raters and builders. "I heard that in some regions of the country, some of the providers were saying, 'I'm not going to make my builders put drywall behind the fireplace,' " Parker told me in 2007. "In other words, some providers were unwilling to make builders work to the standard, perhaps because they encountered some belligerent builders."
In response to builder complaints, the EPA weakened Checklist provisions, and began allowing builders in warm climates (climate zones 1 through 3) to eliminate the interior air barrier over insulation behind a metal fireplace, behind a shower or tub, behind attic kneewalls, at skylight shaft walls, and at staircase walls — as long as the insulation is fully supported and is installed according to RESNET's insulation installation requirements for a Grade One rating. (For more information on RESNET's insulation installation guidelines, see Bruce Harley's article, "Insulation Inspections for Home Energy Ratings," in the January/February 2005 issue of Home Energy magazine.)
It's mandatory for an Energy Star home
The Thermal Bypass Checklist is required both for builders following the prescriptive path to obtaining an Energy Star label — that is, those using a "builder option package," or BOP — and for builders following the performance path. The Checklist has 25 items. While at least 19 of these items must be verified by a third-party home rater, up to 6 of the items can be "self-certified" by the builder.
Any builder following the prescriptive path must install all insulation according to RESNET's Grade One insulation installation guidelines. Builders following the performance path will be permitted to install the insulation more sloppily; however, sloppy insulation installations will be downgraded by the rater, resulting in a performance value below that of a Grade One installation.
Defining "air barrier"
Some critics have questioned the EPA's use of the term "air barrier." Most energy experts prefer to differentiate between the air barrier as it is usually understood — the main barrier to infiltration and exfiltration, where a builder pays attention to continuity issues by careful seam-sealing and the installation of caulk, gaskets, or canned spray foam — and a secondary layer whose purpose is merely to enclose insulation that would otherwise be exposed.
"I feel that the Checklist gives confusing messages about what air barriers are," Harley told me. "The Checklist talks about both internal and external air barriers. Really, only one of these surfaces is an air barrier. The other surface has to do with enclosing insulation — it's not really an air barrier."
The Checklist's definition of an air barrier — "any solid material that blocks air flow between a conditioned space and an unconditioned space, including necessary sealing to block excessive air flow at edges and seams" — is fairly vague. After all, the word "solid" can be interpreted in various ways; taken literally, the word refers to any substance that is not a liquid or a vapor.
Among those arguing for a more stringent air barrier definition is Richard Faesy. "We raters need to be able to take EPA's [air barrier] definition and interpret it clearly in the field, and if we don't have a common understanding of the meaning of the EPA definition, it probably needs more work," Faesy said. In written comments submitted to the EPA several years ago, Faesy wrote, "We would like to push the EPA away from suggesting that foil and paper facing can be installed as effective air barriers and focus the Guide more on best practice in this area by always suggesting 'durable rigid air barriers.' … We feel it would be more appropriate to define air barriers as, 'any material that is durable and that will effectively block air flow for the life of the building.'"
The Thermal Bypass Checklist is available in Spanish
The EPA should be praised for publishing a Spanish version of the Checklist, "Lista Para Inspección de Desvíos Termales."
For the English version of the Checklist, click here.
Last week's blog: "Calculating the Minimum Thickness of Rigid Foam Sheathing."