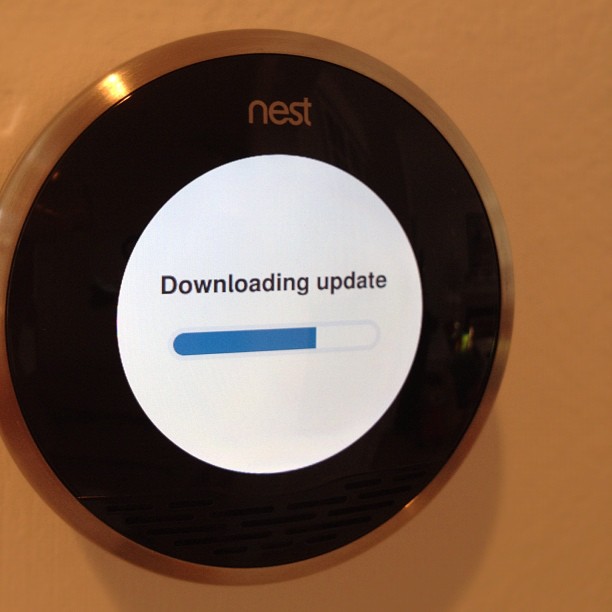 The Nest Learning Thermostat lets homeowners control temperatures remotely via an internet connection, the same feature making automatic software updates possible. But an update in December came with a bug that caused some thermostats to malfunction two weeks later, in some cases turning off the heat in the middle of the night.
The New York Times was the first to report the glitch earlier this month, noting that an unknown number of the $249 thermostats went on the fritz. A malfunctioning thermostat could pose serious problems for people who had installed one in a second home where pipes could freeze and burst, The Times noted, or to older or ill people without much tolerance for cold temperatures.
The problem stemmed from a software update that the company pushed out in December. It contained a flaw that didn't start appearing for another two weeks. The company didn't say how many users were affected, but said the issue has since been resolved for almost all customers.
Tempers flared, and customers began posting comments to an online forum, complaining about losing heat.
"I guess that there's some comfort that I'm not the only one with this problem," one person wrote. "But I'll be a little bit hysterical — WHAT IS NEST DOING ABOUT IT? It's the middle of January, and we need heat here in the Northeast. I've disconnected from wifi in the hope that there will be enough of a charge to keep the heat going."
Another wrote on January 7, "I have 2 Nests and they both died! Woke up to a 60 degree house with no way to turn the thermostat up manually. Took 4 calls to customer service with a wait time on HOLD of over 2 HOURS! Some of the worst customer service I have experienced with a tech company. The only answer was to restart the unit! And that didn't work. I should have gotten a Honeywell!"
Nest posts reset procedure
In a statement posted at its website, Nest said that some thermostats updated to software version 5.1.3 or later "may become unresponsive or may not charge the battery efficiently, causing it to shut down."
Nest suggested that customers recharge and restart the thermostat. If the thermostat was on but running slowly, or if the thermostat could not be controlled, a simple reboot should do the trick. If the thermostat was off and could not be turned back on, the company outlined a nine-step process to set things right.
Nick Bilton, the Times reporter who initially wrote about the Nest problem, said that it was part of a larger problem in which smart devices go haywire: wireless fobs for cars that can be bypassed by thieves, wristbands that are supposed to keep track of the user's heart rate but don't, and malfunctioning touch pads on entry doors.
Bilton said that a clause in the Nest service agreement bars customers from suing the company in the event of a problem. Instead, disputes must go through arbitration.
"So," he wrote, "if a pipe bursts in your home because the thermostat stopped working, or if your grandmother falls ill because the heat shuts off in the middle of the night and she doesn't have a micro USB cable, you can't sue."
Weekly Newsletter
Get building science and energy efficiency advice, plus special offers, in your inbox.