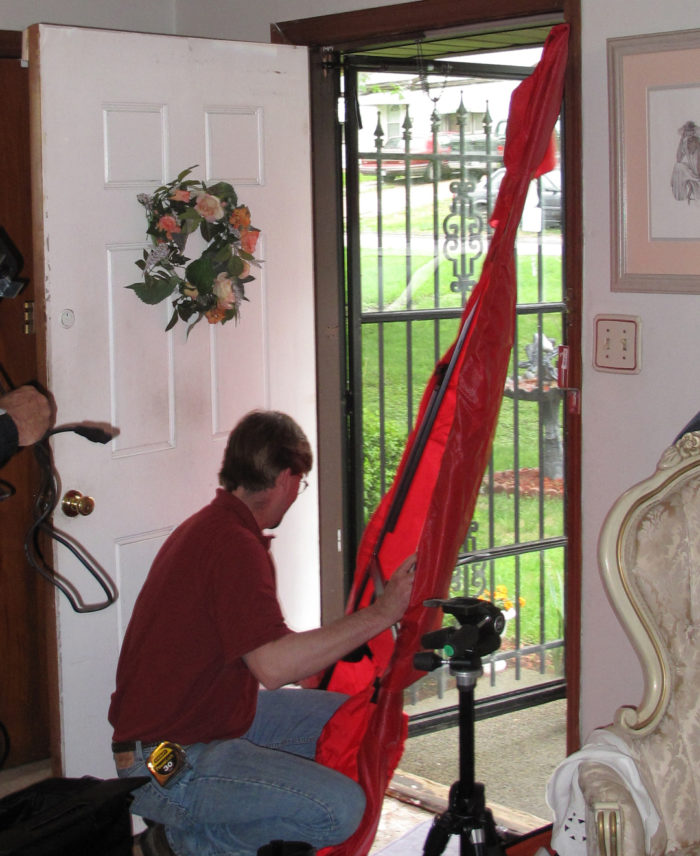 One of the most cost-effective ways of lowering residential energy costs is to reduce a home's air leakage rate, so it makes sense for energy codes to ratchet up air-sealing requirements. The latest (2009) version of the International Residential Code does exactly that.
Just like the earlier 2006 code, the 2009 IRC includes a requirement (in section N1102.4.1) that "the building thermal envelope shall be durably sealed to limit infiltration." The language in that section is unchanged; the code still requires that "The following shall be caulked, gasketed, weatherstripped, or otherwise sealed with an air barrier material, suitable film, or solid material:
1. All joints, seams and penetrations.
2. Site-built windows, doors and skylights.
3. Openings between window and door assemblies and their respective jambs and framing.
4. Utility penetrations.
5. Dropped ceilings or chases adjacent to the thermal envelope.
6. Knee walls.
7. Walls and ceilings separating the garage from conditioned spaces.
8. Behind tubs and showers on exterior walls.
9. Common walls between dwelling units.
10. Other sources of infiltration."
New air sealing requirements, with two compliance options
In addition to these provisions, the 2009 IRC includes further air-sealing requirements in section N1102.4.2.
This new section gives builders two options: either the builder must comply with the requirements of an air barrier and insulation inspection checklist (Table N1102.4.2), and submit to a "visual inspection," or the builder must show that "tested air leakage is less than 7 ACH when tested with a blower door at a pressure of 50 pascals."
The checklist option
The items on the air barrier and insulation inspection checklist (see Image 2, below) make sense, although two provisions (the provisions requiring that crawl space walls and the corners of above-grade walls must be insulated) are vaguely worded and therefore ambiguous.
Here's a partial list of the checklist items:
Weekly Newsletter
Get building science and energy efficiency advice, plus special offers, in your inbox.
This article is only available to GBA Prime Members
Sign up for a free trial and get instant access to this article as well as GBA's complete library of premium articles and construction details.
Start Free Trial
Already a member? Log in