If you are a cold-climate architect looking for a reference book that provides guidance on designing energy-efficient superinsulated buildings, I strongly suggest that you buy William Maclay's The New Net Zero. It's the best book on the topic by far.
Bill Maclay is an architect based in Warren, Vermont. I first met Bill 21 years ago, in the spring of 1993, when I was working as a project manager at Northern Community Housing Corporation, a nonprofit developer of low-income housing. Bill was chosen as the architect for a mixed-use commercial and residential building that our office was building in Hardwick, Vermont.
With help from energy consultant Andy Shapiro, Maclay designed a building that was ahead of its time. It had double-stud walls filled with dense-packed cellulose, and was built with close attention to airtightness. Ventilation was provided by several heat-recovery ventilators. The building uses far less energy per square foot than most other Vermont buildings built in the early 1990s.
Over the years, I've followed Maclay's career, and have written several articles on buildings he's designed, including "Solar in the City" (Energy Design Update, September 2002), a profile of Pat Hanson's superinsulated house in Burlington, Vermont.
The New Net Zero is a remarkable achievement. It is a generously sized 553-page hardback that is lavishly illustrated with full-color photos and architectural details.
Maclay explains the principles behind good design
Maclay's book is comprehensive; it could easily serve as a textbook. Maclay introduces all of the topics that form the basis of an intelligent discussion of energy-efficient design, including building science fundamentals, principles of building enclosure design, the different definitions of "net zero," renovation vs. new construction, and cost-effectiveness. He also presents case studies.
Many of the buildings that Maclay chooses as case studies will be familiar to GBA readers; these buildings include:
Yes! Details are included!
Most remarkably, Maclay's book includes detail drawings — pages and pages of detail drawings. These includes sections of insulated basement walls, slabs on grade, steel-framed walls, brick-veneer walls, double-stud walls, foam-sheathed walls, rainscreen walls, cathedral ceilings, SIP roofs, window sills, window heads, and skylights.
These details are valuable and hard to find elsewhere (except, of course, on the GBA website, where similar details can be downloaded by GBA subscribers).
Maclay writes, "In our view the two wood construction [wall] assemblies most appropriate for net zero buildings are single-frame with insulation in the wall cavity and rigid insulation on the exterior, and double-frame construction with an insulated cavity."
He gets it
If you've read many books and magazine articles on energy-efficient construction, you know that many architects and journalists explain things in a way that is almost but not quite correct. In most cases, writers on these topics can't quite get the technical details right.
Maclay doesn't have this problem. He is a longtime member of the New England community of energy nerds that includes Andy Shapiro, Marc Rosenbaum, Joe Lstiburek, and the rest of the crowd from NESEA.
Like many migrants who moved to Vermont in the early 1970s, Maclay arrived as a back-to-the-land hippie; over the years, he made the usual the transition to professional respectability. In The New Net Zero, Maclay traces his interest in energy-efficient building to a 1970 encounter with Steve Baer of Zomeworks.
Maclay was one of the founders of a Vermont community called Dimetrodon; he writes, "Many people thought of Dimetrodon as a hippie commune, but the social principles involved were much the same as cohousing."
A cold-climate bias
Maclay's book isn't perfect. Most of the homes that Maclay has designed are located in New England, so his book inevitably displays a cold-climate bias. Designers who work in hot climates won't find much guidance here.
Maclay's design focus covers both single-family homes and commercial / institutional buildings. This broad focus will be appreciated by architects who work with both types of clients. However, a good portion of the book will be irrelevant to readers who are mostly interested in single-family homes.
The New Net Zero is available for $90 from Chelsea Green Publishing.
Making Better Buildings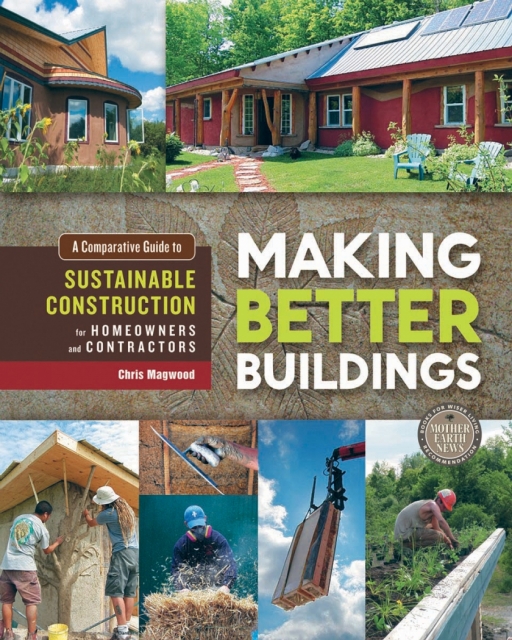 Making Better Buildings by Chris Magwood. Subtitled "Sustainable Construction for Homeowners and Contractors," this book focuses on "alternative and natural building."
What does the author mean by "sustainable"? He gives us several hints, as when he writes, "This book is about making better buildings. Better buildings don't wreck the planet. Better buildings do not waste resources." Magwood strongly prefers natural materials to store-bought materials: "Today, a smart, well-intentioned builder could make an amazingly efficient and comfortable modern building out of local materials as basic as earth, clay, timber, straw and stone."
Although straw-bale builders and adobe fans might be interested in this book, most green builders will probably end up rolling their eyes or throwing the book against the wall in frustration.
In the first section of the book, "Foundations," we learn that Magwood doesn't like concrete basements. He writes, "Most North American homes use vast amounts of concrete in their foundations, and concrete is a perfect example of the kind of energy-intensive building material that has led us to our current environmental state. … The fact of the matter is that building large, conditioned basements has been a privilege of having cheap energy at our disposal."
But don't give up! You can still have a basement, as long as you follow Magwood's advice. He includes a helpful five-page chapter called "Dry Stone and mortared stone foundations."
OK, there are a few down sides; for example, he notes: "Labor input: very high." He also informs us, "Despite their historical precedents, most codes do not recognize mortared or dry stone as an accepted solution."
So, did this basement solution really deserve five pages, now that we know that it's not code-accepted? (Probably, at least for Magwood. Most of the construction methods he discusses aren't code-approved.)
I may be the last builder in the U.S. who actually built a basement with stone-and-mortar walls, so I think I am uniquely qualified to comment on Magwood's rejection of poured concrete and his advocacy of stone-and-mortar walls.
It took me a year to build my basement. Much of my time was spend gathering, washing, and sorting stones. I also had to mix mortar in a wheelbarrow, of course; set up string lines; and build scaffolds. The result is a basement with beautiful walls that no one ever sees. The walls aren't waterproof, and they have an R-value of about R-0. If I ever get around to insulating them, all of my stone-laying work will be forever hidden from human eyes.
But my year of labor was not wasted: I must have helped save the planet, because I never called up a concrete contractor, who could have finished my foundation in two days — three days tops.
Earthbags and earthships
There's more: the "Foundation" section includes a six-page chapter on earthbag foundations; the chapter ends with this note: "Code Compliance: Not an accepted solution in any codes." The next option: earthship foundations (rammed earth tires). At the end of this section, we discover, "Labor input: very high," and we also learn, "Tire foundations are not an accepted solution in any codes."
What about a slab on grade? Here's what Magwood has to say on that topic: "The number of 'green' homes built on giant concrete slabs may indicate that they should be among the options given in this chapter. However, the sheer amount of concrete and rebar that go into a typical slab make them very resource-intensive. … Another issue that makes a slab foundation difficult to endorse is the amount of foam insulation that typically accompanies a slab. … As with the other options 'excluded' here, it is certainly feasible to build a home on a slab, and to make efforts to use more responsible concrete and insulation. However, given all the excellent solutions available that do not have the inherent environmental problems of slabs, our advice to those trying to meet high sustainability goals is to avoid pouring a slab."
Now, just what were those "excellent solutions" that you say are "available"? Mortar-and-stone? Rammed tires?
Of course, rural owner/builders might be interested in traditional labor-intensive construction methods, even if these methods don't meet code requirements. But Magwood's promotion of earthbag foundations — especially when coupled with his clear contempt for concrete slabs — deserves a more balanced philosophical discussion than Magwood provides. The number of Americans who have the leisure time, financial resources, and skills to adopt Magwood's approach is very small indeed.
Cordwood walls: Thumbs up! SIPs: Thumbs down!
When it's time to discuss above-grade walls, Magwood includes a section on cordwood walls (walls constructed of firewood laid up with mortar, with the end grain facing the weather) — perhaps the stupidest wall system ever invented — but doesn't have much to say about structural insulated panels (SIPs) or insulated concrete forms (ICFs).
At least he explains his reasoning; according to Magwood, SIPs and ICFs "do not meet our sustainability standards." He continues, "Unfortunately, most SIPs are made from oriented-strand board (OSB) as the structural sheathing and some type of foam as the insulated core. Both materials rely heavily on the petrochemical industry for their component parts. The glues used to bind OSB are typically formaldehyde-based and off-gas for a long time after installation. The reliability of these glues is questionable, especially when exposed to water, and life span issues are critical considering these skins provide most of the structural strength of the walls."
In spite of this anti-OSB rant, Magwood goes later goes on to endorse the use of OSB as wall sheathing on wood-framed walls. (Consistency is not Magwood's strong point.)
Vocabulary mixups
Magwood doesn't know the difference between "roof sheathing" and "roofing." His misuse of these terms leads to all kinds of confusion, as when he writes, "It is the job of roof sheathing to keep water out of our buildings … Successful roof sheathing is all about providing positive lapping wherever there is a seam and ensuring that water and snow have as free a path as possible to leave the roof with the help of gravity."
His chapter on "Roof Sheathing" (I'm pretty sure he meant to write "Roofing") includes information on slate roofs and thatch roofs — just in case you're itching to get your leggett and billhook out of storage.
Magwood also provides information on clay floors and earthen floors. Because of the need to discuss all of these natural products, some topics needed to be edited out of the book. Magwood notes, "This book is not a how-to manual intended to guide you with specific advice about air sealing for each type of wall." Right — because that information must be less important than the seven pages devoted to cordwood walls.
Making Better Buildings by Chris Magwood is available for $40 from New Society Publishers.
Green Home Building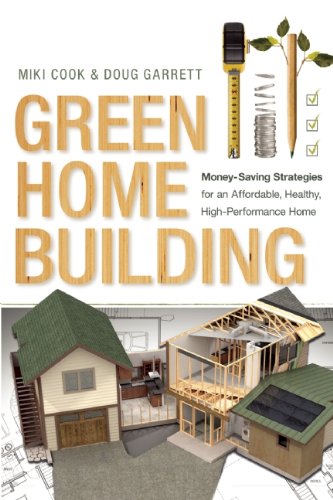 Green Home Building by Miki Cook and Doug Garrett. After putting down Chris Magwood's book on sustainable construction, Cook and Garrett's book on green building is a breath of fresh air. Cook and Garrett give practical advice that is grounded in building science principles and a real-world familiarity with job-site routines.
If you're looking for an introduction to green building principles, this book isn't a bad place to start. The authors cover most topics accurately and with confidence.
I was glad to see their advice on roof framing: "Avoid chopped-up roof designs." They also provide an appropriate warning about the pitfalls that accompany home-run plumbing systems: "Central manifold [plumbing supply] systems, if not limited in run length, can be the most wasteful in terms of both water and energy. … A greater savings can be realized by downsizing the diameter of the pipes and reducing the number of runs using the structured plumbing approach. .. The structured plumbing design uses twig lines that typically extend no further and ten feet from the main trunk."
A few errors have crept into the text
Like most survey books, this book often hesitates to give advice favoring one approach over another. While the authors discuss forced-air furnaces, ground-source heat pumps, and ductless minisplits, readers aren't informed whether any of these options is preferable. Similarly, the authors discuss wind turbines without addressing the question of whether a residential wind turbine makes any sense.
Unfortunately, some of the authors' advice is off base. They wrote, "Tankless [water heater] models only use fuel when the hot water is needed, so they don't incur standby heat losses from storing hot water all the time like tanked units. … If you have a large family, this frequent volume of energy [used by a tankless water heater] can add up to negate any efficiency that you might have expected." Actually, when the performance of a tankless water heater is compared to a tank-type heater, large families will have more annual energy savings than small families; that's why the payback period for a tankless water heater is shorter for large families than for small families.
The author's advice on water heater selection is bizarre. They write, "'Free' water heating typically comes from either the sun or from the ground. 'Solar thermal' is the term used for water heating systems that include solar panels mounted on the roof strictly for the purpose of heating water for use in the home. Geothermal heating and cooling systems … can also provide water heating. … Neither one of these systems is literally free, but … after amortizing the payback on the systems over the cost savings on the utilities necessary to provide water heating forever, the system pays for itself quickly and you do end up getting free water heating." In fact, a solar thermal system will not "pay for itself quickly"; rather, the equipment is likely to wear out before it saves enough energy to justify its purchase.
The authors also have a shaky understanding of the economics of PV systems. They write, "If your home is not built very efficiently for energy use, adding a large expensive solar [electric] system may not make any worthwhile difference in your electric bill." In fact, the return that a homeowner can expect from an investment in a PV system is totally independent from the energy efficiency of the home where it is installed. In Austin, Texas, for example, a 1-kW PV array will produce 1,362 kWh of electricity per year, with a value of $132 — whether the PV array is attached to an energy-efficient house or an energy-hog house.
Do VOCs cause allergies, asthma, and autism?
The section called "Toxins" is particularly disappointing. The authors write, "These toxins [are] commonly referred to as volatile organic compounds… Breathing these toxins into our lungs can lead to respiratory issues. Many adults now suffer from allergies and chemical sensitivities. And what about our children? They spend much more time indoors since the inventions of computers, cell phones with texting and video games. This directly relates to the fact that the incidence of asthma is 3 times greater than it was just 25 years ago, now affecting 1 in 10 children. Autism now affects one in 88 children…"
In fact, indoor levels of volatile organic compounds do not "directly relate" to adult allergies, childhood asthma, and autism. While some researchers may believe that a correlation between VOCs and one (or perhaps all three) of these medical conditions will someday be proven, the existing data are far from conclusive. The authors should know better than to include this type of sloppy post-hoc-ergo-propter-hoc reasoning in an otherwise sober book.
The authors claim that "The most important materials that affect indoor air quality are those within the walls of the structure, including interior finish products. Most interior wall construction is air and vapor permeable, so toxins within the walls can seep out, impacting indoor air quality." Indoor air quality researchers would dispute this conclusion. In fact, the worrisome substances affecting indoor air quality aren't the vapors behind your drywall; the real culprits include tobacco smoke, radon, formaldehyde from kitchen cabinets, and particulates and gases released by cooking.
In spite of its technical errors, Green Home Building is a valuable book. If Miki Cook and Doug Garrett ever get a chance to write a second edition, perhaps they can correct its flaws.
Green Home Building by Miki Cook and Doug Garrett is available for $25 from New Society Publishers.
Housing Reclaimed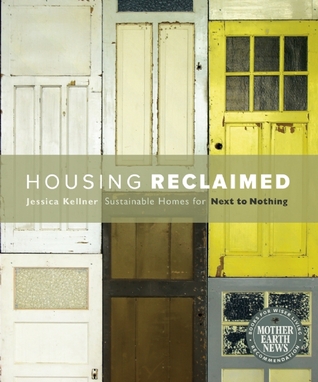 Housing Reclaimed. by Jessica Kellner. Who wouldn't be excited by this book's subtitle: "Sustainable Homes for Next to Nothing." Sounds great, Jessica! How does it work?
As it turns out, the book is about owner/builders who construct homes from salvaged building components. Kellner writes, "Homeowners in Alabama, Idaho and Colorado are creating small, artful homes using salvaged materials, never taking out construction loans. … You can do this if you are the type of person who wants to get involved and build your own home. … The skills required to build a home are, for the most part, simple and easy to learn."
Wow! I didn't know that building a house was simple and easy to learn. That's great news.
As it turns out, Kellner's book is not a how-to book; instead, it's a collection of stories. Kellner's thesis — that building a house is simple and easy to learn — is undermined by the professional accomplishments of the three couples (all owner/builders) whom she chose to interview. The first couple is Guy and Kay Baker; Kellner writes that Guy is a "life-long professional builder."
The second couple is Aaron and Meghan Powers: "Aaron is a professional builder and Meghan is an architect."
The third couple is Rick and Naomi Maddux. Rick Maddux is a professional woodworker.
What follows is part of Guy Baker's story, as told by Kellner. He "used entirely antique window panes from an 1890s church. … He estimates creating new window frames from reclaimed wood and fitting the panes took him about 60 hours per window — and there are 12 windows in the house. .. Guy and Kay viewed building their home as an important way to teach their sons the value of hard work … Though the teens may have grumbled at times as they made their way through the project, today all three Baker sons realize the invaluable lessons they learned from building the home."
Leaky straw-bale walls
Kellner's "Building Basics" chapter is embarrassingly thin, with one paragraph each on earthen homes, straw-bale homes, concrete forms, cordwood walls, timber-frame construction, light-frame construction, and earthships.
Sometimes the quotes that Kellner chooses from her owner/builder interviews don't make any sense, as when Aaron Powers describes the advantages of straw-bale walls. Aaron explains, "Should you have to use some glues, which we tried to minimize, this house doesn't allow it to get trapped inside. It's breathable. You're getting more air exchange through the walls." If Aaron managed to build a straw-bale wall that leaks air, that's nothing to brag about.
Kellner's writing is unreliable. For example, she claims that "Reclaimed doors are excellent for efficiency. Generally made of solid sturdy wood, antique doors are often more insulating than modern doors, which are often hollow and made from particleboard." But no one sells hollow particleboard doors for use in exterior walls.
Unfortunately, it only takes a few examples of this type of sloppy reporting for interested readers to tune Kellner out.
Salvaging building materials makes sense
Kellner's book disappointed me because of its technical inaccuracies and its gee-whiz exaggerations, not because of its focus. I've engaged in most of the activities that Kellner extolls: Back in the 1970s, I helped dismantle a condemned building — salvaging hardwood flooring, 1×6 subflooring, 2×10 floor joists, slate roofing, window sash, and bricks. I used these salvaged materials to build two homes.
The 2x10s were used to make built-up beams, and the subflooring was re-used as subflooring. These materials have held up well. Removing the nails from the hardwood flooring was laborious, of course, but the floors look good after almost 40 years of use in their new homes.
Unlike Kellner, however, I don't believe that the skills required to build a home are simple and easy to learn. My conclusion comes from hard experience. Many of the salvaged materials I installed, including many single-glazed windows and salvaged bricks, had to be painstakingly removed so that better materials could take their place — in part because my early work was so unskilled, but also because some of the salvaged materials, while free, were unsuited for a modern house.
It's all fine and good to interview three young couples who have just finished building homes from salvaged materials. However, it might be more instructive to interview a few similar couples thirty years after their homes were completed.
Housing Reclaimed by Jessica Kellner is available for $25 from New Society Publishers.
Martin Holladay's previous blog: "All About Attics."
Click here to follow Martin Holladay on Twitter.