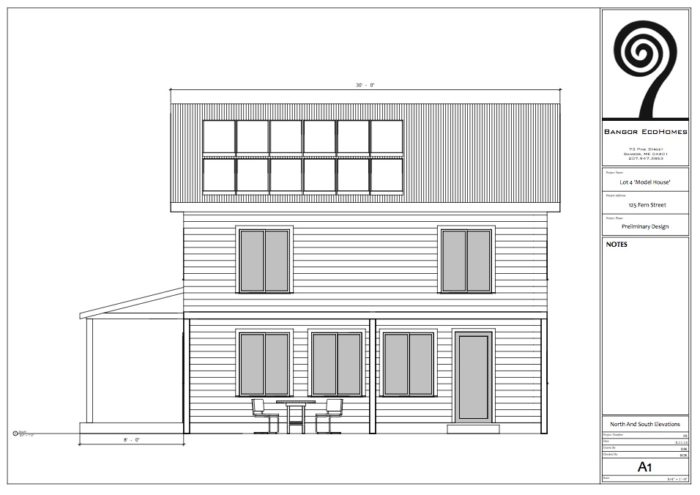 Small communities of Passivhaus-certified and net-zero energy houses seem to be popping up more frequently. Two more are in the planning stages this year in New England, one in Boston and the other in Bangor, Maine.
In Bangor, a small city well away from the big money and expensive architecture along the Maine coast, a real estate company is working on plans for a half-dozen houses on a lot once occupied by a commercial laundry. Project manager David Kelly says he hopes all of them can be Passivhaus certified.
In Boston, city officials have begun accepting proposals from developers to build net-zero energy houses on 11 vacant city-owned lots in the Mission Hill section of the city. According to an article at Boston.com, the houses will be expected to produce more energy than they consume, not just be net-zero consumers.
EcoHomes in Bangor
The Bangor project is the work of House Revivers and Kelly Realty Management, which owns and manages both commercial and residential properties in the city of 33,000.
Kelly says details for the first house are still being worked out, but he's currently leaning toward a structural 2×4 wall with non-structural I-joists creating a cavity for insulation. "It seems really cost feasible and something that would be easy to relay to the insulation and framing crews in the area," he says.
There are six potential house lots on the site. Preliminary plans call for houses in the 1,000-to-1,500-sq. ft. range, selling for between $200,000 and $250,000. Kelly expects most to be two-story designs and says it's unlikely they'll all look the same.
Big-ticket houses are common along the coast, long a destination for wealthy out-of-staters and retirees. But Bangor is the gateway to the state's north country, where money is tighter and high-efficiency, high-end houses aren't the norm.
"It's a very different culture, it really is," Kelly says. "And in addition, it's a very different financial demographic, so we have to build it super affordable to make it feasible for people.
"The first one is a chance for us to get a bearing on how to do the assemblies right and get a model house up," Kelly adds. "There really aren't any other structures in the area that are up to the standards we're striving for. So being able to show it to people and walk through it and go the possibilities is, I think, key in this area."
Kelly says he's worked with his parents on a variety of construction projects over the years in their real estate business. But the 27-year-old says he has a background in philosophy, not architecture, and he now finds himself designing the house, working on marketing and estimation and even taking the first run at energy modeling.
In addition to building high-performance houses, Kelly says a second important focus will be "permaculture site planning," which he described as using landscaping and site features creatively.
"When we design a passive solar shelter, we're already thinking, carefully, about how it interacts with a surrounding environment, on many levels," Kelly wrote in a follow-up email. "Ecological design concerns itself with expanding those considerations well beyond the shell — to landscaping on a whole site level."
Boston's E+ Community
Boston is collecting proposals for a mixed-use project of commercial, retail and residential space on 1.3 acres of land in Mission Hill. The project is part of an initiative launched by the city's mayor in 2011 to encourage "deep green, energy positive, healthy and sustainable communities."
Developers have until mid-June to submit proposals, and the city hopes to select the winner by the end of the year, with construction to start in 2014.
There are two sites, which developers can bid on together or separately. In all, the city sees room for as many as 35 residential units.
According to Boston.com, The Boston Globe's web site, developers will be required to meet certain prerequisites. Housing will have to meet the LEED-Platinum standard, and 14,000 sq. ft. of the space will have to be reserved for a community garden. Also, the city will require that 15% of the housing be affordably priced. Developers who propose more than that will be given preference.
The first "energy-positive" project in the program is an 8,000-sq. ft. building with four townhouses in Roxbury, the Globe said, each of which is a three-bedroom unit with 39 solar panels and other energy-saving features.
Weekly Newsletter
Get building science and energy efficiency advice, plus special offers, in your inbox.