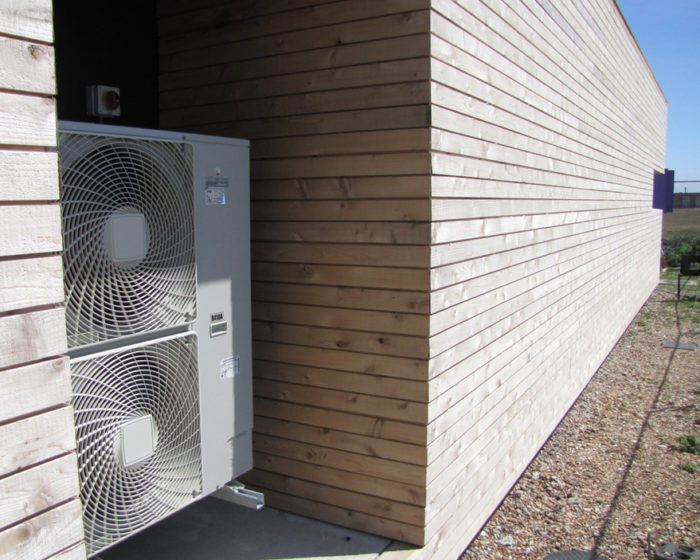 Last week I went to NESEA's Building Energy conference, and I think I heard three terms more than any others: heat pump, net zero, and passive house. (The second most popular trio was beer, wine, and whisky, but that may have something to do with the folks I was hanging out with.)
So let's get right to the important question here: Why do these people in the cold climate of New England love heat pumps so much?
Why heat pumps?
Marc Rosenbaum gave a presentation titled "Heat Pumps: Data and Lessons Learned — A Nerd's Eye View." He started out by giving four reasons he likes heat pumps:
No onsite combustion
No chimney or venting
Space heating & cooling, domestic hot water, and pool heat
Cost-competitive.
Most of his talk was about minisplit heat pumps, but he also spoke about ground-source heat pumps (GSHP) and heat-pump water heaters (HPWH). He's not a fan of GSHPs. He said that although air-source technology is less efficient than connecting with the ground in theory, he's found the reality to be otherwise. So he sticks with air-source heat pumps, primarily of the minisplit variety, for space heating and cooling.
Rosenbaum has had good experience with heat-pump water heaters. One thing he's looked at is the effect of location on their performance. He wanted to know, for example, if a HPWH located in a basement might create more of a moisture problem, with an increased likelihood of growing mold. Yes, the heat pump will cool and dehumidify, but doesn't necessarily mean the dew point of the air will decrease. By datalogging the performance, he found that temperature, relative humidity, and dew point all went down for a HPWH running in a basement.
Also, as you might expect from someone who writes a blog titled Thriving on Low Carbon, Rosenbaum compared carbon emissions for water heaters using different fuels. He found that going from an oil-fired boiler to an HPWH dropped CO2 emissions by 89%.
Can you heat the entire house with one minisplit unit?
Andy Shapiro spoke on high performance HVAC on the second day of the conference and echoed some of what Rosenbaum had said. Then he got into more details about zoning with minisplits and when you might be able to get away with a single ductless indoor unit to heat the whole house — and when you can't. (Coming from the Southeast, I found it a bit odd to be in a conference with so many people who mentioned air conditioning mainly as an afterthought.)
On that question of heating a whole house in a cold climate with a single ductless minisplit heat pump, I recall a couple of years ago hearing homebuilder Carter Scott speak at Building Science Summer Camp about the superinsulated, net-zero-energy homes he was building.
They were two-story houses in Massachusetts, and, as I recall, he started off heating the whole house with a single indoor unit. He later added another indoor unit upstairs, not because the unit couldn't keep up in winter but, if I'm remembering correctly, because the upstairs didn't cool so well in summer. (See Martin Holladay's article on Carter Scott's homes for much more detail.)
Can they provide enough heat?
We have more than enough evidence to state unequivocally that heat pumps work in cold climates. Air-source heat pumps naturally lose capacity as the outdoor air gets colder. That means that you may need a source of supplemental heat if the heating capacity drops below the heating load. No big deal. We know how to do that. Most standard air-source heat pumps are equipped with electric resistance heat to supplement what the heat pump provides.
One of the really cool things about minisplits, though, is that when you pair them with a low-load — or, as Andy Shapiro said, a micro-load — house, you may never even need any supplemental heat. Many models actually have more heating capacity than cooling capacity and can continue pumping heat from cold outdoor air at temperatures well below zero (that's Fahrenheit because so many cling to that outdated scale). And this isn't just a hopeful statement from manufacturers. Rosenbaum reported that his projects handle below-zero weather with no problem.
And the clincher…
Heat pumps work. One piece of equipment heats and cools. It works in cold climates. It's efficient. But if you recall my list from the beginning of this article, one of the other terms I heard a lot holds the key to perhaps the biggest motivation for many in the NESEA crowd. (No, it wasn't whisky, though a nice single malt can be very motivating.) If you want a net-zero-energy home, the clearest way to get there is by going all-electric.
Shapiro said it best: "We know how to make electricity onsite." Build an all-electric, micro-load home, add enough photovoltaic modules, and voilà , you're at net zero energy use, producing as much as you use. Richard Faesy repeated and amplified the drive to going all-electric as a panelist in the closing session. "We need to electrify all fossil fuel end uses," he said, because that gives us the best chance of reducing the effects of climate change.
Don't get me wrong. There are still plenty of people in New England and other cold climates who love furnaces and boilers. The folks at NESEA's Building Energy conference, however, are in the vanguard of those who are rethinking how we design, construct, and operate buildings. And heat pumps are just fine with them.
Allison Bailes of Decatur, Georgia, is a speaker, writer, energy consultant, RESNET-certified trainer, and the author of the Energy Vanguard Blog. You can follow him on Twitter at @EnergyVanguard.
Weekly Newsletter
Get building science and energy efficiency advice, plus special offers, in your inbox.