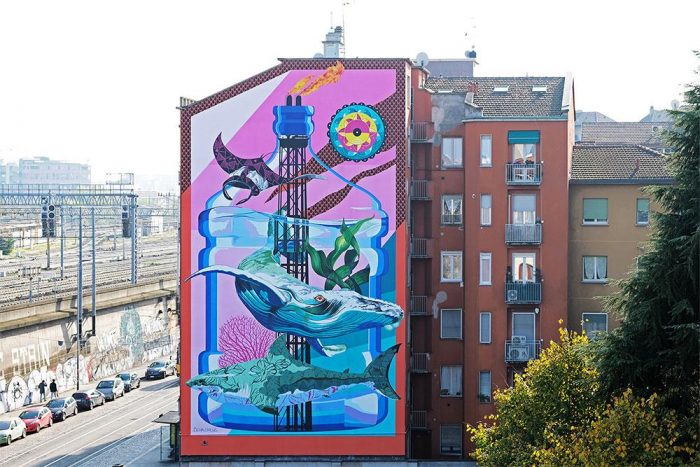 Lately, developments in climate mitigation have often come from the labs of paint manufacturers. From high-tech coatings that scrub the air to coatings that will clean themselves or produce solar power, soon you'll use your roller to do more than add color. Here's a primer on recent developments in high-tech paint.
Air-cleaning paint
Air pollution remains a vexing health hazard difficult to control. Chemicals from vehicle exhaust and other commercial sources fill the lungs and leach into our bloodstream, causing illness. Enter Airlite paint of Milan, Italy. This manufacturer developed a coating that purifies air by neutralizing contaminates through a photochemical reaction. The company explains that their product generates a "concentration of electrons" that interact with oxygen and airborne water vapor. These electrons generate negative ions that attach to common pollutants. The negative charge causes the particles of pollutants to cling to positively charged surfaces such as walls coated with Airlite paint.
The company tested their material inside the Umberto Tunnel in Rome. This passageway offers a shortcut from the beautiful Piazza di Spagna to Via Nazionale. Built to alleviate traffic, the tunnel soon became one of the most polluted places in the capital. In a demonstration, Airlite coated the tunnel about ten years ago. The company says the tunnel is still white (clean), without any maintenance, and tests by La Sapienza University of Rome have shown a reduction of pollutants inside the tunnel approaching 51%.
Closer to home, manufacturers have developed coatings that promise to purify household air. Sherwin Williams's SuperPaint comes with an air-purifying technology that, the company says, contributes to better indoor air quality by reducing volatile organic compound (VOC) levels from potential sources like carpet, cabinets, and fabrics. I looked and looked but could not find an explanation on how the paint sequesters or neutralizes…
Weekly Newsletter
Get building science and energy efficiency advice, plus special offers, in your inbox.
This article is only available to GBA Prime Members
Sign up for a free trial and get instant access to this article as well as GBA's complete library of premium articles and construction details.
Start Free Trial
Already a member? Log in