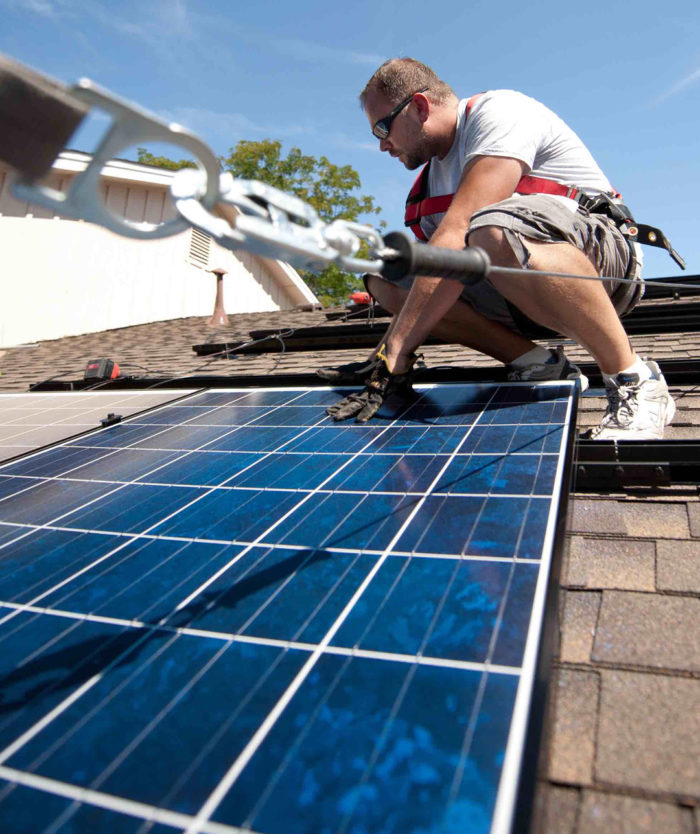 The U.S. Commerce Department has imposed new import duties on photovoltaic panels from China and Taiwan, closing a loophole in an earlier ruling and giving U.S. manufacturers a little breathing room.
The New York Times reported anti-dumping duties range from about 27 percent to 78 percent on panels made in China. Solar cells made in Taiwan are subject to rates of 11 percent to 28 percent, and there were separate anti-subsidy duties announced for Chinese modules.
Mukesh Dulani, president of SolarWorld Americas, told the newspaper: "These remedies come just in time to enable the domestic industry to return to conditions of fair trade. The tariffs and scope set the stage for companies to create new jobs and build or expand factories on U.S. soil."
Announced last week, the new duties are an attempt to prevent Chinese manufacturers from circumventing an earlier ruling by using solar cells made in Taiwan. The Commerce Department has found that manufacturers were selling their panels at prices below the cost of making them, and that government subsidies to Chinese manufacturers were unfair.
Some in the industry are critical
The duties prompted a harsh exchange of words between the president of SolarWorld Americas, a panel manufacturer that originally filed a trade complaint in 2011, and the Solar Energy Industries Association (SEIA), a trade group.
The Times said it was evidence of a fundamental divide in the market between U.S. panel manufacturers and companies that sell or lease PV systems to end users. Panel manufacturers should benefit because the duties will make their products more competitive, but solar installers worry that higher prices will keep potential buyers away and slow the growth of PV.
Jigar Shah, president of the Coalition for Affordable Solar Energy, told The New York Times that the duties are "unnecessary," and would drive up prices on PV panels needed by homeowners, installers, and utilities. "Taxing solar trade undermines both the spirit and efficacy of pledges made by the U.S. and China to work together in the battle against global warming," he said.
An executive with PetersenDean, a roofing and solar company, had much sharper words for the SEIA because of the trade groups's opposition to the duties and its ties with Chinese-owned solar companies, the newspaper said. "SEIA has become nothing more than a tool used by Chinese companies to try and bankrupt and destroy American solar manufacturing," said Erin Clark, PetersenDean's president of solar. He called on leaders of the SEIA to resign.
But in comments to The ECOreport, Ken Johnson, SEIA vice president for communications, claimed that PetersendDean is "hopelessly biased."
"The U.S. solar industry is not divided over this issue. Period. For whatever reason, PetersenDean has fallen for the false narrative that the ongoing trade litigation somehow represents the broad interests of U.S. solar manufacturing," Johnson said. "That's simply not true."
Impact on prices not yet known
The Times said it wasn't completely clear what the total tariff margins would be because there is some overlap between anti-dumping and subsidy penalties. Also, the original 2011 complaint filed by SolarWorld has been going through an appeal that won't be wrapped up until next month.
Greentech Media reported that the Commerce Department ruling now goes to the International Trade Commission. If commissioners agree that U.S. industry has been harmed, the tariffs will become permanent on February 1, but the ITC also could throw them out.
Still, it seemed likely that prices will be going up.
"Right now, our biggest concern is that there will be some 'panic buying' in the marketplace which, coupled with the tariffs, could cause prices to go up further," Johnson said by email. "So far, we don't have any hard figures."
Johnson said that large-volume purchasers were paying less than 75 cents per watt for PV modules before the latest ruling from the Commerce Department. "We expect these prices to tick upward," he said. "It's just difficult to predict right now by how much. We'll know more in a few weeks."
Weekly Newsletter
Get building science and energy efficiency advice, plus special offers, in your inbox.