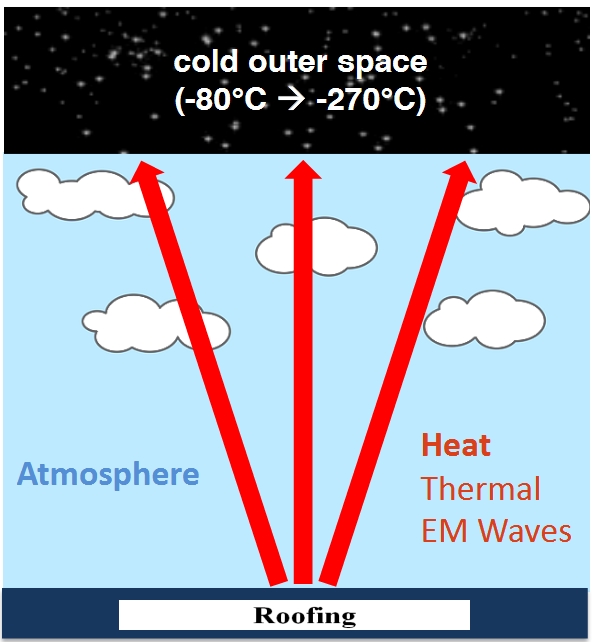 Let's say you walk into an unheated room. The air temperature is only 50°F. There is a wood stove in the room, but the wood stove is unlit.
Your body is at about 98°F. Since your body is warmer than absolute zero, it is radiating heat in all directions. (All objects that aren't at absolute zero emit infrared radiation). The wood stove is cool — it's at 50°F. Still, the wood stove is also radiating heat in all directions.
Since you are warmer than the wood stove, you are radiating more heat to the wood stove than the wood stove is radiating to you. If you stand there long enough, the wood stove will get a little warmer, and you will get a little colder.
If someone lights a fire in the wood stove, and the temperature of the stove rises to 300°F, what happens? You are still radiating heat to the wood stove. And the wood stove is still radiating heat in your direction. But since radiant heat is flowing at a faster rate from the stove to you than from you to the stove, you are going to end up feeling warmer.
The phenomenon I'm describing is explained this way in a document posted on the National Weather Service web site: "Every warm object loses energy by radiating electromagnetic energy (e.g., infrared photons). If it receives an equal amount of energy from other objects, it is in radiative equilibrium; if it receives less from other objects, it loses energy and cools down."
An online article by Mike Luciuk notes, "The outgoing radiated power of [an average human] would be about 1,039 watts. In other words, a human body radiates power close to that of a toaster, with a peak wavelength of about 9.5 µm.…
Weekly Newsletter
Get building science and energy efficiency advice, plus special offers, in your inbox.
This article is only available to GBA Prime Members
Sign up for a free trial and get instant access to this article as well as GBA's complete library of premium articles and construction details.
Start Free Trial
Already a member? Log in