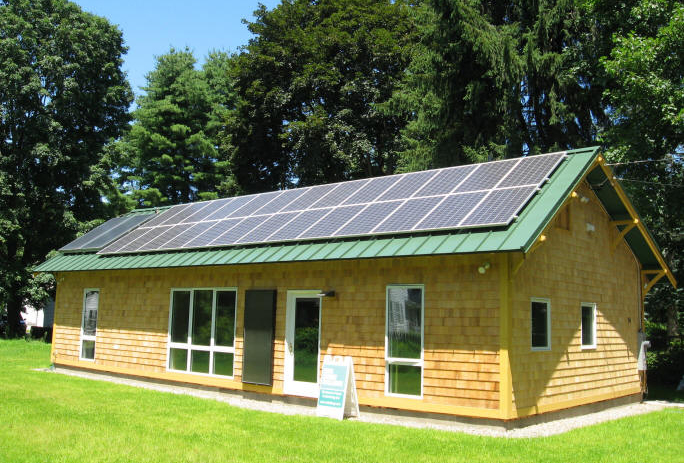 Energy experts often repeat the cliché, "There's no such thing as a zero-energy home — just zero-energy homeowners." Energy monitoring data from two well-publicized Massachusetts homes — the so-called Montague Urban Homestead house in Turners Falls and the home of Matt and Laura Beaton in Shrewsbury — prove the cliché to be true.
Energy-use data for the two homes were shared in a presentation by Mike Duclos and Paul Panish at the Better Buildings by Design conference in Burlington, Vermont, on February 8, 2012. Duclos and Panish are energy consultants at the DEAP Energy Group in Newton, Mass.
The first of the two houses, the Montague house, is owned by Tina Clarke and Doug Stephens. It has won at least two awards: the $25,000 Massachusetts Zero Energy Challenge, and NESEA's $10,000 Zero Energy prize. Energy-use data from the Montague house show that the homeowners used far less energy than predicted by energy models.
The other house discussed by Duclos and Panish, Matt Beaton's house in Shrewsbury, is the first certified Passivhaus in Massachusetts. Energy use data from the Beaton house show that the homeowners used far more energy than predicted.
The key factor in both cases was occupant behavior.
The Montague house
The Montague house was built by Bick Corsa with help from the homeowners. Construction was completed in 2009.
Here's a snapshot of the house:
Weekly Newsletter
Get building science and energy efficiency advice, plus special offers, in your inbox.
This article is only available to GBA Prime Members
Sign up for a free trial and get instant access to this article as well as GBA's complete library of premium articles and construction details.
Start Free Trial
Already a member? Log in