This is the second in a series of blogs by Paul Kuenn describing energy-efficiency improvements to his home in Appleton, Wisconsin. The first appeared here as One Man's Quest for Energy Independence — Part 1.
In 2010, a brochure arrived from our utility, We Energies, stating it had done enough for the environment and solar credits would be drastically reduced. We Energy said it had met its 1% goal in wind and solar.
We were locked into a 10-year contract that did not permit me to either increase or decrease my solar output, with any electricity going to the grid earning 22.5 cents per kilowatt hour, the same rate we would pay for power used between 7 a.m. and 7 p.m.
My existing system could not be altered, but I decided to add another 2 kW in capacity that would not be grid-tied but connected to battery storage instead. With our original, grid-tied panels, we'd been getting checks from the utility of between $12 and $20 each month from February through October, and paying bills of between $15 and $20 in winter. I thought an extra 2 kW would put us in the black.
It was back to our engineer friend for advice and some drawings. We'd need to add five new panels to the garage roof, which already carried eight panels, and another five modules on the house roof. The 10 new 215-watt panels would produce 2.15 kW at peak. We also decided to add three additional solar thermal panels for floor heating.
I was now working as a fire apparatus consultant and had to work around that busy schedule. Most of the next year and a half would be devoted to working late into the night. Many evening building adventures would be accomplished by lamplight.
The goal is no fossil fuels
A new building permit ($35) and electrical solar permit ($35) with a two-year deadline was as easy as filling out an application. The city of Appleton was catching on. Obviously, things had changed. Our inspector had been sent for training as PV installations grew in number around the city. However, he told me up front to work with him on my new project as it would be the first battery-based system he had seen.
We were already biking to work every day, and I wanted to rid ourselves completely of fossil fuel. The 1988 furnace had to go. We had an unfinished basement with exposed floor joists, which provided the opportunity for in-floor radiant heating with PEX tubing. I would expand the hot water system to three 4-foot by 8-foot collectors with 130 gallons of storage (one 80-gallon tank plus the original domestic hot water tank of 50 gallons).
My new engineering plans included sistering new 2x8s alongside the existing rafters to handle the weight of the new PV and solar thermal panels. Hip roofs are nearly "bomb proof" but it's hard to predict what a 1960 2×8 can handle. I added 3/4-inch plywood decking immediately under the new array where the Quikmount solar racking feet would go to hold the collector and PV array rack legs and 2×6 blocking between doubled rafters so we wouldn't have to worry about splitting any rafters. I didn't have the room for the collectors and a fully tilted PV array so I had to settle with a fixed tilt.
In northern latitudes we would rather have a tilt rack so the directness of sunlight is aimed 90 degrees to the panel; a 45-degree tilt at our latitude of 45 gives the best all-around performance. But a tiltable rack would have allowed me to adjust the panels and absorb more sun in the winter when it is as low as 23 degrees off the horizon.
In this case, a 43-degree tilt would keep the PV array sitting in front of the hot water solar collectors from shading the collector bottoms in the winter when the sun was at its lowest position and when you want the hottest liquid possible. To keep PV from shading the collectors and maintain the three feet of required roof access around the array (good idea if there was ever a fire) I had to be very careful in my positioning with so little south-facing roof space. Riding the bike to work over the years had not only allowed me to save for this project but also to have a clear mind to strategize my nightly building plans.
Adding radiant-floor heat
This was late in the year so I planned to start with the floor heating and end the next season with the added PV array in 2011. It took the patience of a few friends and willing spouse to get the under-floor tubing in place and insulated.
One collector came damaged so we would start the winter with three collectors and see how it would do. The fourth would eventually show up the next spring due to model size changes and a great search for a matching panel with the staff at Heliodyne.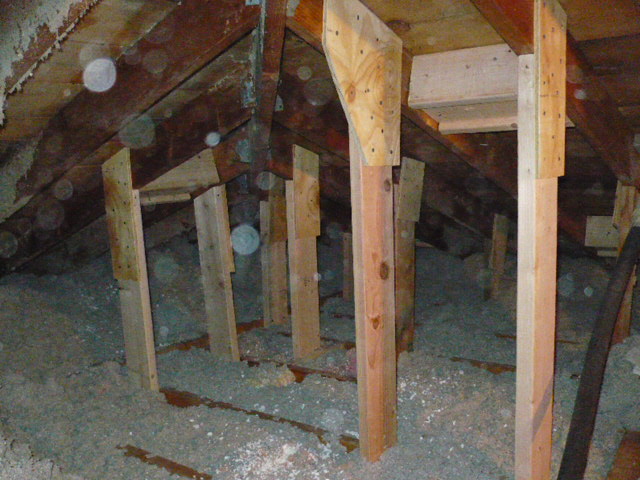 A very long Thanksgiving weekend was spent blowing cellulose into the floor joist bays. Not much sleep the first night as near the end of the basement job, we found that I had forgotten to tape over a few of the old registers upstairs. What a mess!
Another early snow and excellent cross-country ski season followed. We loved the feel of warm feet on the floor. Unfortunately, until I worked out the bugs of the system, we had a few cold showers. An air-source AirTap heat pump water heater was added to supply heat to the domestic hot water storage tank after I dismantled the gas-fired on-demand unit. We attempted using this one heat pump to back up the floor heating 80-gallon tank.
The AirTap worked overtime when no solar heating was available and its coils frosted up, so we reused the previously removed and unsold on-demand heater to back up the radiant floor system and planned on moving the AirTap to the domestic hot water (DHW) storage tank. I was trying not to use fossil fuel. We had to quickly redraw my plan. Luckily Rob was game, as usual. We tweaked the system enough to get us through the winter – sans cold showers.
We moved the AirTap to the DHW tank and re-installed the Rinnai between the floor heating tank and Viega floor heating manifold. If the temperature of the water in the floor tank was below 100°F, the Rinnai would kick in and heat the water circulating through the PEX tubing directly. I hated the thought of one more winter using natural gas, but at this cold late date I did not have much choice.
In my next blog installment, I'll discuss further revisions to the hot water system.
The third installment of Paul Kuenn's blog series is here: One Man's Quest for Energy Independence — Part 3.
Paul Kuenn lives in Appleton, Wisconsin. He is a past owner of a climbing school and guide service who has studied environmentally sound building practices, along with plumbing and electrical. He's a graduate of solar thermal and photovoltaic installation programs at the Midwest Renewable Energy Association. In the last eight years Paul also has worked as a third-party inspector for fire and rescue apparatus. In his spare time, he helps homeowners use the least amount of fossil fuel energy possible.
Weekly Newsletter
Get building science and energy efficiency advice, plus special offers, in your inbox.