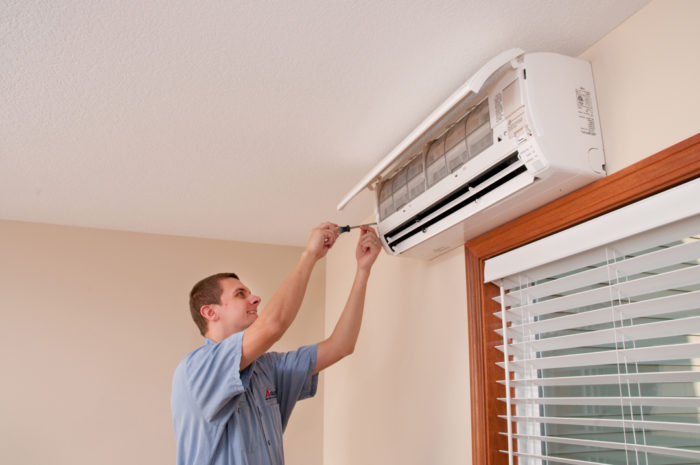 Christopher Vernott is an architect at work on his own home — a tight, well-insulated house in southeastern Connecticut — and the time has come to rough-in the heating and cooling system.
Because of the double-stud wall construction, triple-glazed windows, and careful air-sealing, his heating and cooling loads are low, he writes in a Q&A post at Green Building Advisor.
Manual J calculations, the standard means of sizing heating and cooling equipment, show he will need 11,000 Btu per hour of heat on the first floor and 5,300 Btu per hour on the second floor. Cooling loads are a little higher: 12,500 Btu/h on the first floor and 7,000 Btu/h on the second floor.
"My safe design strategy includes a [Mitsubishi] Hyper Heat head sized for the first floor load and a minisplit ducted cassette on the second floor with two to three short runs supplying the bedrooms," he writes. "My second design, somewhat more risky, includes one Hyper Heat head sized for the whole house and located on the first floor."
Both plans include an energy-recovery ventilator (ERV).
Vernott isn't as concerned with heating as he is with cooling, in particular the south-facing second-floor bedrooms.
"If I exhaust the first floor with ERV pickups close to the floor level to grab the cool air, and then supply the bedrooms on the second floor with the tempered incoming fresh air, will it be enough to cool down the bedrooms a little?" he asks.
That's the topic for this Q&A Spotlight.
It depends
GBA senior editor Martin Holladay doesn't offer much encouragement for Vernott's one-head plan. Pumping tempered fresh air into second-floor bedrooms won't be enough to keep them comfortable, he says, referring Vernott to articles on the particular challenges of designing heating and cooling systems for…
Weekly Newsletter
Get building science and energy efficiency advice, plus special offers, in your inbox.
This article is only available to GBA Prime Members
Sign up for a free trial and get instant access to this article as well as GBA's complete library of premium articles and construction details.
Start Free Trial
Already a member? Log in