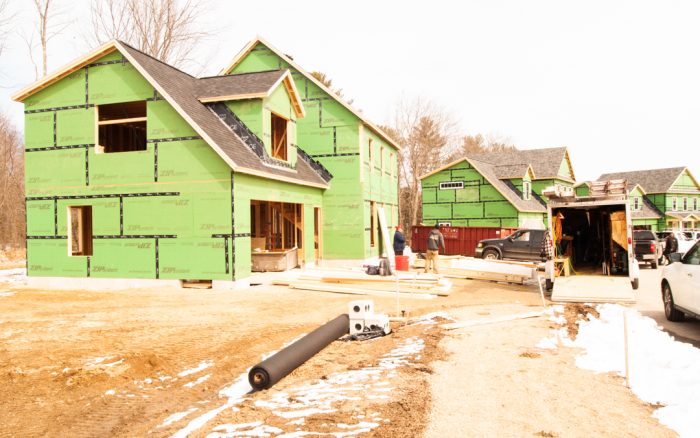 The coronavirus pandemic is slowing the construction trades to a crawl.
At least one major U.S. city has ordered construction sites to be closed as builders in firms of all sizes weigh the risks of continuing to stay on the job. Some are still showing up to work, with altered workplace rules, but many are not.
Boston Mayor Martin Walsh last week halted construction projects across the city for two weeks as the coronavirus continued to spread. Only emergency projects, such as roadwork and gas hookups, could continue, Construction Dive reported.
Trade unions applauded the decision. Associated General Contractors of America CEO Stephen Sandherr, however, said shutdowns will "do more harm than good" for both construction workers and the economy. That seemed to be more in keeping with President Trump's stated goal of having everyone back to work and churches packed by Easter, April 12.
A stay-at-home order issued in California does not, at least for now, cover construction projects that are underway. But a similar order in Pennsylvania does, Construction Dive said in an updated version of the article. As more states order residents to stay at home, or consider doing so, construction at all levels is likely to see a broad slowdown.
The Solar Energy Industries Association, for example, warned that the fallout from the coronavirus could cut the industry's labor force in half, Bloomberg reported.
As wrenching as these changes are for construction workers, their families, and their clients, all non essential job sites should be closed for now, a superintendent for a central New York State  contracting firm argued.
In a post published at Construction Dive, James Lang said a mindset among construction workers to keep on plugging away "disregards the health of all the people who work closely together on construction sites." Unless they are engaged in essential work, Lang said, construction workers should be staying at home.
"Forget the schedule, forget liquidated damages, forget profit," he writes. "These are people's lives."
What builders are telling us
In New England, some builders have agreed to continue working, although they are taking care to keep workers a minimum distance away from each other, limiting the size of crews, providing disinfectant, and asking that tools not be shared. Others construction crews have halted field work altogether.
Greg Bossie, project manager for Kent Hicks Construction of West Chesterfield, Massachusetts, said office staff continues to work from home while three of the company's lower-skilled workers have been laid off because they could not be kept busy without direct supervision. Two had already decided to self-quarantine.
"We have reduced staffing at active job sites to one or two carpenters, and only one sub on site at a time," Bossie said in an email. "We insist that our subs and employees travel in separate vehicles and work in different parts of the house. If they are unable to comply, we are asking them to leave (hasn't been a problem so far)."
On larger jobs, only one carpenter works inside at a time, especially if there is a sub working inside at the same time. Managers digest new information daily at a meeting via Zoom to reassess the situation. The company has made 40 hours of sick pay available immediately, regardless of what's been used to date. Kent Hicks also has developed its own protocol for working on site.
Dan Kolbert of Kolbert Building in Portland, Maine, is now midway through a single-family home in the area. Kolbert said his crew  gathered on March 16 and decided to keep going. Two days later, they felt that decision had been dangerous and irresponsible.
"Fortunately, we're building a new house and it was at the point where it could keep going," he said in an email. "Right now, drywall is getting taped (our taper works solo) and next the slab is getting polished (again, usually one or two people, wearing respirators anyway). "
Kolbert is trying to decide what to do with the downtime—online OSHA classes, recertification for the EPA's lead paint program, or scheduling video chats to go over company business that never gets discussed otherwise.
"And of course," he said, "trying to think of ways to keep bringing income in—people working solo on the new house, prepping things in shop, doing some small exterior jobs solo, etc."
At Byggmeister, a Boston-area contracting firm that does mostly renovations, CEO Rachel White said field operations were halted as of March 16. "We have thought long and hard about this, discussed it internally at length, and come to the difficult understanding that we have an obligation to suspend remodeling work until our community has greater clarity about how to manage the risks of the current pandemic," the company explained in a notice.
The announcement said a decision to suspend a renovation in progress "can only compound stress, anxiety and frustration" for homeowners, she said, adding, "The only thing that would feel worse right now would be to be responsible for introducing COVID-19 into a home."
Unease and uncertainty
The spread of the virus and its nightmarish consequences for many workers is prompting builders to dig deep for the right answers.
"This is a question that has been weighing on me," Massachusetts builder Mike Norton said in an email. "Do we close up shop for a couple of weeks and stay home? Do we keep working because we were considered essential? Why is construction essential? Are we doing our part?"
So far, Norton has decided to keep going after checking individually with his clients to make sure they were comfortable with having workers at their homes. Only one carpenter at a time works inside on small projects, and workers have been given disinfectant to wipe down tools. Interaction with homeowners is limited, and on outside jobs only three carpetners at a time are on site.
"I am paying attention to how my subcontractors and employees feel about being on the job," he said. "I am also paying close attention to how other builders are handling this situation…I hope that we are making the right call by moving forward with work but if this in any way bothers our homeowners we will hang it up as well."
At Building Shelter Inc. at Vineyard Haven, Massachusetts, Ben Kelley also is pressing ahead after emailing all of his clients and trade partners to discuss the coronavirus and explain the new procedures he was adopting. They include setting up work containment zones with plastic walls and double plastic doors to isolate work zones from the rest of the house; making sure sanitizer and N95 gloves are available; depressurizing work areas; and keeping people on the site at a safe distance from each other.
"I also asked for input and if my clients had any special requests that would make them more comfortable, including if they wanted us to continue working in their homes at all (they do)," Kelley said in an email.
In the Dallas-Fort Worth area, zero-energy designer Armando Cobo said all six residential jobs he's currently overseeing have been shut down in response to a stay-in-place order in the area. Cobo said he has another house in Illinois where the crew is still at work, but it's a rural area unaffected for now by emergency health directives.
Two clients have scheduled meetings with Cobo in the weeks ahead to start the planning process for new houses, but he's not certain whether those sessions will take place as planned. With active jobs on hold, and only the unknown ahead, Cobo has more time on his hands than he'd like. He's noticed people in his neighborhood seem to be spending more time outside in the street talking with each other, an usual but welcome consequence of the pandemic. Still, he'd rather he be working.
"I didn't know that doing nothing would be so hard," he said in a telephone call. "If this is what retirement is like, I'm just going to continue going until I croak."
Kate Stephenson at HELM Construction Solutions, a consulting firm that works with a number of smaller contractors, has been collecting resources for builders. They include this list of recommendations as well as this article about forecasting cash flow in times of uncertainty.
In addition, Stephenson has compiled a list of online training offerings that people can take advantage of while they are stuck at home.
"My sense from working with builders across the country, mostly in New England, is that they are slowly coming to the realization they need to shut down," she said in an email. "But not all have yet."
---
-Scott Gibson is a contributing writer at Green Building Advisor and Fine Homebuilding magazine. 
Weekly Newsletter
Get building science and energy efficiency advice, plus special offers, in your inbox.