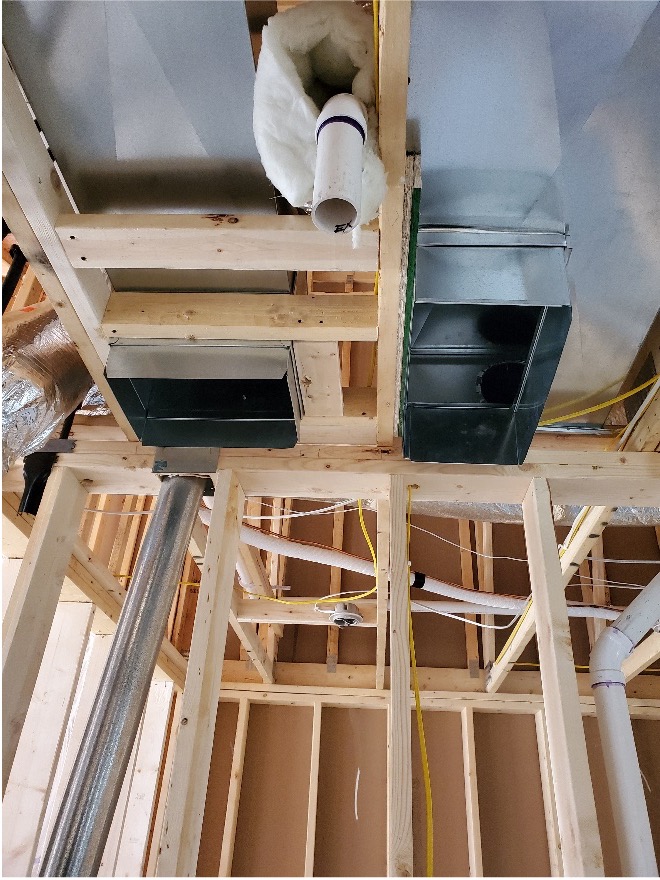 In 2012, the International Energy Conservation Code (IECC) started requiring residential construction pass an air leakage–rate test, better known as a blower-door test. My area of the country mandates test results at or below three air changes per hour at the test pressure of 50 pascals (3 ACH50). In warmer climates, 5 ACH50 is typical. In my experience, most new construction passes the test, but I have seen a handful of houses fail.
Failure costs

My current fee for a code-required blower-door test is $250 (the fee increases for large and complex houses). If the home does not pass, I look for the causes at a per hour rate of $100. Once the issues are identified, someone—usually the general contractor or insulating contractor—will do some air-sealing to correct the deficiencies, and a second test will be performed. My rate for a second test is $150; the fee is reduced because I've already calculated the volume of the home, which greatly limits the time onsite. This process is repeated until the home passes. Without a passing test, most jurisdictions will not issue an occupancy certificate, so it's beneficial to pass a test the first time.
Passing the first time
The best approach to passing a blower-door test is to understand where houses leak air and design an air-sealing strategy with that in mind. Performing a mid-build blower-door test is also good practice. This test is typically done after mechanical, electrical, and plumbing (MEP) systems are installed, and windows and doors are in place, but before insulating.
The biggest difficulty when performing a blower-door test is how to address a vented attic or roof, which is often open to the outside. A method I've used is to install polyethylene sheeting on the ceiling, sealed to the wall framing. (I live in a cold climate, where polyethylene is commonly used. In other areas, it is more common to use drywall or a smart vapor control product.) I've also tested with closed-cell spray foam installed in unvented roofs and conditioned attics. Problems can be identified with a test and corrections made before insulation and finishing materials are installed.
Another option is to use a third-party air-sealing technology, such as Aerobarrier. This process is typically performed at the same point in the building process as the mid-build blower-door test—after MEP systems are in place but before insulation and finishing. The Aerobarrier installation process includes pressurizing the house and then releasing an aerosol sealant fog suspended in air. The sealant floats until it is caught in an air current. This current will lead to a hole to the exterior where it will build up around the opening until it is sealed. Advantages of this method include time-savings; usually it takes just a few hours. It also provides a high level of airtightness, although the tighter the home, the more time the sealing process takes and the higher the cost.
Reasons for a failed test
There can be many reasons for a failed test. Sometimes products are at fault. For example, I saw several failures in a group of duplexes that were built over the course of three years; they failed, in part, because of the water heater spec'd. It was a natural venting gas unit installed in a small mechanical room (photos below). The water heater used interior air for combustion and required a vent to the outside. Per the ANSI/RESNET/ICC 380 testing standard, these vents, and the flue for the water heater must remain open during a code-compliant blower-door test. Simply moving to an electric or some type of sealed-combustion water heater would have eliminated the required combustion air vent and the homes would have passed.

Recessed lighting fixtures are another culprit. I recently tested a new home that failed, in part, because of this lighting type. The same home had an unsealed attic hatch too. These two conditions, combined with the home's small size (8000 cu. f.t) contributed to the failed test results, even though the home was only leaking a little more than 500 CFM at 50 Pascals.
The attic hatch was an easy fix that just required caulking the access panel shut. Air-sealing the recessed cans, especially in a cathedral ceiling, was more difficult. In this case, the contractor caulked the recessed fixture housing to the drywall, which helped a bit. A better choice would have been to eliminate the convetional can lights, and instead use a thin-profile LED fixture with a standard flanged electrical box sealed to the drywall.
As a side note, the 2021 International Energy Code has an option for blower-door testing of small structures using the cubic feet per minute of airflow per square foot of surface area (CFM50/ft² of surface area). The structure needs to be 1500 square feet or smaller and must achieve a leakage rate of no more than 0.30 CFM50/ft² of surface area. The small home discussed above that failed the standard ACH blower-door test achieved 0.15 CFM50/ft² of surface area. If tested against the 2021 code allowing the CFM50/ft² of surface area, this home would have passed.
Key areas to air-seal

The biggest area of deficiency in air-sealing that I see in both old and new construction is the ceiling or roof. Even a simple roof can be a challenge to air-seal correctly. A continuoulsy sealed transition between the wall and roof is often missing. Then a bunch of holes are punched in the air barrier for plumbing pipes and electrical wiring and boxes. Add a forced-air heating system with ducts in the attic space, and now there are even more holes in the air barrier. Change the simple roof to one with multiple roof lines, dormers, and cathedral ceilings, and air-sealing gets even more complicated and difficult to get right—and the ceiling is the most critical area to get right.
The second most important area to address is the transition between foundation and wall framing. Tying dissimilar materials together to form an effective air seal can be tough. Concrete foundations and slabs rarely end up perfectly flat. The dips and humps can create a pathway for air to move into the structure. This is where I prefer a belt-and-suspenders approach in the form of gaskets and tapes or sealants.
I see fewer issues with walls, but there are some areas that need detailed air-sealing and waterproofing including holes made for electrical wires, vents, and outside water spigots.
Blower-door testing is not going away. I wouldn't be surprised if in future energy codes the requirements for building tightness become more stringent. With a basic understanding of where homes leak air, a strategy can be designed, and a code-compliant blower-door test can—and should be—passed the first time.
________________________________________________________________________
Randy Williams is a builder and energy rater based in Grand Rapids, Minnesota. Photos courtesy of the author.
Weekly Newsletter
Get building science and energy efficiency advice, plus special offers, in your inbox.