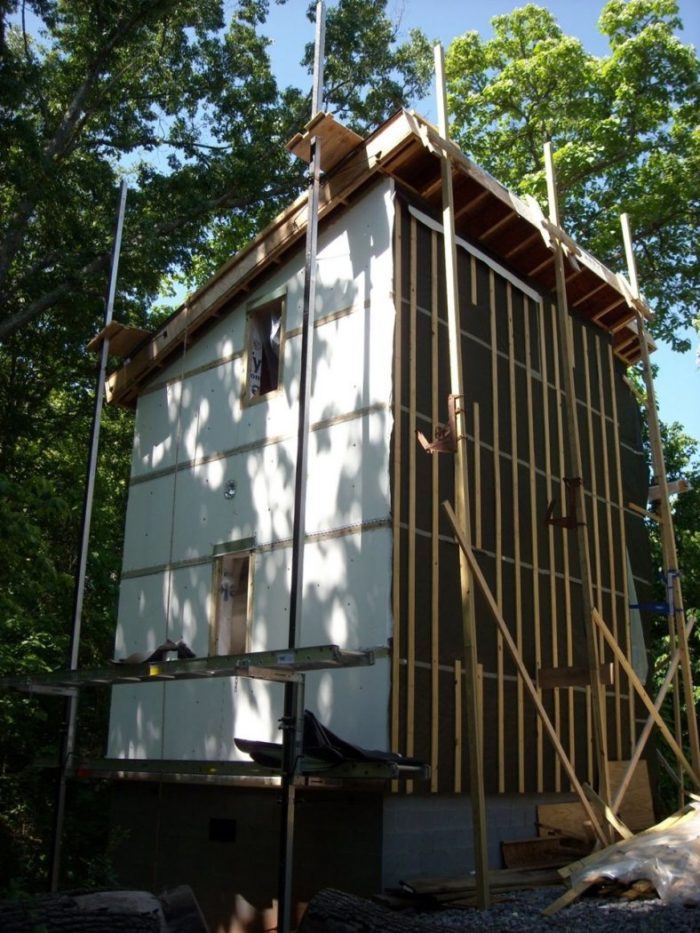 Check out floor plans, site plan, a model and details plans of this project.
Today, I am meeting with Aaron & Calder Wilson (The Architects) for conversation and drinks. I will relay our conversation to you, at least the relevant parts, which could come fewer and farther between as the drinks continue to flow. Who knows, if it sounds good it could end up as a podcast.
Check out pictures of the project at my Flickr page.
I am totally charged about the number of responses I've gotten from the first Passive House blog. In this entry, I will list them (paraphrased). I think it's best to dive into these issues one by one and pick them apart since they are getting into the real understanding of these green building practices. Here's a list of questions from your input:
Dan S: How did the project team refine and decide on the products and equipment used for the home?
Dan S: Why did they choose the guidelines and resources used to guide the project?
Dean D: Could you share information about energy recovery ventilators?
Bruce C: How did the project team decide on the windows used in the project?
Boone G (A Green Builder buddy of mine): Should up-front money be invested in the thermal efficiency of the envelope, or would it be better spent on other systems? At what point does the return on invest become impractical?
John B: Could we share home plans, project team comments, (including the HERS rater) and data from the project?
Pat M: Since closed-cell foam manufacturers say that the perm ratings of their foams is about the same as oriented strand board, does the high permeability of open-cell foam make a whole hill of beans' difference?
Brian K (Another Green Builder Buddy of mine): Does Manual J or other modeling software underestimate the effects of passive solar, or does the Passive House software kick us rear end?
Donald L: What's the best way to hit R-60 in the roof that I am about to build? I'm considering 16-in. parallel chord trusses to get an open ceiling, with 1/4-in. ply to get a vented roof, 2 in. XPS foam with the seams taped below the trusses and the space filled with 15″ of blown-in fiberglass insulation. Would foam on the bottom of the sheathing be better for air sealing?
Here's a list of comments:
Chris Otohal's (owner, engineer, and builder) comments:
Cellulose is appealing due to its extremely low embodied energy. Chris and his installer are considering installing drywall first and then cellulose to achieve the appropriate density. He likes the idea of a thin layer of foam first, followed by cellulose.
Chris decided on Vaproshield when he decided to use Corten siding. He is using Vaproshield's Wrapshield product, lapping and taping the seams, which the company states will provide an effective air barrier. The project team is not solely relying on that, however.
The heating and cooling loads were determined by energy modeling performed by the US Passive House Institute using the Passive House Planning Package (PHPP). Chris is working on getting the data for us to share with you. The data are dependent on compliance with the air infiltration criteria of 0.6 ACH at 50 Pascals.
This home will not receive Passive House certification, which requires an annual heat requirement of 15 kwh/m2 due to the solar heat gain coefficient (SHGC) of the windows. Chris opted for less expensive Inline Fiberglass windows from Toronto. Thermotech windows were recommended, which had a higher SHGC but were $9,000 more expensive. Chris' home will be closer to 20 kwh/m2/yr. The extra $9,000 would have resulted in an ROI of 180 years. Chris will be following the PH guidelines, but the home will fall short of certification.
I have tons of comments and opinions on all of these topics, but I am going to hold on to them so that I can approach these topics methodically. What issues that are most appealing to you or stand out the most? Comment, and that's what we will hit first. Do a little research, and we will discuss.
Weekly Newsletter
Get building science and energy efficiency advice, plus special offers, in your inbox.