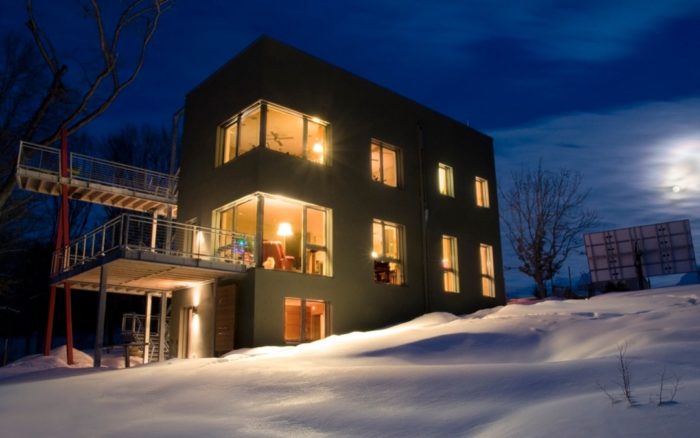 As the clock wound down on 2011, marking a full year of monitoring for Passive House in the Woods, in frosty Hudson, Wisconsin, it became clear that the building's design, construction, and renewable-energy systems had combined to deliver net-zero-energy performance, and then some.
Tim Eian, of Minneapolis-based TE Studio, designed the home to meet the Passivhvaus standard and teamed up with Morr Construction Services, of Shoreview, Minnesota, to turn the plans into reality. The 1,940-sq.-ft. home was certified by the Passive House Institute U.S. in October, and Eian recently reported on the TE Studio blog that it had produced more energy than it used in 2011.
The home's above-grade walls are built from 11-in.-thick insulated concrete forms (ICFs) clad with an exterior-insulation and finish system (EIFS) that brought the overall R-value of the walls to 70. The slab, which sits on 12 in. of extruded polystyrene, is designed to deliver R-60 thermal resistance, and the flat roof, with an average of 14 in. of polyisocyanurate insulation, is rated at R-95.
The house is equipped with a solar hot water system, a 4.7-kW photovoltaic system, and a ground-loop system and liquid-to-air heat exchanger designed to pre-warm, pre-cool, and dehumidify the ventilation air as needed.
Getting to positive
Based on PHPP calculations, Eian explained, as much as 80% of the heat load over the course of the year has been covered by passive solar gain.
"While we predicted this with our energy models," Eian wrote in the TE Studio blog, "we found and learned through monitoring that some equipment and appliances use more energy than assumed. On the flip side, user behavior plays a major role as well and can effectively lower energy consumption over the predicted model."
Eian also pointed out to GBA that more performance tracking will be needed to create an accurate picture of monitored usage. TE Studio summarized the monitoring data for 2011 in a report to the building's owner, Gary Konkol, a general-practice physician, but at this point that information isn't being released to the public.
So monitoring will continue and, Eian adds, "no changes to the building's systems or performance are scheduled. On whole, the building performs as predicted and the owner is very excited about it."
Weekly Newsletter
Get building science and energy efficiency advice, plus special offers, in your inbox.