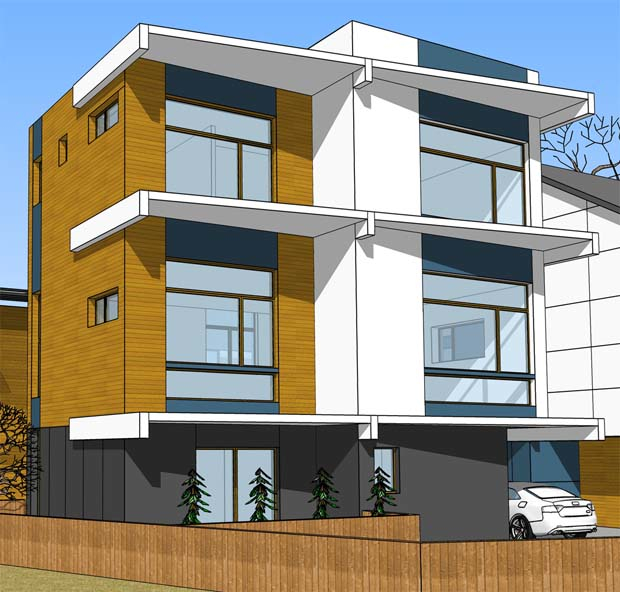 A Seattle developer has sold what he thinks is the first built-on-spec Passivhaus building in Washington state. And the sale bodes well for builders specializing in these extremely efficient designs.
The 2,000-sq. ft. house, built on an infill lot at 3153 S. Oregon Street, is located in Seattle's Columbia City area, in a cluster of 15 homes built by Dwell Development. Unit 13, as it's called, was sold last November during the framing stage. A recent blower-door test confirmed that the house meets the Passivhaus airtightness standard of no more than 0.6 air changes per hour at 50 pascals of pressure (ach50).
Still under construction, the house has 14-inch-thick double-stud walls (R-45) that will be filled with cellulose insulation. It also has an R-70 roof and triple-pane windows manufactured by Intus. The water-resistive barrier is Tremco EnviroDri. (For more specs, use the link for the Brute Force Collaborative website below.)
The incremental cost was only $35,000
Anthony Maschmedt, the developer, says he's certain the house is the first spec Passivhaus in Washington State, and fairly certain it's the first on an infill lot anywhere in the Pacific Northwest. The Columbia City area is on Seattle's light-rail line and only a five-minute train ride from the city's downtown.
The house sold for $535,000. Other houses in the Dwell development range in cost from the high $300,000s to the upper $400,000s, Maschmedt said. Features that should allow the house to become Passivhaus-certified at the close of construction added about $35,000 to the price tag.
Dwell builds between 15 and 20 homes per year. The company is building a total of 42 in Columbia City, including an additional two that will be built to the Passivhaus standard.
Unit 13 is the first Passivhaus building that Dwell has constructed. The design team included architect Julian Weber, Passivhaus consultant Brute Force Collaborative, and Tadashi Shiga, of Evergreen Certified.
The house sold quickly, and for a good price
What makes the project particularly encouraging to Maschmedt is that super-efficient homes are being snatched up by buyers even though they cost more than conventionally built homes. He says his houses typically are sold long before they're finished.
"There's a huge demand for it," Maschmedt said. "Our homes are already selling for a premium compared to the competition." He said another builder in the same community built a conventional, 1,500-sq. ft. home and had it on the market by 178 days before selling it for $305,000. Dwell built a house of the same size, had it on the market for "zero days," and sold it for $420,000.
"When the economy went down and people were struggling to sell, our homes continued to sell because people who were buying in a down economy were doing their homework and wanted value," he said.
Nothing made that clearer to Maschmedt than comparing his sales results with those of his fellow developer, someone he says is delivering a "good product."
"We're selling ours with zero market days for $120,000 more than he's selling his for," he said. "That's for the same size house on the same street. I would love to make Passive our new standard, and that's what we're trying to do — to make Passivhaus our standard spec," Maschmedt said. "Every home we do. That's my goal."
Weekly Newsletter
Get building science and energy efficiency advice, plus special offers, in your inbox.