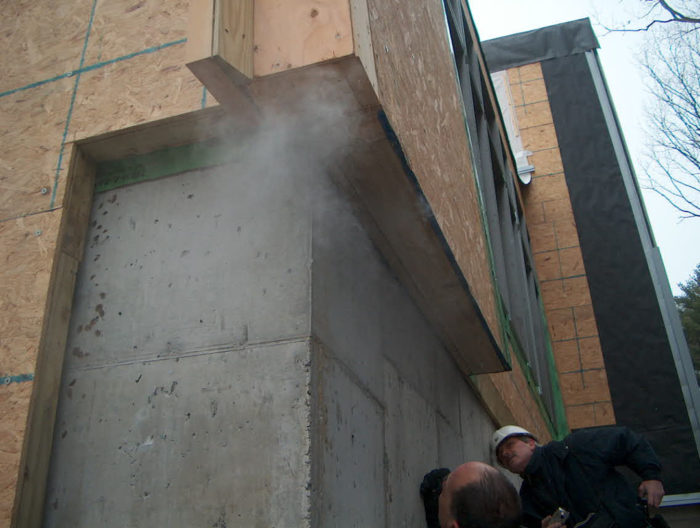 In the last few years, energy consultants have developed a quick and easy way to pinpoint air leaks in a building envelope. The technique uses a theatrical fog machine — a small, inexpensive device that creates smoke-like fog for dances, Halloween parties, or theatrical events. Fog machines have heating elements that vaporize "fog juice," a solution of water and glycol or water and glycerin.
With the help of a blower door or a window fan, a fog machine can dramatically reveal holes in a building envelope.
With air leaks, it's all about location, location, location
For the last 30 years, energy raters have been using blower doors to determine a building's leakiness. The results of a blower-door test — reported as infiltration airflow (in cfm) at a pressure difference of 50 Pascals — usually reveal how tight a building is, but not the location of any leaks.
Once a house is depressurized, however, air leaks can be located by walking from room to room feeling for drafts, or by waving a smoke pencil near likely problem areas. Finding these leaks requires experience, persistence, and a certain amount of detective work. (For more information on blower-door testing, see "Blower Door Basics.")
The fog-machine technique adds a whole new dimension to leak discovery. It's leak detection for dummies. Instead of crawling around on your hands and knees with a smoke pencil, you look for leaks by standing around in the front yard. The leaks don't reveal themselves as subtle whiffs of moving air; they shout, "Over here! I'm leaking!"
The fan blows inward
During a conventional blower-door test, the fan is set up to blow outward, depressurizing the house. A fog test, on the other hand, requires the house to be pressurized, with the fan blowing inward. Fog tests are usually scheduled…
Weekly Newsletter
Get building science and energy efficiency advice, plus special offers, in your inbox.
This article is only available to GBA Prime Members
Sign up for a free trial and get instant access to this article as well as GBA's complete library of premium articles and construction details.
Start Free Trial
Already a member? Log in