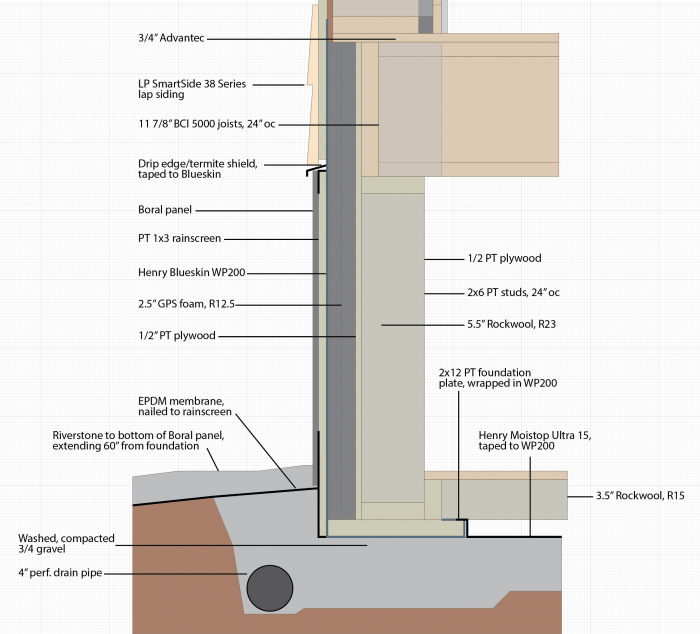 Josh Mayfield has extensive remodeling experience and a Habitat for Humanity project under his belt, but he has yet to build a house on his own. The project he has in mind, a few years down the road, will start with a wood foundation.
In a recent Q&A post, Mayfield lays out the basics for this detached accessory dwelling unit (ADU) to be built in climate zone 3A. The gently sloped site is rich in Carolina clay, where Mayfield identifies water, termites, and radon as major concerns. He intends to either install a dehumidifier in the crawlspace or make it a conditioned space; he also plans on adding a vented radon system.
Permanent wood foundations (PWFs) have a long history in the U.S. but have never given concrete serious competition. With efforts to cut embodied carbon in buildings getting greater attention, more builders may find themselves considering wood foundations. Mayfield, in fact, is taking his cue from a presentation on wood foundations given last year by Mike Guertin, a Rhode Island builder and contributor to both Fine Homebuilding magazine and GBA.
"I'm aiming for near-Passive [House] performance," Mayfield writes, "but not currently planning on getting it certified."
Is Mayfield on the right track, or is he looking for problems? That's the topic for this Q&A Spotlight.
Wood foundation is not a good idea
"I'll start by saying I am at least 100% against wood foundations, probably even more than that," says Zephyr7. "This is not the place to skimp in any way. This is really a place you want to use masonry as any issue with a failing foundation in the future is going to be a major expense."
Because much of the house will be above grade, as shown in the drawings…
Weekly Newsletter
Get building science and energy efficiency advice, plus special offers, in your inbox.
This article is only available to GBA Prime Members
Sign up for a free trial and get instant access to this article as well as GBA's complete library of premium articles and construction details.
Start Free Trial
Already a member? Log in