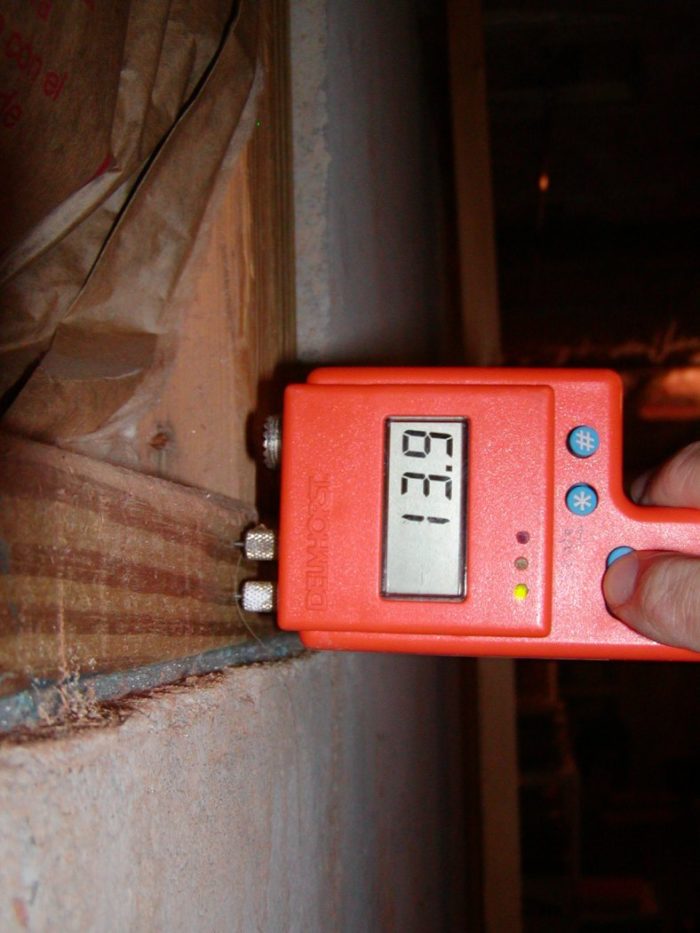 Code requirements for wood-concrete contact treat the symptoms of rot, not the cause Last week we talked about moisture meters, and I asked readers why the wood in the picture was wet. As it turns out, that photo was taken in the same house on the same day as the two pictures at right. Why is one bottom plate sitting on concrete "dry," and the other one "wet?" I admit that this week's top photo was taken in the basement and last week's and the bottom photo were taken in the crawl space, but the location is not the cause of the different moisture readings. The reason is simple: sill sealer. The light blue sill sealer installed between the bottom plate and concrete (most likely for air sealing) in the top photo is closed-cell foam. It's meant to be an air-sealing gasket, but it also is working as a capillary break because it keeps water in the concrete from wicking up into the wood. Both wood and concrete wick water well because they are porous materials.
The real problem expressed in these photos: Building codes require wood that comes in contact with concrete to be pressure treated, rather than just saying that wood should not come in to direct contact with concrete. While the pressure-treated bottom plate won't rot, it is still porous and can't keep water from wicking through it and up into the end grain of the studs. In last week's photo, we saw the moisture content at the bottom of the stud (not pressure treated) was above 17%. While we may not care if pressure-treated wood has high moisture content (it won't rot), we certainly do care about the studs connected to the sill (they can). Pressure-treated bottom plates deal with the symptoms of the problem when a capillary break between wood and concrete deals with the cause. No direct contact, no need for pressure-treated bottom plates. A cautionary note about moisture meters and pressure-treated wood. Moisture meters use the electrical activity of the water in the wood to calculate moisture content. The salts used to treat lumber have a significant effect on this electrical activity; moisture readings for pressure-treated wood tend to run high, so take actual readings with a grain of salt (pardon the pun). The relative difference between the two readings in these two photos — both in pressure treated wood — is still useful. For more information on this effect, see "Effects of Wood Preservatives on Electric Moisture-Meter Readings" from the Forest Products Laboratory.
---
Weekly Newsletter
Get building science and energy efficiency advice, plus special offers, in your inbox.