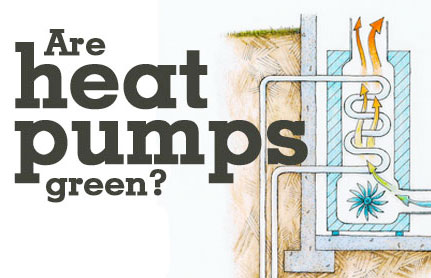 All heat pumps work on the same principle, moving heat from one location to another with the help of a closed refrigerant loop, a compressor, and a heat exchanger. In winter, heat is extracted from air, water, or the earth; this heat is used to heat the house. In summer, the process can be reversed so the heat pump pulls heat from the inside and dumps it outside. A heat pump can be used with either a forced-air or hydronic distribution system.
They seem like the perfect Green technology and that's why they're so popular. According to the EPA, they're extremely efficient. Problem is, it's more complicated than it seems. They use energy from an inefficient grid that often burns coal to make power.
So are they green?
#
John D. Geyer, a geothermal designer, trainer, and consultant in Vancouver, Washington says that their high efficiency means low operating costs. Read more
Henry Gifford, an energy consultant in New York City, says that high-efficiency boilers and furnaces are much more efficient. Read more
---
FURTHER RESOURCES
Green Building Encyclopedia:
Blogs:
Heating a Tight, Well-Insulated House
---
Weekly Newsletter
Get building science and energy efficiency advice, plus special offers, in your inbox.