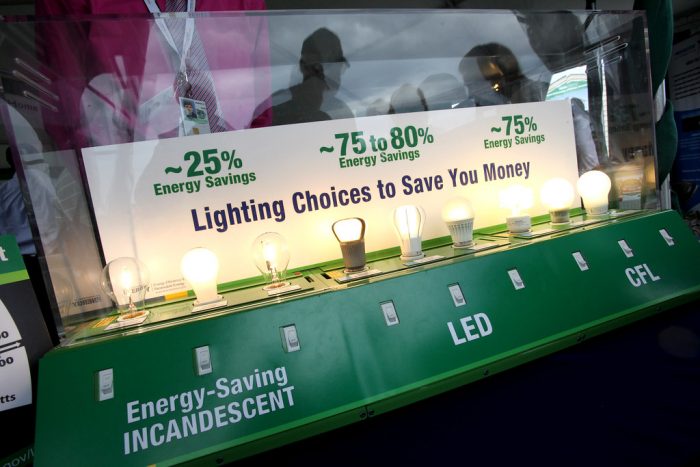 It's not Groundhog Day, but it sure feels like it: the Trump administration rolled out its detailed Fiscal Year 2020 budget for the U.S. Department of Energy (DOE), and once again, it contains enormous cuts for the federal energy efficiency and clean energy programs that affect the lives of and energy bills of all Americans — and at a time when we need these initiatives more than ever to clean our air, create jobs, and urgently fight climate change.
Slashing funding, like the 85% (!) hit to the Office of Energy Efficiency and Renewable Energy (EERE) that administers the efficiency standards program saving U.S. households, on average, $500 a year, leaves no room to continue investments in energy efficiency and renewable energy.
The Trump administration is even proposing to fully eliminate the Weatherization Assistance Program that helps low-income families lower their bills and make their homes more comfortable. Trump's budget proposal, which favors dirty energy, represents a more than $2 billion cut from the $2.3 billion lawmakers allocated for EERE for the current fiscal year.
Last year, Congress ignored the president's proposed DOE budget and instead increased funding. And while Congress has once again already signaled its intent to ignore most of the latest irresponsible request, sadly this proposal represents this administration's priorities.
The work EERE does is crucially important. From the efficiency standards program, which saves consumers over $500 each year on their utility bills, to research on advanced energy technology, to programs like weatherization that help low-income consumers save money on energy bills, this work has a long track record of success.
DOE investments in energy efficiency have had a powerful impact on the American people. The research and development programs funded by DOE improve lighting, appliances, building systems, grid efficiency, and much more.
For example, thanks in part to DOE programs, LED (light-emitting diode) bulbs — which consume up to 85% less energy than their incandescent counterparts — have dropped in price by 94% since 2009, and over 400 million LED bulbs have brightened American homes and businesses as a result.
Handicapping standards
The proposed budget would mean that DOE would not have the funding to adequately do its job to update and enforce standards, which have saved $2 trillion since their inception in the late 1980s.
DOE has already missed statutorily mandated deadlines for 16 standards and is poised to miss many more if the department doesn't step up its work. There's no excuse not to follow the law, and an inadequate budget should not be used as a ploy to halt work on this important, successful program.
Furthermore, DOE has already been spending its time working on rollbacks to standards and making the process of setting standards more cumbersome. Congress should be clear with DOE that this is unacceptable, especially in the face of missed mandatory deadlines. The $57 million proposed in Trump's for the Building Technologies Office, which administers the standards program and other important building-related efficiency programs, is a 75% cut from 2019 funding levels. Instead, we want to see an increase in funding to $268 million for fiscal year 2020, which will enable the department to make even more progress on efficiency of standards, building codes, and other innovative programs.
Hurting the most vulnerable
The president's plan to zero out the Weatherization Assistance Program is highly problematic. Weatherizing improves the efficiency of the homes of low-income families, by adding insulation, sealing leaks and cracks, and ensuring homes are safe and comfortable. These improvements lower utility bills and help make home ownership more affordable for the most vulnerable members of our society.
The president's budget claims that this funding cut is because the department should "shift in focus away from deployment activities." However, that dramatically understates the impact of this program, which provides enormous benefits to low-income consumers. Over the last 40 years, weatherizing homes has reduced energy costs for more than 7 million low-income households across all 50 states by improving energy efficiency.
The program supports 8,500 jobs and provides weatherization services to approximately 35,000 homes every year, and those households save an average of at least $283 annually on their utility bills. This is just one of the common-sense programs that will be drastically impacted by the latest irresponsible Trump budget.
Energy Star: Messing with success
Furthermore, the Trump budget also makes detrimental changes to the wildly popular Energy Star program, which is administered by the U.S. Environmental Protection Agency.
Energy Star provides a highly recognizable label for appliances and equipment, which differentiates high-efficiency products in the marketplace. This program, with an annual budget of approximately $50 million, paved the way for $34 billion in annual consumer and business savings in 2015, alone. However, the Trump administration has proposed zeroing out federal funding for the 25-year-old program that helps consumers and businesses choose the more efficient appliances and equipment.
Although the program has long enjoyed bipartisan support, the Trump administration instead wants to finance it with fees charged to the companies using it. The Energy Star program has enjoyed such success largely due to the trust consumers have in the Energy Star brand (and its blue and white label) — they know it's a trustworthy, government-run labeling system that isn't unduly influenced by manufacturers.
Requiring a "pay to play" system puts this program at great risk. There were no details included in the proposed budget of how this would work, and it is unclear how important aspects like how specification levels are set, verification testing, and ongoing program management would be handled.
Cutting these successful programs makes no sense. At a time when we need to dramatically scale up our actions to reduce the worst impacts of climate change, Trump's budget moves in completely the wrong direction. We know that scaling energy efficiency and increasing renewable energy is the best way to fight climate change while also reducing consumer energy bills, strengthening the electricity grid, and reducing other forms of air and water pollution.
Weekly Newsletter
Get building science and energy efficiency advice, plus special offers, in your inbox.