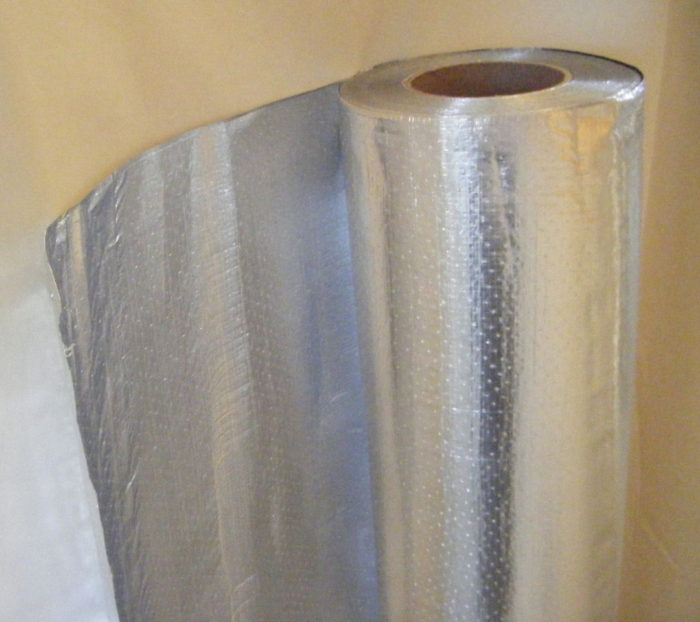 A radiant barrier is a shiny panel or flexible membrane used in construction. Although radiant barriers have no R-value, they can be used as part of a building assembly — for example, an assembly made up of a radiant barrier and an air space — to slow heat transfer.
The sale and distribution of radiant barriers has always attracted a disproportionate share of scam artists, many of whom promise impossible energy savings. The explanations made by these hucksters usually include multiple references to space vehicles and NASA. Having been swayed by this type of misinformation, a few builders have adopted an almost religious belief in the magical powers of radiant barriers.
So, what's the real scoop on these products?
Low-e surfaces don't emit much radiant heat
A radiant barrier is a thin sheet of reflective material, often aluminum, applied to a substrate such as kraft paper, plastic film, cardboard, or plywood. By definition, a radiant barrier has a low emissivity (0.1 or less). Radiant barriers reduce radiant heat transfer across the space which they face. The lower a material's emissivity, the more effective it is at reducing radiant heat transfer.
Although radiant barriers can be made from a variety of materials, there is no such thing as radiant barrier paint. No one has yet invented a paint that achieves an emissivity of 0.1 or below. (For more information on low-e paints, see 'Insulating' Paint Merchants Dupe Gullible Homeowners.)
Radiant barriers that aren't facing an air space don't work. If it's sandwiched between a layer of sand and a concrete slab, it's a conductor, not an insulator.
Although a radiant barrier has no R-value, it can help boost the R-value of an adjacent air space. According to ASHRAE Fundamentals, a vertical 3/4-inch air space has an R-value of…
Weekly Newsletter
Get building science and energy efficiency advice, plus special offers, in your inbox.
This article is only available to GBA Prime Members
Sign up for a free trial and get instant access to this article as well as GBA's complete library of premium articles and construction details.
Start Free Trial
Already a member? Log in