My wife, Betsy, and I searched for two years before we found the dump of our dreams: a tiny, dirt-cheap, and homely 1960s ranch that was within walking distance of our children's school and was close enough to downtown Portland so that we could ride our bikes to work. Our hope was that we could renovate it into an affordable, stylish, and comfortable home. Our creative vision was strong enough to sense the glimmer of a diamond deep inside that forgotten home on Madeline Street.
The house was heavily distressed, its wiring was illegal and dangerous, and it was considered a menace by the neighbors. It leaked air to beat the band (15 ACH50/4000 cfm50), and the basement flooded every time it rained. The ceilings were a claustrophobic 7 ft. 6 in. high.
Why take this on? Residential architects usually want to build their own house at some point, so we figured, why not now? Plus, our kids were old enough to survive the remodel. As an architect, I thought the house would make a good low-energy-technique test case and a possible prototype for other office efforts at net-zero rehabs.
Don't rush the renovation
We planned the design during our first year in the house, which allowed us to discover the many different aspects of the site. The existing house was just larger than 1100 sq. ft. I knew that expanding the footprint would expand the cost as well, so I followed the dictum of designing up, not out. I planned a compact two-bedroom second floor for the kids and enclosed the breezeway between the garage and the house. In total, I added 850 sq. ft.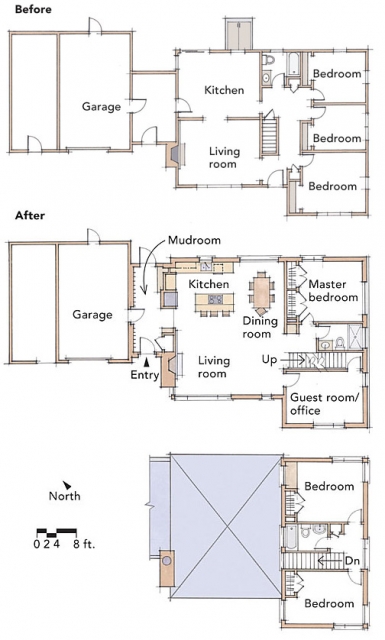 GOING UP IS BETTER THAN GOING OUT
To save money, the new floor plan was kept to the original footprint. The author gained space by…
Weekly Newsletter
Get building science and energy efficiency advice, plus special offers, in your inbox.
This article is only available to GBA Prime Members
Sign up for a free trial and get instant access to this article as well as GBA's complete library of premium articles and construction details.
Start Free Trial
Already a member? Log in