Copper- and borate-based preservative treatments have proven effectiveness, but structural plastics are more durable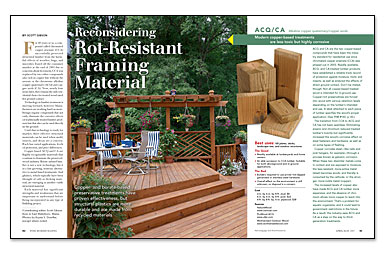 When copper chromated arsenate (CCA) was eased off the market at the end of 2003 due to fears about its toxicity, builders needed to find new sources for rot-resistant structural lumber. As contributing editor, Scott Gibson, has discovered, the industry has responded by developing three new types of rot-resistant framing materials. The new materials include lumber treated with alkaline copper quaternary (ACQ) or copper azole (CA); wood treated with borate, a naturally occuring mineral salt; or fiberglass-reinforced plastic lumber (FRPL), made from recycled plastics. This article includes a sidebar about new compounds and organic treatments in development.
This article is only available to GBA Prime Members
Sign up for a free trial and get instant access to this article as well as GBA's complete library of premium articles and construction details.
Start Free Trial
Already a member? Log in