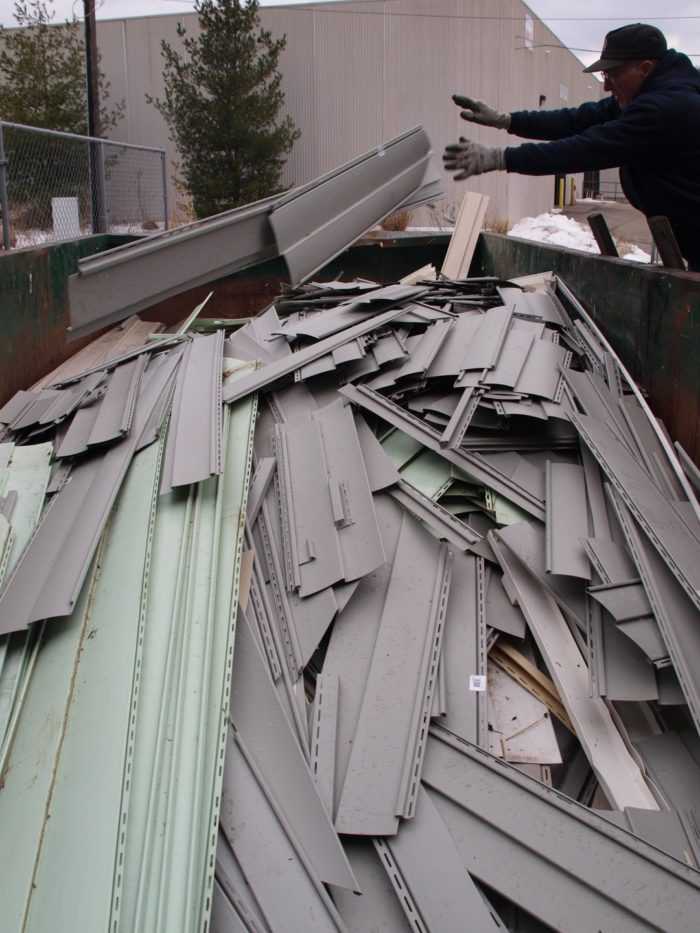 In 1998, while at the NAHB Reseach Center, I worked on a vinyl siding recycling project in Grand Rapids, MI. It was pretty simple: siding installers stuffed their cut-off waste into the long cardboard boxes the new siding came in, and back-hauled both to the same place they bought their vinyl siding stock. There, the vinyl cut-offs were placed in one container and the cardboard in another. The vinyl cut-offs were baled and when a 40,000-pound load was accumulated, a plastics broker would negotiate a price for the tractor-trailer load.
Recycling vinyl siding
Since polyvinyl chloride (PVC) is a thermoplastic material, it is pretty straightforward to recycle: it is simply ground up and re-melted and formed or extruded into new products. Having said that, PVC faces the same major recycling obstacles as many other materials: efficiently collecting enough waste material and managing contamination. The former is an important problem for new construction cut-off waste: getting together 40,000 pounds of cut-offs is a heck of a lot of cut-offs. The latter is a particular problem with tear-off vinyl siding, where dirt, nails, and mixed-in aluminum flashing all pose different separation challenges.
So where does vinyl siding recycling stand today?
Many plastic recyclers will take PVC material, even though their focus may be other more consumer-based plastics, such No. 1 polyethylene terephthalate (PETE or PET) or No. 2 high density polyethylene (HDPE). While there are plastics recyclers nation-wide who will recycle PVC, you may need to work with them on construction and demolition PVC recycling, dealing with the two main issues listed above: quantities and contamination.
Does this make vinyl siding green?
You will find no shortage of perspectives on this issue. A lot depends on how you weigh various environmental attributes — such as toxic constituents — and how you weigh a variety of very complex human health studies. A good start on this issue is the vinyl pro ("Vinyl is Green") and con ("Vinyl is Lethal") blogs here on GBA.
What about that vinyl siding recycling project from 13 years ago?
I am happy to report that Eikenhout Inc. — distributors of roofing, siding, doors and windows — still recycles vinyl siding in Grand Rapids, MI. Eikenhout now uses a 30-yard roll-off serviced by Waste Management, Inc to collect the vinyl siding waste. Curt Van Heuvelen, CGP, of Eikenhout, reports that the container is filled and emptied around once a month and Eikenhout accepts plenty of tear-off as well as cut-off waste vinyl siding. "Our vinyl siding recycling program is still going strong and is an important element of our company green building approach," says Van Heuvelen.
Resources
The American Chemistry Council has a pretty good Vinyl Siding Recycling: A How To Guide. The Guide provides a good overview on PVC recycling and then steps to follow to build a recycling program.
The Vinyl Institute has a good collection of information resources: a Vinyl Recycling Directory and a Recycled Vinyl Products Manufacturer Directory.
Weekly Newsletter
Get building science and energy efficiency advice, plus special offers, in your inbox.