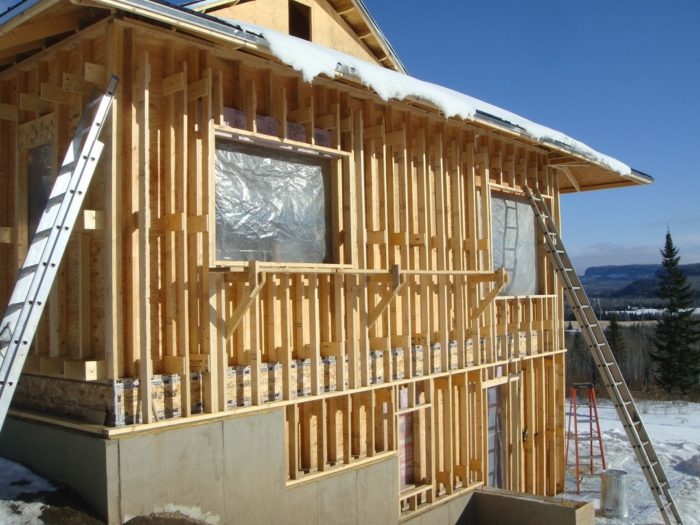 The building-science-and-beer group that meets every month in Portland, Maine, recently launched a discussion of suggested specifications for a "pretty good house" — a house that seeks to balance construction cost and energy performance without being constrained by the dictates of existing green building programs or rating systems. Michael Maines's blog on that topic has generated dozens of comments, and GBA has received several e-mails from readers with suggestions for regional variations on the "pretty good house" concept.
So, without further ado, we present the Pretty Good Ontario House, the Pretty Good New Mexico House, the Pretty Good Sacramento House, the Pretty Good Florida House, and the Pretty Good North Carolina House.
Lucas Durand: Northwest Ontario
Since I was not particularly interested in any type of "official" certification for my new house in northwest Ontario, I began to pick and choose criteria that seemed reasonable from both a cost and performance standpoint.
Resiliency was a priority, with most of the attention on making the house livable in the event of extended power outages and during times of drought.
Simplicity of design. I found it best to keep everything as simple as possible. In terms of envelope design, simplicity had a lot to do with keeping everything buildable but also with minimizing complex geometry. In terms of resiliency, simplicity meant covering the basics by making decisions about what was needed and then not worrying about devising systems that would maintain what was wanted.
A vented attic was selected for cost, ease of construction and also for durability reasons. The underlying flat ceiling also offers more buildability and better performance than a more dramatic cathedral ceiling.
Wall trusses with airtight sheathing. The walls are a type of stick-framed truss wall with airtight sheathing. As with the vented attic, this wall system was selected for its buildability but also because of my desire to minimize the use of rigid foam insulation.
5/10/20/40/60 insulation. For insulation, I followed the 5/10/20/40/60 guideline, but found it easy to add a little extra here and there (ie: sub-slab, sub-footing). It is my thinking that it is more important to focus on the quality of the insulation plan rather than the quantity. A complete thermal break around the entire envelope should be a priority; footings and slab should be fully insulated.
0.6 ach50. Air-sealing details should aim for the tightest possible construction but should be relatively easy to accomplish. Committing ahead of time to a service cavity enabled the use of certain air-sealing details that make Thorsten Chlupp's "0.6ACH50 made easy" achievable.
"Outie" windows may not offer the maximum performance advantage but are much easier to install and detail. Because of the climate I live in, locating the windows on the "outie" plane increases the risk for condensation in winter, so I bought the best triple-glazed windows I could afford.
A rainwater collection system. Regionally, Northwest Ontario has been drying out significantly in recent years. Given that I depend on a well for water, a cistern and rainwater collection system seem like more than just a good idea.
A wood stove. The grid can be unreliable during stormy weather. If the grid is knocked out when the outdoor temperature is -20C and there is no source of heat that does not rely on electricity, it becomes possible that the occupants of a house may have to abandon ship. Firewood is plentiful on the property, and an airtight wood stove makes good horse sense.
A solar thermal system. For renewable energy, I went with solar thermal for domestic hot water heating, and I plan to incorporate a small amount of PV as budget permits. Solar thermal is a relatively inexpensive way to get into renewable energy systems and, if combined with a small PV system and DC pumping, can increase household resiliency by providing hot running water in the event of grid outages. I avoided the idea of an elaborate PV system for reasons of cost but also for reasons of complexity.
My "pretty good house" is still under construction, but I am confident that it will meet my expectations. Once complete I am looking forward to monitoring its performance year after year. Please feel free to follow along with my progress at my blog.
---
Want to learn more about building a pretty good house? Sign up for the Sustainable Building Accelerator and learn directly from author and architect Emily Mottram.
---
Armando Cobo: New Mexico
I'll start a list for Southern design criteria:
Passive solar design should be the first priority
Include large overhangs and porches
Insulation levels can be lower that for cold-climate houses
Triple glazing is not needed
Install reflective roofs
Select light-colored materials
Mike Keesee: Sacramento, California
At SMUD (the Sacramento Municipal Utility District), we're big fans of pretty good house. We call our version of the pretty good house the "SolarSmart Home." SolarSmart Homes included following measures:
R-38 attic insulation
Attic radiant barrier
R-13 wall insulation plus R-4 rigid foam
Energy Star windows
Minimum furnace efficiency: 90 AFUE
AC specs: minimum 14 SEER and 12 EER
CFL lighting
1 kW to 2 kW PV system
Limited bill analysis shows that SolarSmart homeowners are using 50% less energy and saving about 54% on their electric bills vs. a control group. (We attribute the smaller savings to increased plug loads).
Although we're thrilled with the results, we knew we had to do better. To that end, we developed a HOme of the Future (HOF) R&D program. The goal of the R&D was to develop a package of energy efficiency measures combined with PV and solar thermal to reduce total annual source energy use by 80%:
R-50 ceiling insulation
R-30 wall insulation
Conditioned crawl space with R-10 wall insulation
Windows rated at U-0.30 and 0.26 SHGC
Minimum furnace efficiency 92 AFUE
AC specs: minimum 18 SEER and 12 EER
HVAC system designed according to ACCA specs
Ducts located inside conditioned space
Mechanical ventilation system
Domestic hot water: solar thermal system plus tankless gas heater
HVAC system commissioning includes verification of refrigerant charge and airflow over coil
Air leakage rate: 4 ach50
CFL lighting
3.5 kW to 4 kW PV system
In brief, we're convinced that a "packaged" approach provides consistent results and a "pretty good house."
Don't get me wrong. I like Passivhaus, LEED, Greenbuilt, and the other green home programs. They push the envelope and set upper standards, but we need to recognize that these programs are not applicable for the huge majority of cases and will never achieve the market penetration we need if we want to achieve the energy savings we need to in new and existing homes. As laudable as these programs are, they are overly complicated, expensive, and in certain cases dogmatically rigid. Home buyers and owners, builders and contractors need easy to understand and implement and affordable solutions. Our experience at SMUD tell us that if we can deliver easy-to-understand, easy-to-implement affordable programs, our customers will respond.
Neil Porter: Florida
I live in Fort Myers, Florida. Our highs in January and February have often been in the 70s-80s. Basically there are only a couple days a year when it would be good to have solar gain through the windows. Otherwise it is never needed and definitely not desired.
No east or west windows. Good design for south Florida means no windows on the east and west walls because the low morning and afternoon sun heats up the home year-round and greatly increases the cost for air conditioning. North-facing windows are great because they only get early morning and late afternoon sun before and after June 21. With the sun at 85 degrees at noon on that date, it doesn't take much of an overhang to shade south-facing windows.
Put the lanai on the north side of the house. Ideally the front would face south. In our area virtually no porches have been built on the fronts of homes for decades. Most homes have a screened enclosure (called a lanai here) in the back. This is because six months of the year we have a lot of mosquitoes. Usually a double sliding glass door from the dining room and often from the master bedroom and sometimes from a second bedroom lead to the lanai. Having these large glass surfaces face north reduces a lot of solar gain. Having the lanai face north also keeps it much cooler because the house and roofed portion keep it shaded. A lanai that faces west, south or east is much less comfortable nine months of the year. The lanai should also jut out from the back of the home with screens on three sides to benefit from cooling breezes.
Wide overhangs aren't good in hurricane territory. When I first started researching green building in Florida, wide roof overhangs were recommended. But when hurricane resistance entered the picture, as it must in all of Florida, overhangs shrank to one foot. The exception is the covered portion of our lanais. These are called "under truss" because they are integrated into the home's roof. The trusses are supported by a poured concrete tie beam which rest on concrete pillars.
You don't need thick insulation or expensive windows. To understand this, northern people need to keep our climate in mind. For the most part we design for efficient air conditioning at least six months of the year. There are exceptions but generally our hottest temperatures are about 95 degrees. Keeping the interior air conditioned to 76-78 degrees means that there is only a 17-19 degree difference in the summer afternoons. As a result, thick insulation on walls and expensive insulated windows is not a good use of available funds. Tight-fitting windows with reduced air infiltration, on the other hand, is a good thing because of our high humidity which is generally 80-100% every night year-round. This high humidity at night coupled with 80-85 degrees still at midnight means that we can't open windows at night during our long summers. For most people the home is kept tightly closed for six months once the temperatures get too hot.
Choose reflective roofing. A major part of our heat gain is through the roof, so having a highly reflective and emissive white metal roof should be one of the top priorities. Whereas a heat-absorbing shingle roof lasts about 20 years at best in this climate, a metal roof will last 40-50 years. Shingles then usually go to the dump. Metal, on the other hand, can be easily recycled. Metal roofing is also much more resistant to hurricane-force winds. The downside is that metal is about twice as expensive.
Choose light-colored siding paint and plant vegetation. Since many homes here are built with uninsulated concrete blocks, using light-colored exterior paint or shading the walls with vegetation can help reduce energy costs.
Install a solar hot water system. Get a solar water heater in every existing and new home and accomplish a reduction in energy use for a small investment and short-term payoff.
Include an unvented conditioned attic. Insulating the underside of the roof sheathing with spray foam not only insulates an unvented attic keeping the humidity out but also greatly increases the uplift resistance to hurricane-force winds. Also, since air conditioner ducts are always installed in our attics and often the air handler, reducing the attic temperature in this way greatly reduces the heat transferred to the ducts.
Install a programmable thermostat. For people that are regularly away from the home for several hours a programmable thermostat with an unoccupied temperature of 85 degrees can greatly reduce energy costs.
Leigha Dickens: North Carolina
Here are the design principles I follow when advising customers who want to build a Pretty Darn Green home in my mountainous, mixed-humid climate:
Passive design first of all! Do use south-facing windows, thermal mass, and super-insulation for passive solar heating. Yet don't cut down those trees, if you have them: the provide many dollars worth of summer cooling, and deciduous trees which lose their leaves in winter will still allow in a great deal of sunlight. Avoid east and west facing windows, as low-angle sun in summer can add a lot of extra heat when it's not wanted. Also, resist the urge to "oversize" your passive solar by building what amounts to an attached greenhouse on the south side of your home: work with a design professional to get the glass-to-thermal-mass ration right. I have seen so many homeowners regret that their large south-facing space becomes virtually unlivable in the swing seasons because they put in too much south-facing glass. A little goes a long way in this particular climate, especially as winters can have remarkably warm spells intermixed with the cold.
Start with R 10-15-30-50 for superinsulation. Blown-in blankets or cellulose, rather than batts which tend to be installed poorly, are a well-performing and cost-effective choice for walls, while cellulose or spray foam insulation are good for the ceiling or roof deck.
Incorporate livable outdoor space like covered or screened porches, patios, and decks. There's a good chunk of the year when it's darn nice outside, and having outdoor space can make smaller indoor square footages feel more comfortable.
Install a high-efficiency heat pump and AC and have a thorough mechanical design and commissioning to avoid oversizing. Keep the ductwork and air handler inside of the building envelope, or go ductless with mini-splits. The subject of air conditioning is as hot button among green types, and I'll admit to being captivated by the romance of natural ventilation and the energy savings of AC-free living. However, in our occasionally-very-cold but mostly-mild winters, you can't beat a heat pump for energy efficient heating, which means the ductwork and machinery is essentially already in place for air-conditioning, as well. And a large part of what an AC does (when not oversized) is dehumidify. Humidity can make even an otherwise pleasant temperature feel very uncomfortable, and we have a lot of it. It can also create an ideal environment for indoor mold and mildew growth, impacting occupant health and reducing the durability of interior finishes.
Build a home with solid moisture-management techniques. Although that is important in any climate, it rains a lot here and is very often quite humid, so there is less margin for error. Sloping lots, deep overhangs, gutters, a behind-the-siding drainage plan, correct wall and roof flashing, capillary breaks. Building assembly components must be built to dry in both directions: so vapor barriers on any side of the enclosure should be avoided.
Solar electric, wind, solar thermal, geothermal are the icing on the cake and should be considered only after you've built a passive, super-insulated, reasonably air-tight home and durable home with a modest footprint.
Weekly Newsletter
Get building science and energy efficiency advice, plus special offers, in your inbox.