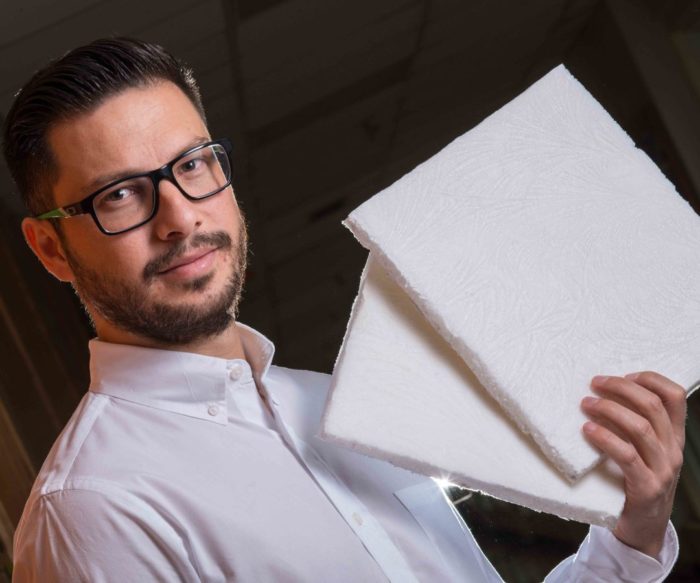 A Maine entrepreneur has found a way to combine water and nano-fibers of cellulose into rigid insulation with insulating properties rivaling extruded polystyrene.
Arbolate, as Nadir Yildirim calls it, is still years away from commercial development, but his startup company has produced eight different prototypes of the insulation so far with help from a National Science Foundation grant. As development continues, Yildirim is looking into manufacturing or licensing partners. He says that Arbolate could be on the market by 2019.
The project is an outgrowth of Yildirim's doctoral work at the University of Maine, which focused on the development of "eco-friendly composite foam boards" using "cellulose nanofibrils" (CNF). His startup, Revolution Research, is housed at the flagship campus of the University of Maine system in Orono.
Each of the eight prototypes is a little different, but all of them are made mostly with water and CNF. Some contain corn starch.
"We are using very, very tiny fibers that can be found in the wood, and we call that cellulose nanofibrils," he said by telephone. "We are applying a unique production technology that is different than the other foam production processes. For instance, we don't use blowing agents, and it doesn't include petroleum based chemicals like styrene."
Yildirim offered no details on how the insulation is manufactured but said he's trying to patent the process. "It's easy to make, actually," he said.
R-values similar to polystyrene
To date, Yildirim has produced only small panels measuring 10 inches by 20 inches and up to 1 inch thick. But in time, he says the process should yield panels in standard sizes.
R-values are between 4 and 5 per inch, he said, putting it in the same league as extruded polystyrene (R-5 per inch) and expanded polystyrene (about R-4 per inch). But Yildirim says he is working on versions of Arbolate that will have double the R-value, making it a better thermal insulator than polyisocyanurate or closed-cell polyurethane foam.
There's no data yet on Arbolate's vapor permeability but Yildirim says test results should be available in about a month. "Arbolate is breathable, not closed-cell," he said.
Cellulose fibers, water and corn starch don't have much natural resistance to moisture or fire, so Yildirim is testing various "eco-friendly" chemicals to make Arbolate more durable. Exactly which ones he doesn't say. "We want to see which ones give us the optimum results," he said. "It needs to be good on the mechanical performance, good on the thermal performance, and good on the cost side as well."
Cost is another potential stumbling block. In this pre-production period, Yildirim says it's difficult to be exact, but Arbolate will probably cost more than competing products. He hopes to keep the premium to 20% or less and says the absence of petrochemicals and chemical blowing agents, plus the prospect of earning extra credits in programs like LEED, will convince buyers any extra costs are worth it.
Maine has lots of wood fiber
Yildirim's announcement comes at a good time for Maine's wood products industry. More than 80% of the state's land area is covered by forest, according to the U.S. Forest Service. But the most important end use for all that wood fiber, the paper industry, has been suffering as worldwide demand for newsprint and other kinds of printing paper declines.
Paper mills in East Millinocket, Lincoln, Old Town, Bucksport, and Madison have closed in recent years, according to The Bangor Daily News. At the same time, lower prices for fossil fuels and other factors have led to the closure of two biomass plants that produced electricity while threatening the future of four others.
The closures affect not only people who work in the mills but the hundreds of others who cut, process, and truck wood. If Revolution Research insulation and other wood-based products were to get a toehold in the market, it would certainly be good news for the state.
The company was awarded a $247,496 grant from the National Science Foundation last year, and Yildirim said that he will be applying for a second round of funding in February that could mean the influx of as much as $750,000 in new capital.
"The project objectives are to create the first corn-starch-based foam board with the desired material properties of low density, high mechanical properties, fire retardancy, water repellency and low thermal conductivity," the grant abstract says. "The team will explore various materials combinations and chemical treatments to produce foam boards that have the material properties required to meet market needs. The foam board will have comparable or better mechanical and thermal properties to typical petroleum-based polystyrene foam boards on the market, but with a dramatically lower carbon footprint."
Maine center is active in wood research
Yildirim earned his degree at the University of Maine's School of Forest Resources, and also graduated from the university's Innovation Engineering Program. The Maine campus is home to the Advanced Structures and Composites Center, one of the world's largest laboratories experimenting with nanocellulose composites and engineered lumber, according to The Portland Press Herald.
The center has a staff of 180 and some 500 clients around the world. Among the products being tested or developed there are cross-laminated timber (CLT) and cellulose-based composites that can last a century underwater without corroding.
Center director Habib Dagher told The Press Herald that wood "is our largest natural resource right now. We need to come up with next-generation ways to use it."
Insulation can be made from mushrooms, too
Yildirim isn't the only one doing some bio-engineering to produce insulation for houses. In upstate New York, a firm called Evocative Design is "beta testing" insulation panels made in a process that combines agricultural waste and the cells of mushroom roots.
The roots, called mycelium, spread into the base or organic material with tendril-like filaments that bind the mass together. After about a week, a heat treatment stops the growth. The process is used to make molded packaging, shaped panels that can be used as a plywood substitute in furniture, and insulation.
Emily Moore, a spokeswoman for the company, said by telephone insulation panels have been put into the hands of some builders for testing (she did not know how many). Panels also are available in small numbers at the company's web store; a 3-ft. by 6 ft. panel 2 1/2 in. thick costs $75. Builders interested in buying larger lots — enough, say, to insulate an entire house — can contact the company for a bulk rate. (For more information on this type of insulation, see Grow Your Own Green … Insulation, That Is and Grow-In-Place Mushroom Insulation.)
The insulation has an R-value of 3.6 per inch and is water-resistant, but not waterproof, she said.
Moore didn't know when the insulation would go into full production, or how much it would cost when it does. "I'm not aware of a release date for our prefabricated panels," she said.
Weekly Newsletter
Get building science and energy efficiency advice, plus special offers, in your inbox.