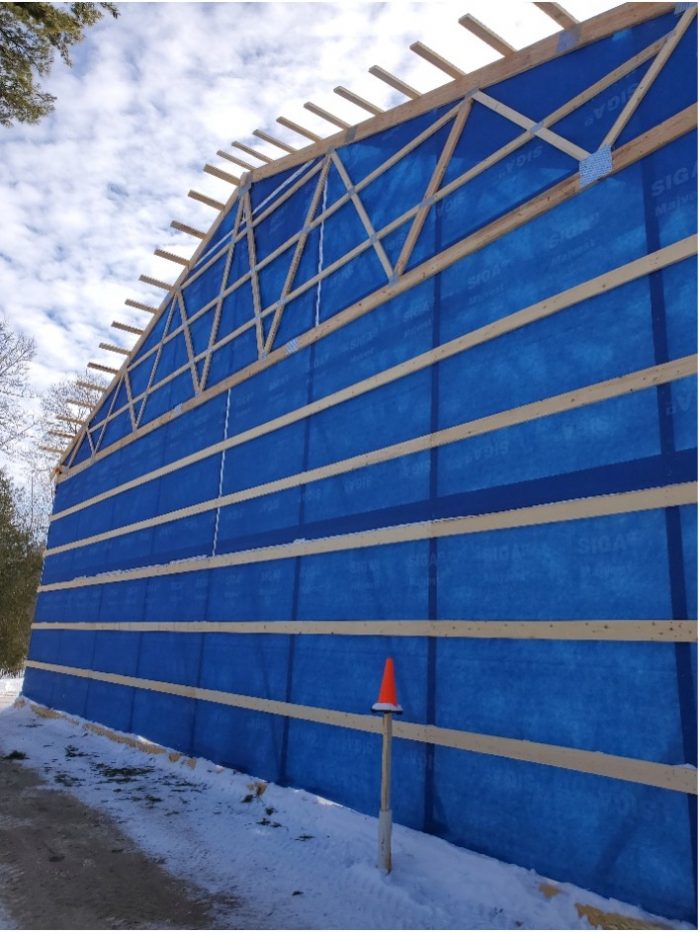 Post-and-frame construction differs from conventional framing methods in a few ways, as evidenced in the "barndominium" I am consulting on. For one thing, on this project, the posts are 6 ft. on center with no top or bottom plates. The posts resist lateral movement by both their connection to the concrete slab—achieved with a cast-in-place metal bracket—and the horizontal 2x wall girts fastened directly to the posts. In addition, there are diagonal framing members in the corners to help resist racking.
The roof trusses—also 6 ft. on center above the shop that occupies most of the structure—sit in a notch cut into each post. They are tied together with 2x purlins fastened on the topside of each truss. Neither the wall nor the roof has continuous sheathing, which complicates the water, air, and thermal control layers.
All that is to say: Without continuous sheathing, installing a continuous water-resistive barrier (WRB) is challenging.
High-quality membrane, cold-sensitive tape
Choosing the right WRB was critical. I considered a few options. I was looking for something durable with a good family of tapes that would work well in climate zone 7. (My choice took the framing crew far outside their comfort zone.) I spec'd Siga's Majvest 200 because it fit my criteria. The vapor-permeable membrane was fastened directly to the 6-ft.-on-center poles. There were difficulties with this approach. Working with nearly 10-ft.-wide swaths of Majvest 18 feet in the air in freezing temperatures made me unpopular. (Majvest comes in two sizes, 1.5 meters or 3 meters; I chose the 3-m size to eliminate one tape seam.)
All seams were taped using Siga's Wigluv 60, which has a low-temperature application of 14°F. There were several times when taping had to be delayed until temperatures warmed. Because the Majvest WRB spanned several feet without a…
Weekly Newsletter
Get building science and energy efficiency advice, plus special offers, in your inbox.
This article is only available to GBA Prime Members
Sign up for a free trial and get instant access to this article as well as GBA's complete library of premium articles and construction details.
Start Free Trial
Already a member? Log in