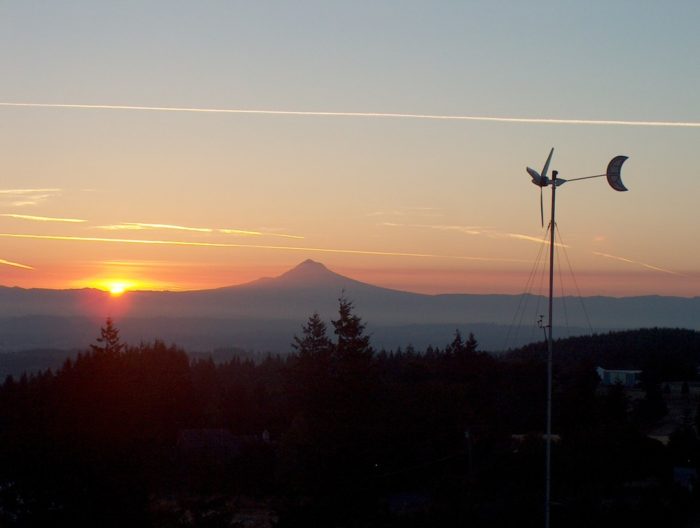 Wind turbines have a hypnotic allure. The Siren call of carbon-neutral electricity has led many environmentalists to dream of owning a backyard wind turbine.
Unfortunately, small wind turbines, unlike utility-scale wind turbines, are rarely cost-effective, even when installed at a good site. Installed at an average site, a wind turbine is little more than an expensive toy.
Most renewable energy consultants can share tales of small wind turbines that have disappointed their owners due to low energy production or frequent maintenance problems. That's why it's so important for wind-besotted greenies to do their homework before going turbine shopping.
Wind-generated electricity isn't cheap
Even homeowners blessed with a fairly good wind site pay a steep price for wind-generated electricity.
One of only a handful of successful net-zero-energy homes in the U.S. is one owned by David Pill and Hillary Maharam of Charlotte, Vermont. Although most descriptions of their prize-winning house note that their 10-kW Bergey wind turbine generated more electricity during a 12-month period than the family used, few noted that their electricity is very expensive.
During its first year of operation, their wind turbine produced 6,286 kWh of electricity — worth about $627 at the current retail rate of $0.10 per kWh. That means that the $40,500 wind turbine will have a simple payback period of about 64 years. Unfortunately, the turbine is unlikely to last that long.
The same amount of electricity could have been generated by a 6-kW PV system, which the Pills could have installed for $30,000. Since their home was built, the price of PV has dropped; in 2013, a 6-kW system could be installed for $24,000 or less. (For a somewhat different payback analysis, see David Pill's comment of 09/12/2011, posted in the comment section below this article.)
"In a good site, wind will be marginally cheaper than PV," said…
Weekly Newsletter
Get building science and energy efficiency advice, plus special offers, in your inbox.
This article is only available to GBA Prime Members
Sign up for a free trial and get instant access to this article as well as GBA's complete library of premium articles and construction details.
Start Free Trial
Already a member? Log in