With the launch of The Cottages at Willett Brook, Justin McIver thought he'd found the ideal house size for 55-plus buyers who were ready to downsize but weren't interested in squeezing into a house of just a few hundred square feet. Turns out he was almost right.
McIver planned to build the 60 single-family houses in Bridgton, Maine, in phases of 10 houses each. The 10 units on A Street came in two sizes — 610 and 640 square feet. That was two years ago. McIver's company, Maine Eco Homes, has since completed the second group of houses, on B Streeet, but this time they measure from 700 to 924 square feet, an increase of as much as 50% over the originals. And McIver doesn't see much changing as he moves ahead with the next 40 homes.
"The smaller houses were going great, but we had a lot of demand for something a little bigger with an attached garage, and a bath and a half," he said. "That seems to be the sweet spot."
Just down the hill, work is underway on the third pod, where the houses also will be in the 924-square-foot range, possibly a little bigger. McIver says he's accepted reservations on several of those houses already. If buyers ask, those houses can be made slightly larger, and they're coming with amenities like a porch on both front and back. Some have walk-out basements.
Even after growing by 50%, the houses are smaller than the average American home was in 1950 — 983 square feet, according to the National Association of Home Builders — and a fraction of the 2,422 square feet median for single-family homes built last year.
Bigger, with more options
Tiny houses measuring only a few hundred square feet have gotten plenty of press over the last few years. Converts sing the praises of their small abodes, citing lower construction and maintenance costs, a lighter tax burden, and the joys of unloading possessions they don't really need.
But McIver's experience is going in the opposite direction: potential buyers wanted more, not less, space. And they're willing to pay for it. Starting prices for houses on A Street were $129,900. Buyers moving to C Street will pay $219,900. They'll get bigger lots, an attached garage, and the chance for more custom features inside — a fireplace, for example, radiant-floor heat, more choices on paint colors and flooring.
McIver anticipated the difficulties some buyers would have as they moved into a house as small as 610 square feet, so he originally included separate buildings for garage and storage. But with houses and lots both growing in size, and packages now including an attached garage, those ancillary buildings are no longer needed. B Street, and the housing pods that will follow, don't have them.
Solar is still a popular option
McIver and then-partner Mark Lopez pitched the first group of houses not only on their size, but on how little buyers would pay for energy. By spending an extra $9,000 on a 3 kW photovoltaic system, developers said, buyers could look forward to electricity bills of just $35 a month. Although never marketed as net-zero energy houses, they certainly promised far lower operating costs than Maine's typically older and leaky housing stock.
Interest in solar hasn't waned, McIver said. As many as 80% of buyers opt for solar panels.
One of them is Richard Bouthillette, who lives in a 924-square-foot house on B Street. He said the highest monthly bill he's seen for heat and hot water since moving in was $77.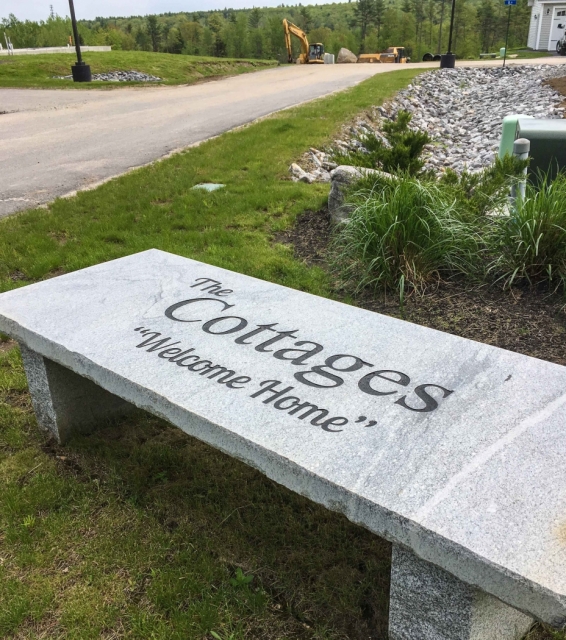 Houses originally were framed with 2x4s and raised-heel-truss roofs. Exterior walls were insulated with 2 1/2 inches of closed-cell spray foam and sheathed with Zip System R-Sheathing, which includes a layer of rigid foam insulation. Newer houses are framed with 2x6s 24 inches on-center with stud cavities filled with open-cell spray foam, McIver said. The rigid foam on the outside has been eliminated. Roofs of the newer houses are insulated to R-60 with a combination of spray foam and blown-in cellulose.
Tiny is not for everyone
There are no signs that interest in tiny houses is fading. Articles like the one published last month by Country Living magazine are jammed with photos of these appealing Lilliputian homes, and websites such as The Tiny Life are all about the moral and financial benefits of going small.
But as McIver has discovered, really small is not everyone's cup of tea.
"We had a concept, and that worked great for some people," he said. "There were also people saying, 'Could you just do it a little bigger?' I heard that a lot, and I wanted to accommodate those people, too."
Or, take the experience of Gene Tempest, who with her husband lives in a 492-square-foot apartment in Cambridge, Massachusetts.
Writing in The New York Times, Tempest says she has unwittingly become part of the tiny house movement. She adds: "But deep inside the expensive custom closets and under the New Age Murphy beds, the pro-petite propaganda has hidden some unseemly truths about how the other half lives. No one writes about the little white lies that help sell this new, very small American dream."
Tempest complains that in the small footprint of a very small apartment, objects like an unattractive plastic laundry hamper assume oversized importance and "become tyrants." Smaller spaces get used more intensively, she says, so carpets and couches show signs of wear before their time. Carmelizing three pounds of onions for a recipe infused the space and everything in it with "eau de onion" for weeks.
"For generations, writers have warned about romanticizing the lives of the poor," Tempest says. "Beware the nostalgie de la boue. Small can be a bad fit.
"So we daydream big," she continues. "Dreams of unfashionable, politically incorrect, old American aspirations that our generation isn't supposed to believe in anymore. Dreams of design features so vast that they sound like foreign countries. I dream of kitchen islands. I dream outside this box."
Weekly Newsletter
Get building science and energy efficiency advice, plus special offers, in your inbox.