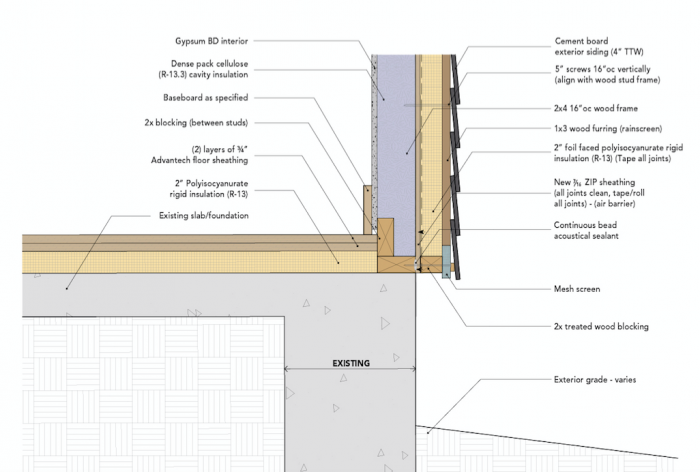 Energy retrofits are always challenging. They are a delicate balance between what to keep, what to eliminate, and what to add. That's what we were facing on this recent project. The existing structure had 2×4 walls 16 in. o.c. and a turn-down concrete slab foundation. We stripped the building down to the studs by removing the exterior fiber-board sheathing and interior gypsum board. With naked 2×4 walls and an exposed slab, we started the retrofit. 
The first step was to insulate the slab, which was positioned significantly above exterior grade. We spec'd 2-in. polyisocyanurate rigid insulation. Because the existing slab is coupled to the ground temperature, which is most likely cooler than the desired conditioned temperature of the living space, there is a constant thermal drive for the room to attempt to warm the ground below. The polyiso provides resistance to that thermal drive. 
The continuous nature of the polyiso insulation nearly eliminates thermal bridging across the floor assembly. (Note that the level of insulation here is appropriate for a moderate climate. For colder climates, 4 to 5 in. of rigid foam would be advisable.) On top of the 2 in. of rigid insulation, we added two layers of 3/4-in. Advantech floor sheathing. The second layer was laid perpendicular to the first layer with the joints offset by 2 ft., and the two layers were glued and screwed together to form a 1-1/2-in. "floating floor" assembly. (The Advantech allows for any type of finished flooring—hardwood, tile, carpet, etc.)
On the walls, we added new 7/16-in. ZIP sheathing to the exterior framing. All the joints were cleaned, taped, and rolled. The ZIP is the primary air barrier. Outboard of that we installed 2-in. foil-faced polyisocyanurate rigid insulation to which we applied 1×3 wood furring strips in order to space the siding away from…
Weekly Newsletter
Get building science and energy efficiency advice, plus special offers, in your inbox.
This article is only available to GBA Prime Members
Sign up for a free trial and get instant access to this article as well as GBA's complete library of premium articles and construction details.
Start Free Trial
Already a member? Log in