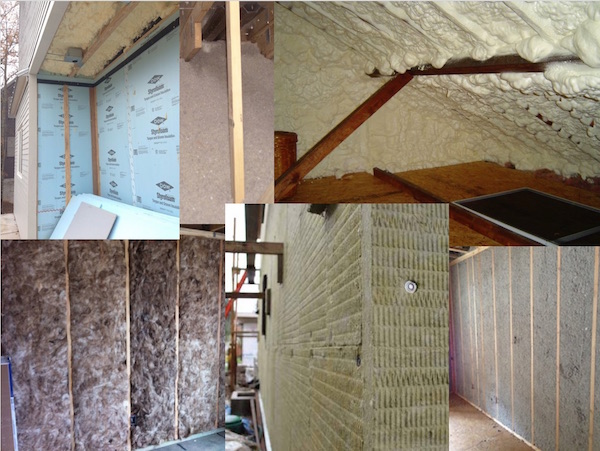 At the North American Passive House Conference in Philadelphia in September, I gave a presentation on the global warming impact of insulation, an issue I've discussed a few times since Alex Wilson wrote his paper on the topic back in 2010. In my presentation, I covered two different aspects of the issue: (i) the problem with Wilson's payback calculations and (ii) using David White's global warming impact calculator to make more informed decisions.
I'll discuss these two aspects of the issue in two articles, giving you the payback part here and the calculator in two weeks.
Diminishing returns and payback
I don't know why it took me so long to figure this part out, but I didn't see it when I first wrote about Wilson's payback calculations. Now it seems pretty clear. Let's see if I can convince you.
To calculate how many years it takes to pay back the cost of something, you need to know what the savings are per year. In this case, we're not talking about money. We're talking global warming emissions, but the principle of payback is the same. In Wilson's calculations, he used a calculation method for energy savings that made two of the insulation types look really bad. (Those two were extruded polystyrene and closed-cell spray polyurethane foam.)
That calculation method he used was to split the energy savings due to the highly insulated walls in their study into two parts. The initial energy savings went to the cellulose insulation in the 2×6 wall cavities, with a whole-wall R-value of R-14. Then they added more insulation of the various types they studied and calculated how much energy that "extra" insulation saved.
That might make sense if you have an existing home with already-insulated 2×6 walls. But if you're building a new home, I argue it doesn't make sense. More on that in a bit.
The reason that splitting the energy savings like that yields misleading results is due to diminishing returns. As you can see in the graph below, by the time a wall is insulated to R-14, it's already got most of the energy savings it's ever going to get. You can keep adding more, but you get less and less energy savings for each additional inch of insulation. The returns diminish.
Calculating in a different order
Let's take a look at some actual numbers. I used a total R-value of 59, split into two parts:  R-14 (representing the insulation in the cavities) and R-45 (the additional insulation on the exterior). When I calculate the amount of energy savings attributable to the R-14 first, I get the graph below. The cavity insulation saves about 51 MMBTU per year. The exterior insulation saves about 6.5 MMBTU per year. The cavity insulation saves 7.9 times as much energy as the exterior insulation.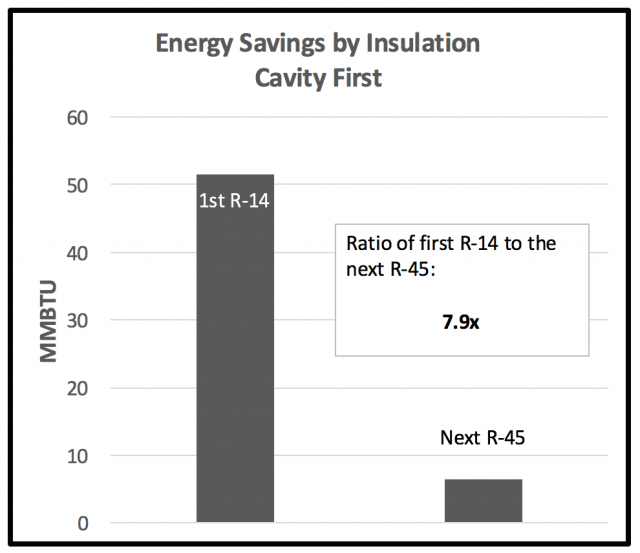 If I do that same calculation in the reverse order, the results are very different, as shown below. The R-45 exterior insulation will save 57 MMBTU per year, and the R-14 cavity insulation saves only 0.6 MMBTU per year. So the exterior insulation saves about 91 times as much energy as the cavity insulation here.
Looking at it this way, you might say, "Hey, we've already got 98.9% of the savings with the R-45. Why don't we just skip the cavity insulation? We'll get almost the same performance."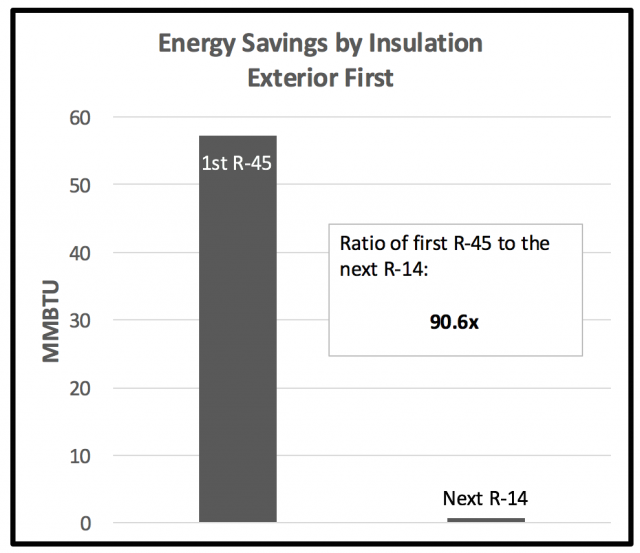 The effect on payback

How do these results affect Wilson's payback calculations? Let's work through the calculation. The equation for simple payback is shown at right.
Regardless of which order you use to calculate the energy savings, the cost in global warming impact should remain the same. The global warming emissions from the making of the insulation (all types) and the emissions from the blowing agents (foam) don't change.
So to calculate the effect of calculation order on payback, we need to adjust the denominator in that little equation.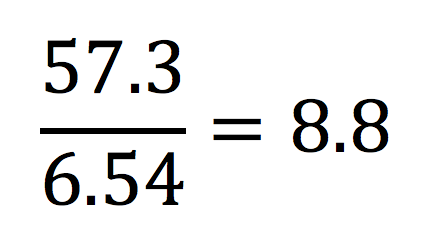 What we want to know is the ratio of the savings when you calculate the R-45 exterior insulation first versus when you calculate it second. And those numbers are 57.3 MMBTU/year for R-45 first versus 6.54 MMBTU/year when you calculate the R-45 savings second. That ratio is shown at right.
The conclusion here is that you get 8.8 times as much energy savings simply by calculating in the reversed order. Let's apply that to Wilson's results.
Below is the graph Wilson presented for doing the calculation with the R-45 savings second.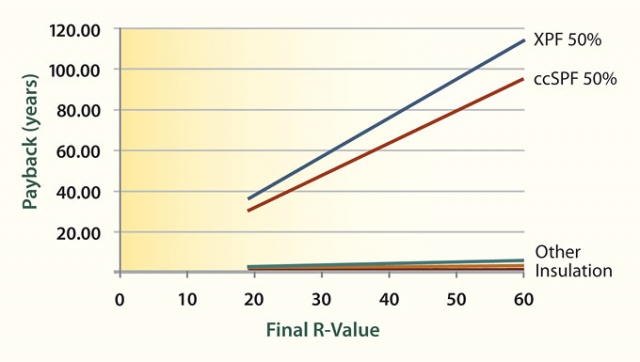 Calculating the R-45 savings first would lower all the lines on the graph by a factor of 8.8. Most of the insulation types are already really low so I didn't adjust them. But if you lower the lines for extruded polystyrene (XPS) and closed-cell spray polyurethane foam (ccSPF), here's what happens: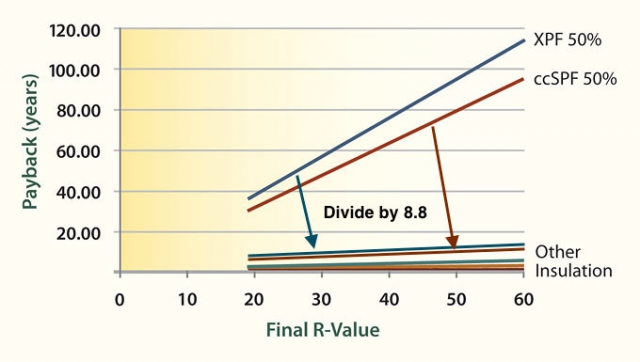 Just by reversing the order, the payback for all insulation types, even the two "bad" ones, drops to less than 20 years. You have to go well past R-60 to hit 20 years, but the insulation should last 50 years or more.
What R-value should you use?
One other thing I pointed out about this issue is the actual R-value used. Wilson's graph goes all the way up to R-60. Do you ever need to use that much? We know about the diminishing returns of adding more insulation. When does it make sense to stop? Well, we now have some good guidance from the Passive House Institute US (PHIUS).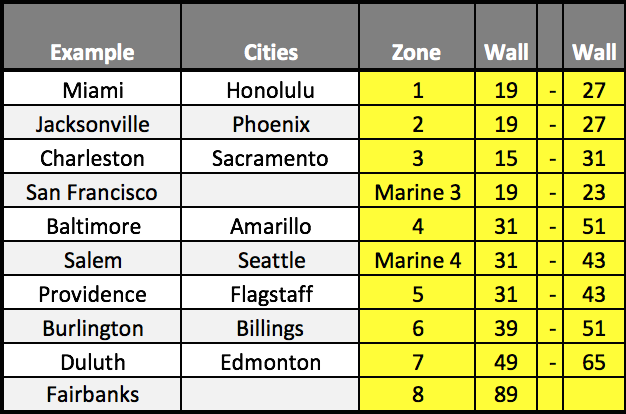 The table at right shows the R-values needed to meet the PHIUS climate-specific standard in different climate zones. Up to Climate Zone 3, R-30 or less is all you need. For Climate Zones 4, 5, and 6, you can stop at about R-50. It's only in the sparsely populated Climate Zones 7 and 8 that you need lots and lots of insulation, especially in Zone 8.
When you look at graphs like Wilson's, whether adjusted the way I've done or not, keep these numbers in mind.
In case you're wondering, the numbers I calculated above include only the energy savings due to heating.
The baby and the bathwater
If you buy into my argument, you should agree that Wilson's conclusion to avoid XPS and ccSPF wasn't warranted. If you don't buy into my argument, please let me know why. I'm not saying those two materials are neutral in all respects in comparison to other insulation materials. There are certainly other issues to consider. But when we look just at energy savings and global warming impact, XPS and ccSPF aren't as bad as it first seemed.
Wilson's study, however, is still important. As I pointed out in my last article on this topic, the real significance of what he did was to get us thinking about this issue and actually calculating global warming impact. David White of Right Environments in Brooklyn developed a spreadsheet calculator to do just this. And that's the subject of the second part of my conference presentation, which I'll discuss in my next article on this topic. Stay tuned.
Download the slides from my North American Passive House Conference presentation
Allison Bailes of Decatur, Georgia, is a speaker, writer, building science consultant, and the author of the Energy Vanguard Blog. You can follow him on Twitter at @EnergyVanguard.
Weekly Newsletter
Get building science and energy efficiency advice, plus special offers, in your inbox.