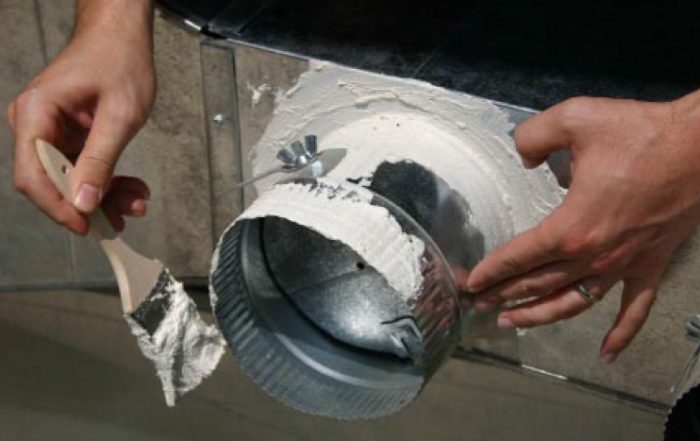 Most residential duct systems have numerous leaks that waste energy and lead to room-to-room pressure imbalances. Unfortunately, though, few building inspectors outside of California bother to enforce existing code requirements that residential duct seams be sealed with mastic or high-quality duct tape.
Most model codes, including the International Residential Code (IRC), include duct tightness provisions:
The 2006 IRC section N1103.2.2 requires that "Ducts, air handlers, filter boxes and building cavities used as ducts shall be sealed," while IRC section M1601.3.1 requires that "Joints of duct systems shall be made substantially airtight by means of tapes, mastics, gasketing or other approved closure systems." Hardware-store duct tape is not an approved tape.
Section 403.2.2 of the 2004 International Energy Conservation Code (IECC) requires that "All ducts, air handlers, filter boxes, and building cavities used as ducts shall be sealed."
To learn how to test residential duct systems for leaks, see Duct Leakage Testing.
All about mastic
Most energy-conscious builders seal duct joints with mastic. Mastic is a gooey, non-hardening material with a consistency between mayonnaise and smooth peanut butter. Duct joints should always be secured with #8 sheet-metal screws before seams are sealed with mastic.
Sealing duct seams is messy work, so wear old clothes. The mastic is spread over duct seams with a disposable paintbrush, putty knife, or your fingers. (If you spread mastic with your fingers, wear rubber gloves.)
Gaps in ductwork or plenums that are over 1/16 or 1/8 inch wide can be sealed with mastic as long as the gap is first reinforced with fiberglass mesh tape. If you're using mastic to seal seams in fiberglass board ductwork, use fiberglass mesh tape for all joints.
Sources of mastic
Manufacturers of mastic include: Hardcast (Versi-Grip 181 mastic), McGill AirSeal (Uni-Mastic 181), Polymer Adhesives (AirSeal #22), RCD Corporation (#6 Mastic), and ITW/TACC (Glenkote mastic).
Among the distributors of…
Weekly Newsletter
Get building science and energy efficiency advice, plus special offers, in your inbox.
This article is only available to GBA Prime Members
Sign up for a free trial and get instant access to this article as well as GBA's complete library of premium articles and construction details.
Start Free Trial
Already a member? Log in