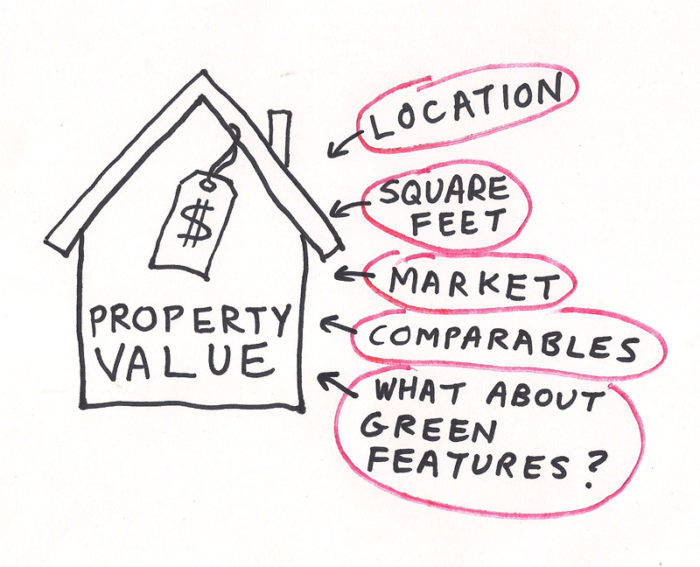 [Editor's note: Roger and Lynn Normand are building a [no-glossary]Passivhaus[/no-glossary] in Maine. This is the 15th article in a series that will follow their project from planning through construction.]
I am seeing "red" on what's supposed to be a "green" residential property appraisal.
No, I'm not color blind, although my wife Lynn says I am "seriously color challenged" for my occasional fashion faux-pas. Perhaps so.
I'm using figurative colors here, as in getting a property appraisal to recognize and realistically value the energy efficient and environmentally friendly (a.k.a. "green") aspects of EdgewaterHaus. I've turned an irate "red" from an appraisal that ignored all of these features in our home design.
Come on — having no energy bills has to be worth something
You see, our appraiser rated as "typical" the energy efficiency of EdgewaterHaus and four other comparable properties, including one LEED Gold home. He did not recognize or value that EdgewaterHaus is designed to the Passivhaus standard, which results in a home that uses 90% less energy for space heating and cooling than a conventional house. Nor did he recognize or value that our house will seek LEED Platinum status for environmentally sustainable design, or that the design includes a photovoltaic system to get to net-zero-energy use on an annual basis.
This means that our annual energy cost for heating, cooling, lights, laundry and cooking will be zero! We have essentially prepaid the energy costs for much of the building's entire usable life in the form of an upfront investment in a very tight building envelope. I am aware of only one other home in Maine that can boast this pedigree (the Belfast Passive House). Surely attaining net zero has real, measurable value in today's real estate market!
Not according to the appraisal we received.
Before lending money, a bank needs an appraisal
I figure we are like the the 99% of the U.S. population who need a construction loan to finance building a new home. We looked at a variety of local and national banks and credit unions, here in southern Maine where we will build EdgewaterHaus, and back in our current home in northern Virginia. We found that "the big guys" like the Bank of America have abandoned construction loans in the wake of the mortgage market meltdown. We concluded that Saco & Biddeford Savings Institution, a small bank with six locations in the area, had the best rates and customer service. S&B savings has been in business since 1827, and their loan officer has been especially supportive of our very green home design.
Along with the usual review of assets, liabilities, and credit scores, all financial institutions will insist on getting a real estate appraiser to look at the construction plans to evaluate the potential market value of the planned building and lot before committing to a loan. If we default on the loan, the lender wants to ensure that it can recover its investment by selling the property.
Are there any "comparables" nearby?
We discussed with the loan officer the challenge of equitably valuing green properties. The economic downturn of the last few years means that there has been far fewer property sales to establish comparable values across similar sized homes and neighborhoods. Nationally recognized green building standards have only emerged in the last five years, so there are few homes or commercial properties that have been built to these standards. Even fewer of these green buildings have been recently bought or sold.
Property appraisals typically value properties based on comparative sales prices, cost of construction, or on income generation potential. We were told that most banks place greater weight on comparable sales, which relies of the appraiser using realtor's multiple listing service (MLS) database to find the "comps."
We knew that finding green property sales comps would be very hard. MLS does not now have any green data fields or green reporting standards, so how would an appraiser find a green building in MLS, if one existed, other than perhaps a green word search in the MILS property description? I have read that MLS is working to develop such fields, but they don't exist today.
"Soft" greenies and "hard" greenies
And what makes a property green? There are a handful of green building standards. Some (like Passivhaus) are based on building science principles, use an exacting energy model, and require a blower door performance test after the construction is completed to confirm that the building assembly attained the modeled performance standards. Other green standards feel more like a "greenwash."
More importantly, how do you value green on an appraisal?
I distinguish between two shades of green. There's the "soft" greenies – those people who will be drawn to buildings that use sustainable materials, use products with recycled content, and products that reduce or eliminate air emissions out of concerns over global climate change. You either believe in the importance of these things or not. Count me as one who does. I would be willing to pay more for a property with these attributes, but I also know that many would not be so inclined. (Hey, some people still don't believe the Surgeon General's warnings that smoking cigarettes causes cancer).
Then there are what I call the "hard" greenies – those people who focus on energy-efficiency upgrades and can quantify in dollars the real life value from investing in a very tight building envelope. The hard greenies may embrace some or all of the soft greenies agenda, but it does not drive their singular focus on energy efficiency.
For example, a soft greenie would object to using foam insulation formulated with ozone-depleting chemicals. The hard greenie may view the higher R-value in a one-time application a reasonable tradeoff. In the absence of MLS data, valuing the soft greenie home in real dollars remains subjective, whereas valuing the hard greenie home can be an objective and quantifiable analysis.
On what is the appraisal based?
So here's the challenge for appraising green properties: less overall residential sales data than previous years due to the economic downturn; a variety of recent green building standards, some more credible than others; few green homes that have been built; even fewer green buildings have been sold; no easy way to mine green attributes in the MLS comp sales data.
So it impossible to appraise a green property? Absolutely not!
Don't despair. And don't give in when an appraisal fails to recognize or value legitimate green property enhancements. In fact, I'm pleased to say that major building industry valuation sources have risen to the challenge and have developed credible tools to equitably evaluate green buildings. The challenge is not so much an absence of tools, but the need to educate appraisers and lenders on the use and value of these tools.
I'll explain what are these tools and how they should be used in my next blog. (After you've read Part 2, you'll probably want to read Part 3 as well.)
The first article in this series was Kicking the Tires on a Passivhaus Project. Roger Normand's construction blog is called EdgewaterHaus.
Weekly Newsletter
Get building science and energy efficiency advice, plus special offers, in your inbox.